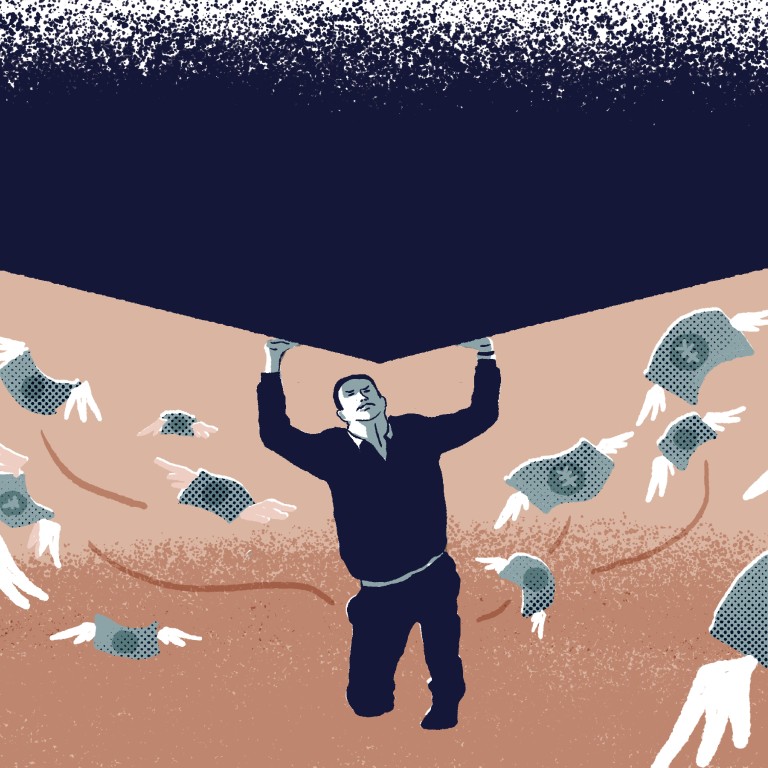 China's middle class frets the 'good times' are over amid sliding house prices, stagnant wages
The urban middle class have been among the biggest winners of China's economic boom over the past five decades, but their confidence has been shaken
China's economic growth has slowed and their incomes and assets are taking a hit, with non-essential spending on cars, home appliances and private education cut
While the US-China trade war has been on the lips of politicians and analysts from Beijing to Washington, millions of middle class Chinese are increasingly anxious about a problem closer to home: the sliding value of their incomes and assets as the country's breakneck economic growth begins to stutter.
China's gross domestic product (GDP)
is expected to grow to 100 trillion yuan (US$14.4 trillion) in 2020, with
per capita GDP
having already passed the US$10,000 mark last year, both much to the pleasure of Beijing, although this is not being felt by well-educated, white collar workers and middle-sized entrepreneurs.
"There is no doubt that our family's net worth will shrink this year," said Alice Zhou, a Beijing-based businesswoman in her 40s. "This can be confirmed from the obvious decline of business and property prices among my friends and I in the past couple of years."
According to Zhou, the "good times" of 2015-16 are over having been forced to close around half of the cafes and indoor amusement parks she owned in Beijing and Tianjin since 2018.
"My business revenue has been dropping since late 2018 because most of the main consumers of my indoor amusement parks are Beijing's middle-class couples who are now in their 30s and 40s. Most of them have one or two kids and usually need to make a repayment of at least 20,000 yuan (US$2,900) per month for property mortgages, and another 10,000 yuan for the family's living expense." Zhou said.
"To be honest, for them, if their assets or income may change slightly, the families will not be able to cope."
Xu Yipeng, a middle class resident in Guangzhou, the capital of
Guangdong province,
China's manufacturing hub and economic growth engine, has been struggling to sell a 80 square metre (860 sq ft) two-bedroom flat since mid-2018 despite having dropped the price from 4.6 million yuan (US$667,000) to 4.1 million yuan.
"Business is getting harder and the cost of living is rising rapidly," said Xu. "My friends, workmates and I have had similar anxiety in the past two or three years, but since the second half of 2019, the sense that assets are devaluing has grown more quickly."
Two years ago, it was not uncommon for China's businesspeople to gather over dinner to talk about buying property, asset appreciation and consumption upgrades. But now, the conversation frequently veers towards a weakening property market and a growing shortage of capital for companies, explained Xu.
Still, China's official economic indicators are unlikely to reflect the anxiety of its affluent city dwellers. The National Bureau of Statistics (NBS) is expected to publish the 2019
headline GDP growth rate
on Friday, with expectations it will come in above 6 per cent – maintaining China's position as one of the fastest growing major economies in the world. The bureau is also expected to release a per capita income growth rate that matches, if not exceeds, GDP growth.
The data is likely to be rounded out by an announcement that
poverty
is on track to be eliminated in a country of 1.4 billion people in 2020 – delivering a key part of the Communist Party's goal of building a "comprehensively well-off society" by 2021.
China's urban middle class have been among the biggest winners of the country's economic boom over the past five decades, but their faith in the system's seemingly inexorable growth appears to be wavering as property prices begin to crumble.
First-tier cities – including Beijing, Guangzhou and Shanghai – have witnessed a notable drop in home and rental prices, with data pointing to a slowdown as a growing number of developers slash prices. Compared with the highest point in April 2017, Beijing's average residential property prices in November fell by about 18.5 per cent, according to a report conducted by the National Academy of Economic Strategy at the Chinese Academy of Social Sciences.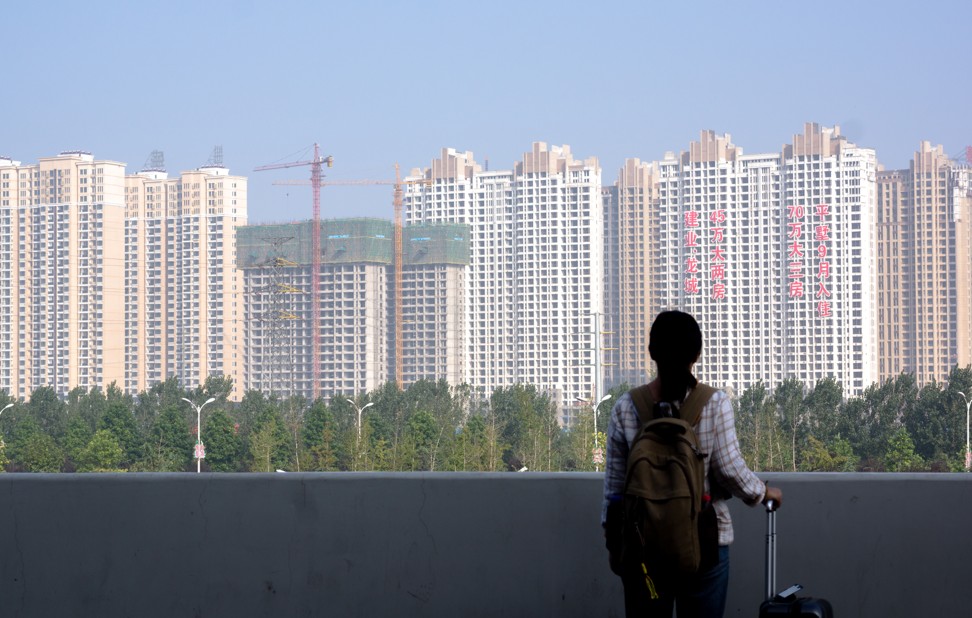 Out of the 70 major cities tracked by the NB), 44 reported higher prices for new homes in November, compared with 50 in October. The figure was the lowest recorded in the past two years, the NBS said.
Demand for office space in urban cities also continues to weaken with the highest rates of empty offices in a decade. Vacancy rates in the office market across 17 major cities stood at 21.5 per cent in the third quarter of 2019, up from 16.7 per cent in 2018, according to commercial property group CBRE. A similar level of under-occupation was last seen during the financial crisis in 2008.
For households in China, real estate accounts for 70 per cent of family wealth, while net growth in property assets accounts for 91 per cent of household per capita growth, according to a report by the China Economic Trends Research Institute in October.
"When the property price was 4.8 million [yuan] previously, I felt relaxed and generous about my children's future education abroad, spending on various luxury goods and overseas trips. The confidence was based on the properties' prices and that they would be higher next year," said Xu, from Guangzhou, who owns three flats in the city.
"Now I realise the problem is serious. House prices are depreciating and may continue to depreciate, and it has started to become difficult to sell."
According to job website Zhaopin.com, which surveyed more than 8,900 white-collar workers across China, 34.6 per cent were in heavy debt last year, a significant increase from 21.89 in 2018.
The survey also found that 28 per cent of respondents reported pay rises of less than 5 per cent in 2019, while another 40 per cent did not receive a pay rise or even had their pay cut. Going forward, nearly 60 per cent offered a negative view of the employment situation for 2020.
"I still remember when the [yuan] exchange rate [to the US dollar] was about 6.14. I changed money for the first time in 2014, and now it is above 7," said Shenzhen resident Jade Duan, who needs to buy tens of thousands of US dollars every year to pay for a family insurance policy she bought in Hong Kong a few years ago.
In China, the list of non-essentials is becoming longer as people take practical steps to guard themselves against the possibility of property devaluation or a reduction in income, with consumer demand for cars and home appliances particularly feeling the pressure.
Car sales in China fell for a 18th consecutive month in December, according to the China Association of Automobile Manufacturers (CAAM), who said total sales for 2019 fell 8.2 per cent to just under 25.8 million. CAAM estimates that total sales in 2020 would be 25.31 million units, down 2 per cent year-on-year.
Mobile phone shipments in China dipped to 389 million units in 2019, a year-on-year decrease of 6.2 per cent, according to data released by the China Academy of Information and Communications Technology. In December alone, they fell 14.7 per cent from a year earlier to around 30.44 million units.
Spending on education has also dried up, with dozens of English and early-childhood training companies announcing bankruptcy and the suspension of business due to financial problems at the end of last year. This included Web International English, a company established in 1998 with 154 training centres in 62 cities across China.
In Shenzhen,
a number of small-scale private entrepreneurs, whose incomes have been badly affected by the trade war with the United States, have adjusted their education plans for their children.
"Some parents in Shenzhen last year transferred their children from a class of focusing on bilingual learning and internationally-recognised qualifications to ordinary classes teaching regular Chinese curriculum," said a member of the administrative staff member at a private school in the city.
"The parents said directly that it's because their income was not enough to support high tuition fees in the coming years."
Purchase the China AI Report 2020
brought to you by SCMP Research and enjoy a 20% discount (original price US$400). This 60-page all new intelligence report gives you first-hand insights and analysis into the latest industry developments and intelligence about China AI. Get exclusive access to our webinars for continuous learning, and interact with China AI executives in live Q&A. Offer valid until 31 March 2020.