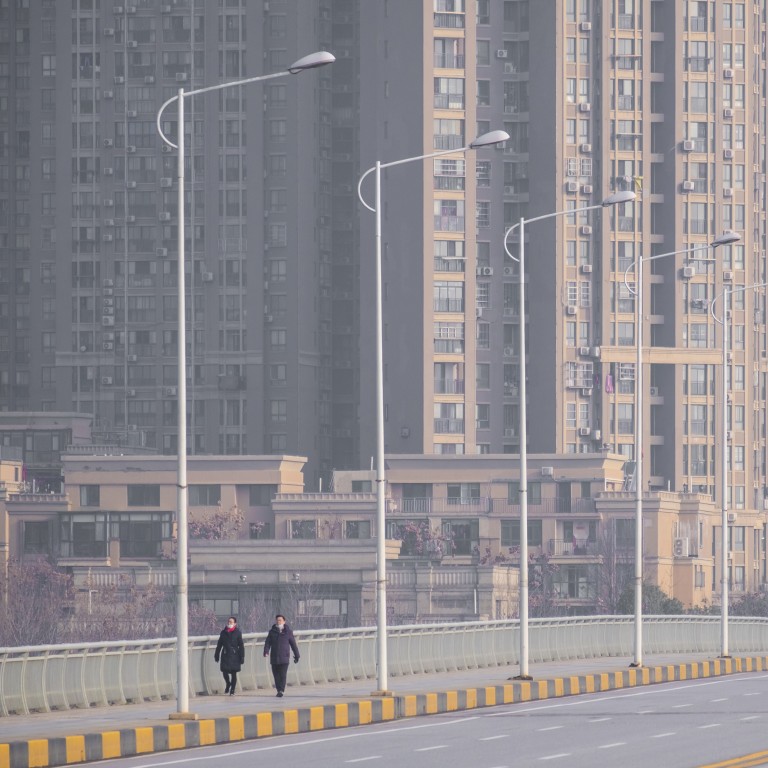 China coronavirus: Fears of economic contagion grow as cities turn into ghost towns
As coronavirus has spread from Wuhan, many Chinese cities have become virtual ghost towns amid aggressive measures to contain the disease
There are signs the economic impact could be deeper than during the severe acute respiratory syndrome epidemic in 2002-2003
Cities across China have become virtual ghost towns as public fear grows over the spread of the deadly coronavirus, with early signs indicating the outbreak could deal a heavy blow to the country's already fragile economic recovery.
As the virus has fanned out from the central Chinese city of Wuhan, authorities have taken increasingly aggressive measures to contain the Sars-like virus, curbing public transport, shuttering entertainment venues and shortening business hours.
The rapid transmission of coronavirus, partly due to initial mishandling by officials in Wuhan and Hubei province, comes as China is trying to stabilise economic growth in 2020 following the signing of a phase one trade deal with the United States.
But the scale of government controls, including restrictions in parts of the country yet to report cases, already points to a deeper and more wide-ranging impact on the economy than that of the severe acute respiratory syndrome epidemic (Sars) in 2002-2003.
In Haining, a city between Shanghai and Hangzhou, officials went door-to-door on the first day of the Lunar New Year period advising people to stay at home and cancel family banquets. Cinemas, malls, karaoke lounges, mahjong houses and public baths were ordered to close indefinitely.
The city's downtown was eerily quiet, even without an official travel ban, and supermarkets – already operating on shortened hours – were being rapidly depleted of essential items like rice.
Though Haining is yet to report a case, the city's pre-emptive measures have been deployed by local governments across Zhejiang, the first province to declare an A-level emergency for coronavirus.
Officially only the 16 cities in Hubei have imposed travel restrictions, but empty streets are now common in most of China's 700 cities and 20,000 towns, with few municipal authorities able to afford to appear neglectful in the eyes of local residents or the central government.
Small-scale road blockades have mushroomed across the country, with urban communities closing gates and rural villages banning entry to non-residents. China's Ministry of Public Security issued a notice reminding people it was illegal to block public roads without proper authorisation.
In Handan, a city some 800km from
Wuhan in Hubei province
, residents rushed to supermarkets to buy instant noodles, vegetables and rice after its first two cases of coronavirus were confirmed on Sunday. A local Walmart limited the amount of supplies – including white vinegar being used as a sterilizer – that could be bought by each customer.
Facial masks also sold out overnight at the city's pharmacies, while surgical spirits were in short supply. Residential compounds across the city started to impose access restrictions, banning cars and people from other communities from entering. With most restaurants, shops and coffee shops closed, the city was unusually quiet. At the few venues still open, customers were required to undergo body temperature checks before gaining entry.
In the capital Beijing, few cars or people were visible on the usually bustling streets. Masks, disinfection gels and sprays had been stripped from shelves at Wumart and Hualian supermarkets in the suburb of Wangjing. "They have long been sold out," a salesperson said.
Onboard the G14 high-speed train from Shanghai to Beijing, the country's busiest high-speed railway line, barely a fifth of the seats were taken on January 25. On top of the signs of plummeting intercity travel, Shanghai has ordered all factories and construction sites to suspend operations until February 10.
While the economic toll of reduced consumption and production are still unknown, there are signs the damage could be more severe than Sars outbreak.
Nomura economists led by Ting Lu wrote in a note on Wednesday that the Wuhan coronavirus "may hit the economy harder than SARS" in 2003. They noted that China's real gross domestic product growth rate in the first quarter of 2020 could be dragged down by more than two percentage points from an estimated level of 6 per cent.
Purchase the China AI Report 2020
brought to you by SCMP Research and enjoy a 20% discount (original price US$400). This 60-page all new intelligence report gives you first-hand insights and analysis into the latest industry developments and intelligence about China AI. Get exclusive access to our webinars for continuous learning, and interact with China AI executives in live Q&A. Offer valid until 31 March 2020.