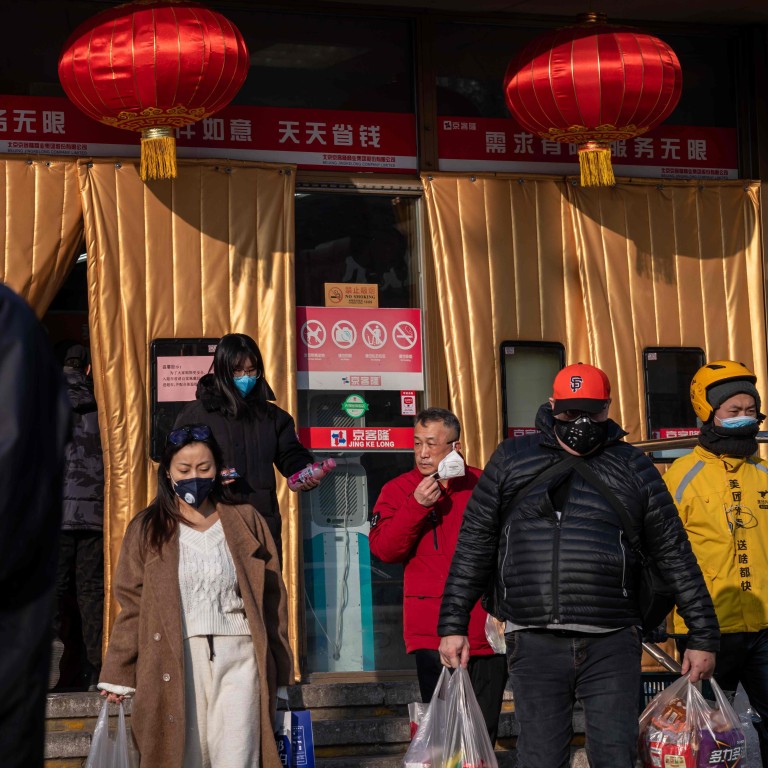 China's unemployment risks surge as service providers bear the brunt of coronavirus outbreak
Government controls to contain the outbreak of the coronavirus have forced small service providers across China to close indefinitely
The closures have stirred concern over job losses in the industry, which is already under pressure from an economic slowdown and a growing number of industrial disputes
The fear of job loss has been added to growing concern about contracting the deadly coronavirus for many mainland Chinese, as the outbreak has forced numerous small businesses in the thriving service sector to close indefinitely.
The virus, which has killed at least 213 people across China and been declared a
global health emergency
by the World Health Organisation, has prompted authorities to close venues ranging from shopping malls to fitness centres and karaoke clubs to prevent its spread.
The closures have not only depressed consumer spending, but cast a shadow over the near-term outlook for China's growing service economy – and the millions of jobs that come with it.
Beijing's restructuring of the economy to rely more on domestic consumption has resulted in strong growth in the service sector in recent years. Services accounted for more than half of China's employment in 2019, compared to 29 per cent during the severe acute respiratory syndrome (Sars) outbreak in 2002-03.
In 2003, during the height of the epidemic, about 8 million people lost their jobs, according to official Chinese data, although real job losses may have been much higher because government data did not cover most migrant workers.
However, the indefinite closure of small businesses has raised doubts among many workers whether their jobs, which were already under pressure from an economic slowdown, will still be there after the extended Lunar New Year holiday period.
Participants in a social media chat group of 200 tutoring centre workers in Shanghai traded worries in recent days about their job outlook. Many expressed concern over the Shanghai government's requirement that companies halt operations until February 10, a week later than required by the central government. Companies that want staff to work from home are required to pay double salaries because it is a holiday. This could force many off-campus tutoring services to lay off staff to avoid extra costs, workers said.
"While some people may enjoy their unusually long public holiday, I am deeply worried about massive lay-offs in March," said Sunny Dong, a human resource manager who has worked in the local education industry for years.
"Basically there is little revenue in January and February [due to the Lunar New Year holiday] and then the first quarter rent is due soon. What do you expect these companies to do?"
Dong lost her job in October when WEBi English, one of China's largest English tutoring centres, collapsed. In one day, 7,000 employees across the country lost their jobs and consumers lost hundreds of millions of yuan in upfront tuition costs.
An increase in labour and consumer disputes in the service sector points to its increasing importance in the world's second largest economy, where new jobs in the industry have kept the unemployment rate stable.
"It is clear that the focus of worker unrest in China is shifting away from factories, many of which closed down or relocated during the last decade, and towards shop workers and sales agents, catering and hotel staff, street cleaners, hospital staff and employees in the leisure industry," China Labour Bulletin (CLB), an NGO that tracks Chinese labour strikes, said in a recent report.
While China's official jobless rate stayed relatively stable at 5.2 per cent at the end of December, the central government told local authorities to prepare for possible large-scale unemployment in 2020, even before the coronavirus outbreak. Rising unemployment is viewed as a source of social unrest, a key worry for the Communist Party.
Protests by service and retail sector workers rose from 9.7 per cent to 23 per cent of all labour protests in China between 2014 and 2019, CLB said. The share of protests by factory workers, meanwhile, declined from 41 per cent to less than 15 per cent over the same period.
"This trend was exemplified by the large number of collective protests of employees at the hundreds of gyms and fitness centres that closed down in China last year," the group said. "Workers in service and retail industries are often poorly paid, work long hours and run a high risk of suddenly losing their job."
At least 40 protests, mostly over unpaid wages after gym closures, took place across China last year, compared with 15 in 2018 and just one incident in 2015, according to CLB. About 12,000 tutoring centres shut down in China last year, according to corporate registration.
Even Chinese professional football players have joined protests over unpaid wages. Last year, seven football teams from China's lower league were reported to owe their players back pay.
This article appeared in the South China Morning Post print edition as: Service sector workers fret over jobs