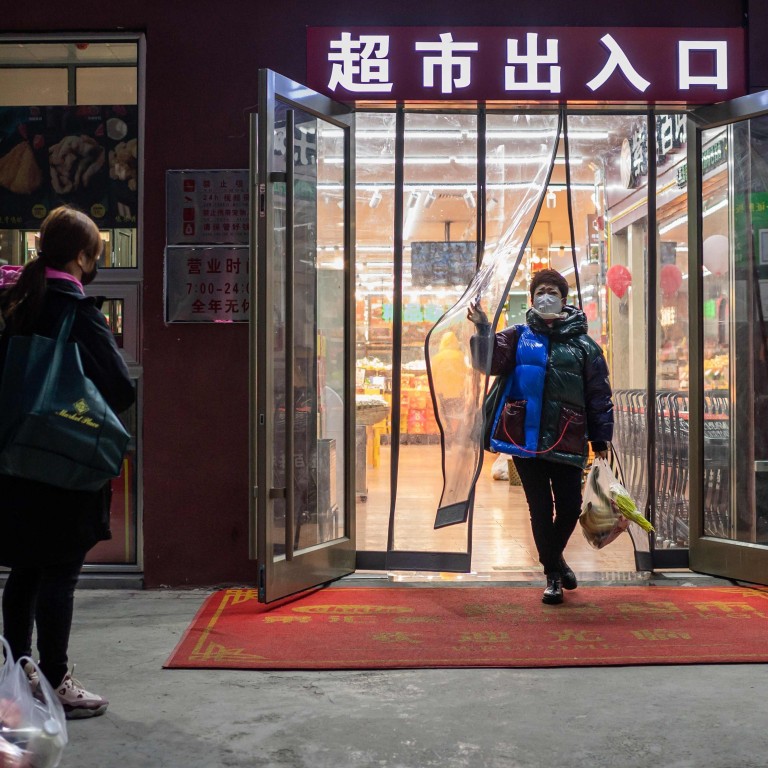 China's consumer inflation at eight-year high, but factory gate prices stay subdued
The consumer price index (CPI) rose by 5.4 per cent in January from a year earlier, up from a 4.5 per cent gain in December
China's producer price index, a measure of the prices manufacturers charge at the factory gate, rose marginally by 0.1 per cent
China's consumer inflation expanded at its fastest pace in more than eight years in January, as pork prices soared due to the coronavirus epidemic and stronger demand over the Lunar New Year period, official data released on Monday showed.
The consumer price index (CPI) rose 5.4 per cent from a year earlier, up from a
4.5 per cent gain in December
, and at its highest point since October 2011, data from the National Bureau of Statistics (NBS) showed.
The result was above an analyst poll by Bloomberg, which forecast 4.9 per cent growth.
Within the CPI, pork prices jumped 116 per cent, as city lockdowns and transport restrictions due to the coronavirus outbreak hurt supply and demand. Overall food prices jumped 4.4 per cent month-on-month, which lifted the gauge by 0.96 percentage points.
The rise of CPI was mainly due to increased demand over the Lunar New Year and the impact of the virus, and also due to a lower base last year as the Chinese holiday was in February 2019, the NBS said in a statement.
"The virus outbreak has rewritten the supply and demand story in China, with supply staying at a relatively low level except for the medical sector and demand also falling," said Tommy Xie, an economist at Oversea-Chinese Banking Corporation in Singapore.
"Prices will likely continue to rise due to weak supply," and China is likely to export inflationary pressures globally, as demand will fall faster than Chinese supply does, he said.
The world's second largest economy faces mounting pressure due to the
novel coronavirus outbreak
, as factories stay closed and millions of consumers remain holed up at home.
As the virus has spread from central
Chinese city of Wuhan
, authorities have taken unprecedented steps to control the outbreak, locking down more than a dozen cities in Hubei province home to tens of millions of people, curbing transport and reducing shop hours.
Consumer inflation in Hubei grew 1.5 per cent from December and 5.5 per cent from a year earlier. The NBS said the data was "positive" as the increase was roughly in line with the national figure.
The producer price index (PPI), reflecting the prices that factories charge wholesalers for their products, rose 0.1 per cent year-on-year in January, an improvement on the 0.5 per cent contraction in December, and slightly better than analysts' predictions.
Julian Evans-Pritchard, senior China economist at Capital Economics, said the virus appeared to have had little effect on the PPI last month.
"But it may simply be too soon to see the impact of the hit to demand on prices as factories were closed during the last week of the month due to the Chinese New Year holiday," he said.
"Recent moves in commodity prices suggest that we will see more of a drag on factory-gate prices this month."
Further pressure on consumer prices this year from the coronavirus outbreak would depend on how quickly production and transport could be resumed, said Ding Shuang, chief Greater China economist of Standard Chartered Bank.
"If the number of confirmed cases peaks this month and the epidemic can be contained in March, its impact on 2020 consumer prices will not be significant."
Of greater concern, however, will be the impact on overall economic growth, which the bank estimated to slow to 4.5 per cent in the first quarter from 6.0 per cent in the previous one.
Correction: This story has been updated to reflect consumer prices are at an eight-year high, not a nine-year high as was first reported.
This article appeared in the South China Morning Post print edition as: virus sends inflation soaring on mainland