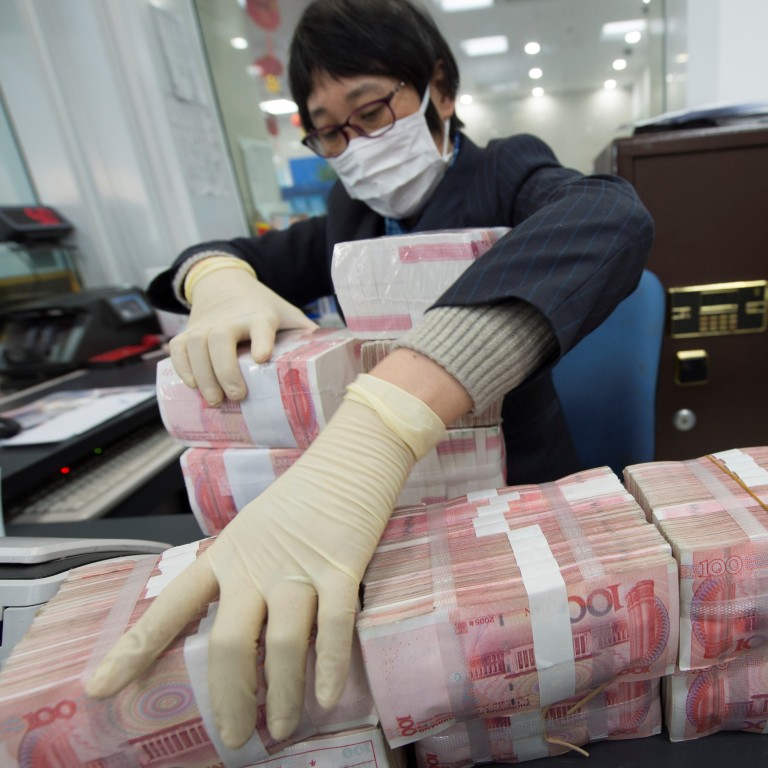 China's coronavirus stimulus response could be limited as 2019 fiscal revenue grew at slowest pace since 1987
Fiscal revenues rose 3.8 per cent in 2019 compared to a year earlier, the Ministry of Finance said on Monday, slowing from an increase of 6.2 per cent in 2018
The fall in fiscal revenues will restrict Beijing's ability to boost spending in 2020 to keep growth on track amid the coronavirus outbreak
China's fiscal revenues in 2019 grew at the slowest pace since 1987 after Beijing's tax cuts in response to the country's economic slowdown, which will limit the government's ability to boost spending to offset the effects of the coronavirus outbreak.
Chinese fiscal revenues rose 3.8 per cent in 2019 compared to a year earlier, the Ministry of Finance said on Monday, slowing from an increase of 6.2 per cent in 2018. It was the slowest growth rate since 1987 when China reported a 3.6 per cent rise.
Within total revenues, tax revenues rose a mere 1.0 per cent last year to 15.8 trillion yuan (US$2.3 trillion) – due in large part to a 25 per cent drop in personal income tax revenues resulting from the tax cut enacted in 2018. Value-added taxes, the largest tax item, rose 1.3 per cent to 6.2 trillion yuan (US$885 billion), again limited by a tax rate cut for many businesses earlier last year.
At the same time, China's fiscal spending climbed 8.1 per cent in 2019 from the previous year, outpacing economic growth as policymakers sought to ward off a sharper slowdown in the economy amid the US trade war.
According to the data, China's fiscal expenditures were 23.9 trillion yuan (US$3.4 trillion) in 2019, of which only 3.5 trillion yuan (US$500 billion) was spent by the central government. Revenues stood at 19 trillion yuan, of which 8.9 trillion yuan was brought in by the central government.
The ministry noted that the government initiatives cut taxes and fees for the country's corporate and individual taxpayers by 2.3 trillion last year and that the government would will continue to reduce the tax burden this year.
But Hong Hao, the head of research at Bocom International in Hong Kong, said that the room for Beijing to adopt all-out fiscal and monetary stimulus, as it did after the 2008-2009 global financial crisis, was limited.
"Some economists are already calling for another massive monetary stimulus," Hong said. "These views have obviously overlooked the limited upside room for [government infrastructure] investment, high local government leverage, and the impact of rising household leverage on consumption."
In 1999, China's tax collectors hailed the milestone of collecting more than 1 trillion yuan (US$143 billion) in taxes, but China's tax revenues last year were 15 times larger. During the same period, the size of China's gross domestic product only expanded 12 times, and China's urban per capita disposal income increased only five times.
The fiscal yearbook published by the government covers only part of China's fiscal situation. For instance, local governments' income from selling land and their debts accumulated through local government financing vehicles are not included.
A separate book published by the Ministry of Finance details "government funds" and "state capital". In 2019, China's local governments brought in 8 trillion yuan (US$1.1 trillion) in revenue from outside their normal budgets, mostly from selling land to developers. In China, all urban land is owned by the government and only the government can sell it.
The ministry said it would closely watch changes in corporate tax burdens in various sectors this year, especially in light of the impact from the coronavirus outbreak.
So far, local governments have issued bonds worth 55.4 per cent of this year's quota, the ministry said.
Additional reporting by Reuters
This article appeared in the South China Morning Post print edition as: Slow growth in fiscal revenues limits stimulus moveBeijing's tax cuts hamper growth in fiscal revenues2019 fiscal spending up 8.1 yr/yr - finance ministry