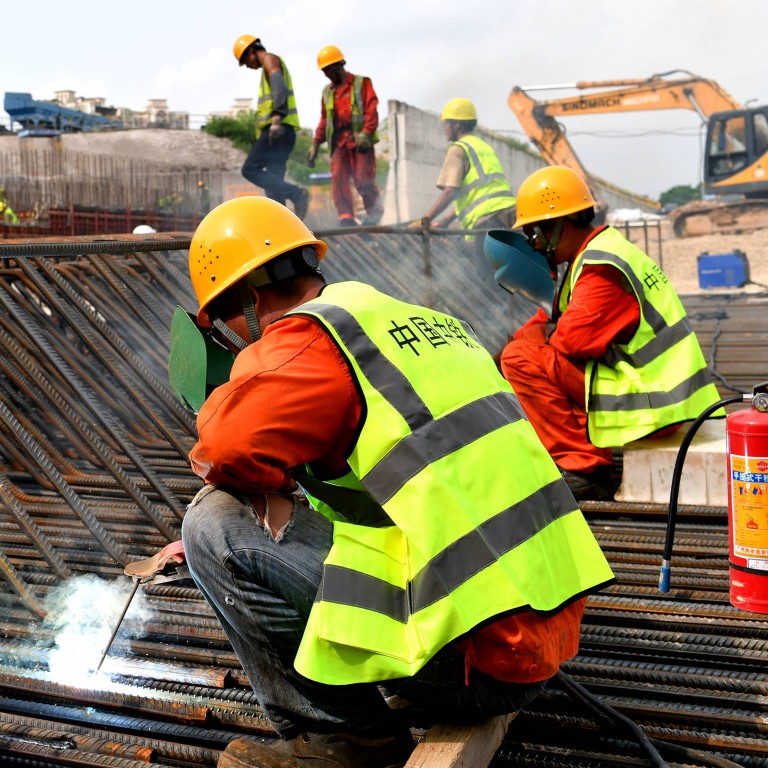 Coronavirus: does China have the financial power to repair the economic damage caused by the outbreak?
Production has been largely halted in a bid to contain the spread of the coronavirus, which has affected nearly 45,000 people and killed over 1,100 across the country
Retail, tourism, aviation and logistics are among the worst hit, with measures already announced seen as being too mild to offset the economic damage
The coronavirus outbreak is expected to significantly worsen China's fiscal situation that is already under pressure from an economic slowdown, raising the question over whether Beijing can afford to loosen the purse strings to help, analysts said.
Production in the world's second largest economy has been largely halted in a bid to contain the spread of the
coronavirus,
which has infected nearly 45,000 people and killed over 1,100 across the country.
Such measures have disrupted many of China's industries, with retail, tourism, aviation and logistics among the worst hit, with many businesses and analysts calling for help from the government, which brought in 19 trillion yuan (US$2.7 trillion) of
revenue in 2019.
China has already launched a few targeted measures in a bid to offset the damage caused by the outbreak, including waiving tax on overtime income earned by medical staff.
However, such measures are too mild to offset the
economic damage,
with analysts expecting the coronavirus to knock one to two percentage points off China's economic growth in the first quarter of 2020.
Wang Tao, head of Asia economics and chief China economist at UBS, estimated that China's gross domestic product (GDP) growth rate would plunge 1.5 per cent in the first quarter, assuming that all companies were able to resume operations at the start of April.
"In my view, China has to rely much more on fiscal policy. So far we've seen some relief in tax cuts in the short term," added Wang, who believes China's fiscal deficit to GDP ratio is likely to exceed 3 per cent in 2020.
Should it go ahead as planned, with doubts emerging due to the coronavirus outbreak, China is expected to announce its fiscal deficit target at the National People's Congress in March, which analysts believe might have to be set higher as the economy is likely to be further weaken.
Last year, the central government lifted its 2019 budget deficit target to 2.8 per cent of GDP from 2.6 per cent in 2018, giving Beijing more room to step up tax cuts and increase infrastructure spending to stabilise its sagging economy.
On Tuesday, the Ministry of Finance said it would bring forward another 848 billion yuan (US$121.6 billion) worth of its new local government bonds quota, taking the total allocated ahead of schedule to 1.848 trillion yuan (US$265 billion).
While the move was widely expected, analysts said the outbreak may have accelerated the early allocation of the quota.
Sun Binbin, chief fixed income analyst at Tianfeng Securities, said on his blog on Wednesday that the early allocation of a large portion of the general purpose bond quota gives local governments flexibility to steady growth as it does not have a restriction on how it can be used.
"We forecast that to respond to the economic impact as a result of the outbreak, fiscal policy should be more forward looking, more targeted. Fiscal deficit target to GDP may be set to around 3.5 per cent," said Sun.
Last week, the Ministry of Finance allocated a budget of 71.85 billion yuan (US$10.3 billion) for outbreak relief, with 17.29 billion yuan (US$2.5 billion) coming from the central government.
China's fiscal spending jumped 8.1 per cent in 2019 from 2018, the finance ministry said on Monday, while fiscal revenues rose by just 3.8 per cent last year, dragged down by the huge tax cuts implemented last year.
Xu Xiaonian, professor of economics and finance at China Europe International Business School in Shanghai, said last week that instead of spending more, Beijing should consider cutting expenditure like it did when tackling Sars in 2003.
"Apart from the central government, the fiscal power is not great. At some local governments, finance is already very difficult, [some] even are worrying about paying wages," Xu told The Beijing News.
"Once government debt goes up, it cannot go down, and long-term accumulation will risk a debt crisis. Fiscal expansion needs to be carefully considered. Rather than increasing the deficit rate, a more effective way is to reduce other government expenditures."
Local government bond sales already reached a record high in January, hitting 785 billion yuan (US$113 billion) in an effort to spur growth.
"The rapid pace of bond issuance so far this year suggests that fiscal policy is being loosened markedly as we speak," said Julian Evans-Pritchard, China economist at Capital Economics.
"However, it's not yet clear the extent to which this loosening will be reversed later in the year. That will depend on the budget agreed at the National People's Congress, which in turn will probably depend on how things play out in the coming weeks."
Analysts said China is likely to further increase spending in a bid to stabilise growth, at least in the first quarter, then cut back later in the year to reduce leverage.
"In the past, China's government has often responded to such developments by belt-tightening, reducing administrative expenditure and other forms of spending. There may a bit of that this year as well," said Louis Kuijs, head of Asia economics at Oxford Economics. "But, given the downward pressures on economic growth, it would be really hard, and unreasonable, to try to meet fiscal targets set before the crisis broke out."
Changyong Rhee, director of the IMF's Asia and Pacific department, said China's growth rate has been moderating even before the outbreak of the coronavirus because of "desirable" steps by its government to deleverage its economy.
Rhee said that Beijing is likely to rely more on stimulus measures in 2020 to keep its economy afloat, although the direct boost to growth will be smaller than past fiscal measures that focused on big infrastructure spending.
"We understand that if the coronavirus cases slow the Chinese economy … they have policy room [to provide more fiscal stimulus]," Rhee said. "But we really hope that they can also [continue to] do … structural reform and credit control."
Rhee said while it was too early to assess the impact of the coronavirus outbreak on Asian economies, it did add to risks to the region's growth outlook.
"[We] don't want to deny this event definitely increases the downside risk. Especially the downside risk will be large for countries which have close ties with China," he added. "At this moment, I think a major channel that has an impact in Asia is tourism."
Additional reporting by Reuters
This article appeared in the South China Morning Post print edition as: Beijing treads fine line on fiscal policy as it plans stimulus