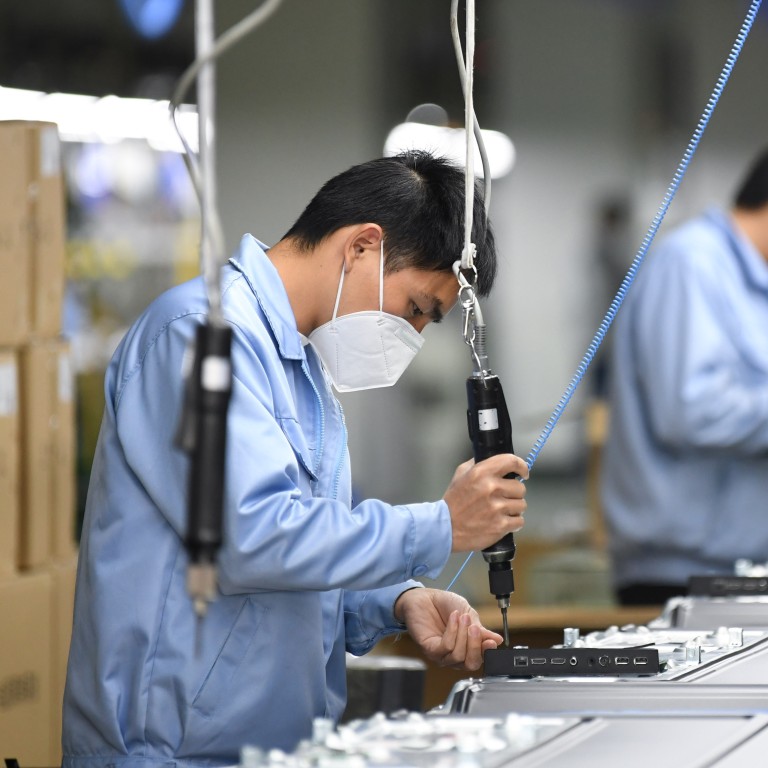 Coronavirus: how fast can China revive the economy after outbreak?
Beijing is keen for normal economic activities to resume amid concerns some local coronavirus containment measures are weighing the economy down
But remaining restrictions still pose a problem for many smaller businesses that have limited resources or rely on a fully functional supply chain
A significant shift is taking place across China as local authorities are being told by Beijing to kick start economic activities and to revoke certain draconian measures limiting the flow of cargo and people.
While containing the spread of the novel coronavirus, which has infected nearly 45,000 people and killed more than 1,100 people across the country, remains a priority for local Communist Party officials, the message from the central government is clear – they cannot put the country's
long-term economic prospects
at risk by overreacting to the outbreak.
The resumption of work at factories, construction sites and office buildings, however, cannot be done overnight as China's economic hubs – including the Yangtze River Delta, the Pearl River Delta and major cities like Beijing and Shanghai – also have the greatest potential exposure to the pneumonia virus due to an influx of returning migrant workers.
Companies engaged in the production of medical equipment – including masks – and delivery firms are the first group of businesses to restart operation, local government directives show. Factories and manufacturers that employ only locals and take sufficient quarantine measures are next in line.
In Hangzhou, for example, people returning to work must have been in the eastern Chinese city for 14 days, and be in good health; they must not have visited a virus-hit area since the start of the year; and they must not have been exposed to suspected or confirmed cases or any infections in their neighbourhood.
One common requirement for factories is that the employer must provide masks to its employees, typically two per employee for 10 days. This has proved difficult, however, as China is experiencing
a severe mask shortage
.
"As far as we know, even for those enterprises with annual sales of more than 20 million yuan (US$2.8 million) in Ningbo city, about 50, or 5 per cent of them, have been allowed to restart work so far," said Linda Chen, who works at a company producing supporting frameworks for tablets in Zhejiang province, where Ningbo is located. "Although we have been allowed to restart production, only 20 per cent of our workers are able to return to work, mainly local Ningbo residents."
Lisa Li, an executive at a major down jacket producer, said her business could not find enough masks.
"We can only arrange 200 employees to work on the production line of our plant in Guangdong, because the local government requires every enterprise to have at least two masks per day, and 10 days of reserve for each employee," she said.
"That means we must have 4,000 masks in stock every day, and it means that we must stock up more masks if we want more workers to restart work."
For China's large manufacturers, which are key to value chains, it is easier to obtain help and approval to restart production. Tesla's huge Shanghai factor resumed production on Monday, while Foxconn has received permission to start part of its production, although many migrant workers cannot return for now. Volkwagen had started production in six plants in China as of Tuesday with the remaining eight expected to restart production by next Monday.
Many
small factories
, especially ones that were labour-intensive and relied on migrant workers, may have to wait longer.
"Few small footwear manufacturers of a few hundred workers in Dongguan have received the permit to restart work so far," said Wang Jie, who runs a footwear factory in the city. Other producers lacked the resources to buy enough masks or arrange quarantine spaces for workers, he added.
"It's unfair and unbearable that local governments make small factories take responsibility of workers that are infected," Wang said, adding just one case would be "catastrophic to the entire factory".
Many companies needed supporting
upstream and downstream manufacturers
to restart before they would recover production capacity themselves, said Cheng Chi-hung who runs a helmet production company in Dongguan.
"We only have raw materials in stock for about the future 15-30 days and about half of our workers available … Unless our suppliers can start production before March 1, our production will not back to normal," he said.
Even for those factories that have opened the gates for workers, it will take time for production to return to normal.
"My company are allowed to restart production, but what my workers can do now is just mop and disinfect the floor because most of my suppliers – from weaving printing and dyeing mills to packaging factory – have suspended production," said Xie Jun, a furniture and textile exporter in the Yangtze River Delta.
Channey Zhen, general manager of a hi-tech ceramic glassware manufacturer in Chaozhou in Guangdong, said her company technically resumed production on Monday, but it was far from running at full capacity.
"The entire manufacturing sector in China is integrated – if one supplier is not in work, then the whole chain would be affected," Zhen said.
This article appeared in the South China Morning Post print edition as: restarting work A big challenges for small firms trying to reopen