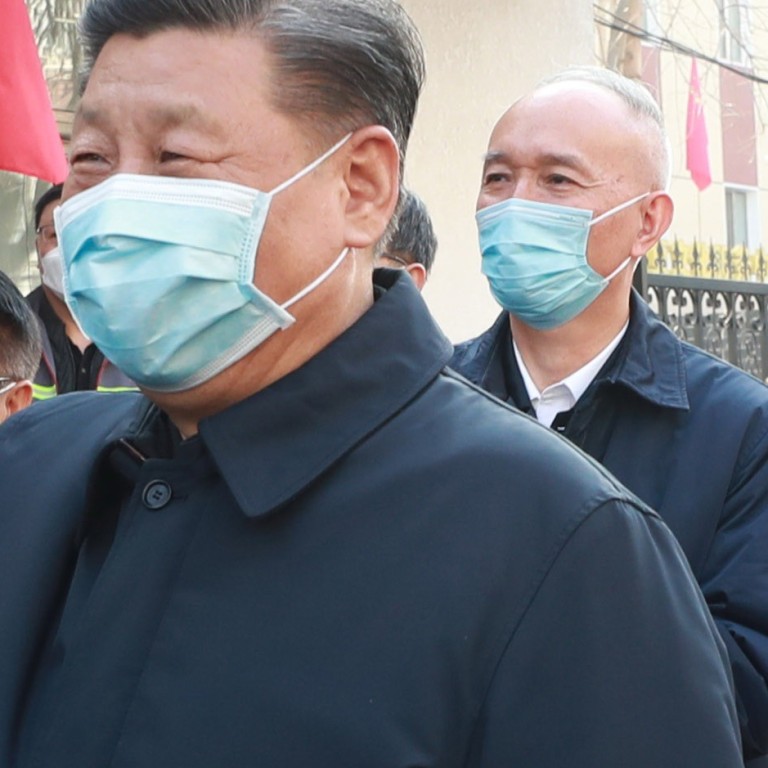 Coronavirus: Xi Jinping sends message on China's economy and getting back to business
Chinese president claims there have been 'positive results' in controlling the outbreak during meeting of Communist Party's inner circle
He urges local governments to ensure economic stability and social harmony, while all counties are to be rated according to virus risk level
President Xi Jinping on Wednesday sought to send a message that progress had been made in bringing the coronavirus outbreak under control and, for most parts of the country, the focus should be on getting back to business.
According to state television, Xi chaired a meeting of the Politburo Standing Committee, China's supreme political body, on the latest developments on the crisis and future policy responses, concluding that there had been "positive changes" with "positive results".
At the same time, Xi said, efforts to control the outbreak had entered a critical stage and there was no room for
relaxation in key measures or key areas.
He called for areas where there were a large number of suspected cases of the new virus – especially the outbreak epicentre Wuhan – to create more hospital beds and quarantine facilities.
"The year 2020 is the last year for China to deliver the goal of becoming a comprehensively well-off society," the statement carrying Xi's comments said. Xi added that local authorities must ensure economic stability and social harmony by minimising the impact of the outbreak on people's lives and on production.
Xi also urged local authorities to refrain from taking excessive measures to curb contagion.
"We must correct these overreactions and extreme measures and avoid an oversimplified approach [such as] blanket closures or suspensions of business operations," Xi said.
It was the third time in a month that Xi has gathered China's top leaders to discuss the virus outbreak, following meetings on February 3 and January 25, the first day of the Lunar New Year.
Compared to the previous meeting, the message from Wednesday was more about resuming normal production and life, although treating patients and containing the spread of the disease remained the priorities for hard-hit areas, especially Wuhan.
In a new policy, China's more than 2,000 counties will be rated according to their risk of an outbreak of the virus, which will determine their priorities and policies.
Zhejiang province has already begun rating its counties as red, yellow or green levels of risk. Counties rated green are deemed low risk and residents can move about freely. In those rated yellow, checkpoints will be set up at the entrances to all residential compounds and villages. And for the high-risk counties rated red, all residents will be confined to their homes.
But there will be no change to the "proactive" fiscal policy stance or the "prudent" monetary policy stance, suggesting there will not be any all-out stimulus measures or major monetary easing moves.
Local governments were also urged to boost domestic demand and help exporters resume their operations.
This article appeared in the South China Morning Post print edition as: Xi sends reassuring message at meeting