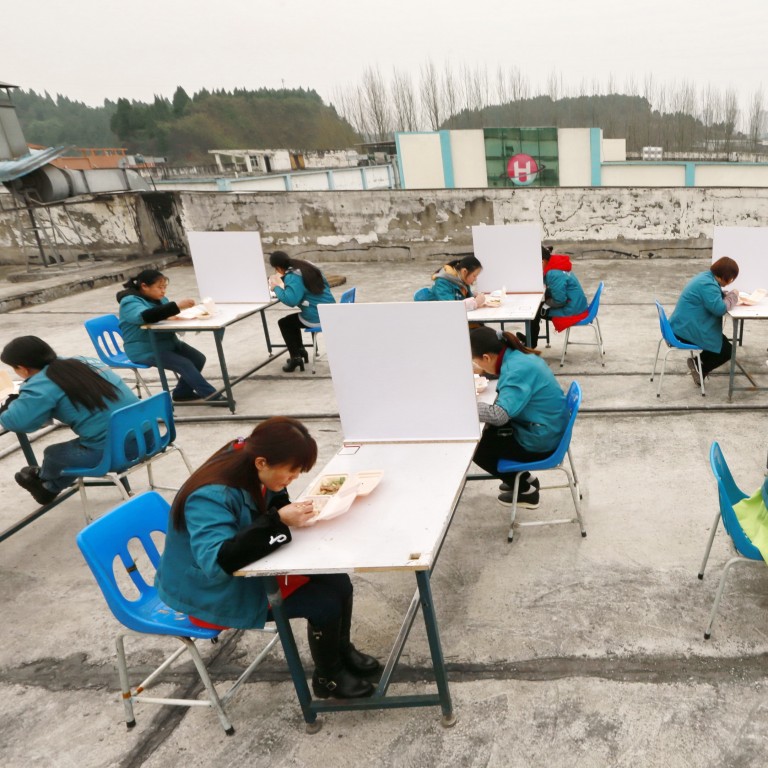 Coronavirus: China reports work-related infections as factories, offices resume operations amid outbreak
Gree Electric, the country's biggest air-conditioner manufacturer, was forced to check and quarantine employees after a bus driver had close contact with a suspected case
China is attempting to slowly resume economic activities after an extended Lunar New Year holiday, while also controlling the spread of the coronavirus
Cracks have appeared in China's eagerness to resume economic activities amid the coronavirus outbreak, with a number of work-related cases reported.
Gree Electric, the country's biggest air-conditioner manufacturer located in the city of Zhuhai in Guangdong province, was forced to take emergency action last week to check and quarantine its employees after a bus driver was found to have had close contact with a suspected case, according to a notice published by the company's labour union on its social media account.
The contracted driver, surnamed Feng, had been driving employees to and from work last week until Saturday, with Gree now "intensely" checking the condition of employees who had travelled on the bus.
In addition, Feng was found to have had a meal with three colleagues last week, which was against his company's policy concerning coronavirus control. According to the statement, Gree recommended that the contractor sack all four drivers despite the quartet, plus Feng's son, later testing negative.
The Gree statement, which was later removed, did not provide details on how many workers have been placed under quarantine. Gree declined to comment further when contacted by the South China Morning Post.
In another case in Chongqing, more than 130 employees of Chongqing Titanium Industry, a unit of Pangang Group, had to be quarantined and the factory was again forced to halt production after two members of staff were confirmed as being infected at the start of last week, according to a notice by the local industrial estate where the plant is based.
In Guangzhou, an employee tested positive for coronavirus, forcing the company to quarantine its remaining members of staff since Friday.
In Shenzhen, the local health department reported on Sunday a case involving a salesperson working at a supermarket in the city's Baoan district.
In general, manufacturers with large scale production, a close relationship to the government and sufficient supplies will be among the first to receive approval, while many smaller factories, especially those labour-intensive operations that rely on migrant workers, may have to wait longer.
"We just checked our application … and our factory is now still number 2,371 on the waiting list … I'm just speechless," a Shenzhen-based manufacturer said.