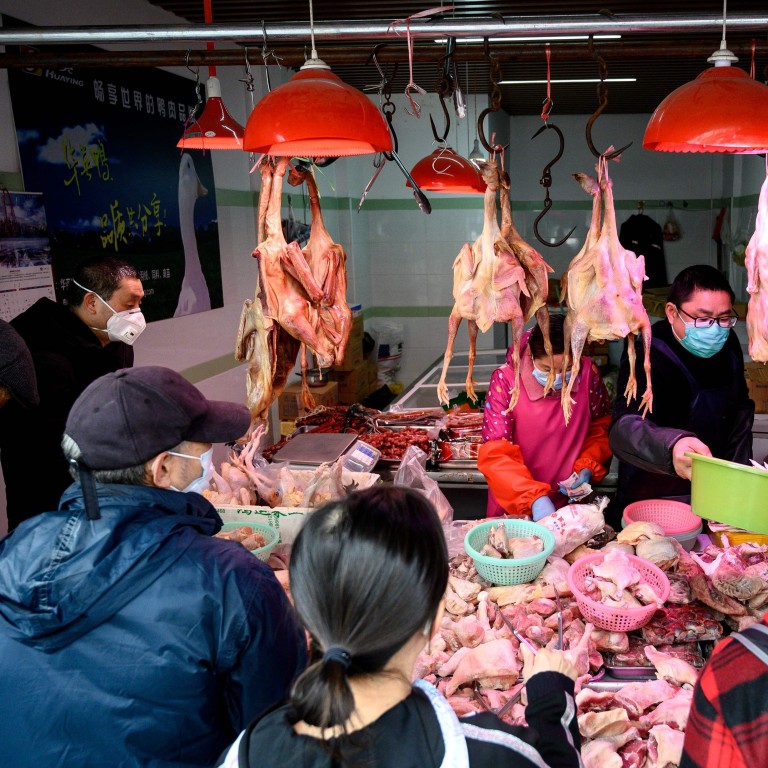 Coronavirus: China's poultry, eggs supply under pressure as frozen pork, chicken, beef pile up at ports
Restrictions on moving livestock and extended holidays have paralysed supply chains, leaving farmers stuck with large inventories of birds and eggs
Thousands of containers of frozen pork, chicken and beef are also piling up at some of China's major ports as transport disruptions and labour shortages slow operations
China's supply of poultry and egg products may be hurt in the second and third quarter of 2020 as the country tackles the coronavirus outbreak, agriculture ministry official Yang Zhenhai said at a State Council briefing on Tuesday.
China is the world's second-largest poultry producer and has been ramping up output to fill a huge meat shortage after an
African swine fever
epidemic decimated its pig herd.
Poultry prices have plunged in recent weeks and restrictions on moving livestock and extended holidays in many areas have paralysed the supply chain, leaving farmers stuck with large inventories of birds and eggs even as demand plunged as restaurants and canteens stay shut.
Yang said that since the coronavirus outbreak, which has led to more than 1,800 deaths, live poultry markets have been closed, transport of baby and live poultry has been curtailed and slaughterhouses have been shut down.
He said one company had reported losses of more than 100 million yuan (US$14.3 million), but did not give further details.
"The loss of the entire poultry industry would be very serious," Yang said.
China's agriculture and transport ministries have told local authorities to allow companies involved in feed-production and poultry-slaughtering to resume work as soon as possible and overcome disruptions caused by the coronavirus outbreak.
The state planner has also sold 1.32 million tonnes of corn to feed-processing firms in southern provinces to ensure their raw material supply.
Ports are also starting to run out of electricity points to freeze the containers and some ships have been told to divert to other destinations in mainland China and Hong Kong, the people said.
China is a massive importer of meat from South America, Europe and also the United States, and has been boosting purchases to help ease shortages caused by African swine fever. The country increased imports of meat and offal by almost 50 per cent in 2019 to a record of about 6.2 million tonnes, customs data showed.
It remains unclear when port operations will return to normal as truck drivers returning from other cities are quarantined for 14 days and other transport restrictions on trucks remain in place, the people said.
The government encouraged factories to ramp up production this week after extended New Year holidays. Outbreaks of the virus have infected more than 70,000 and killed over 1,800 in China.
More than 220 million migrant workers have also not returned on time and may travel in late February or March, Liu Xiaoming, the transport minister, said on Saturday.
The office of the spokesman for the General Administration of Customs in Beijing did not answer phone calls seeking comment from Bloomberg.