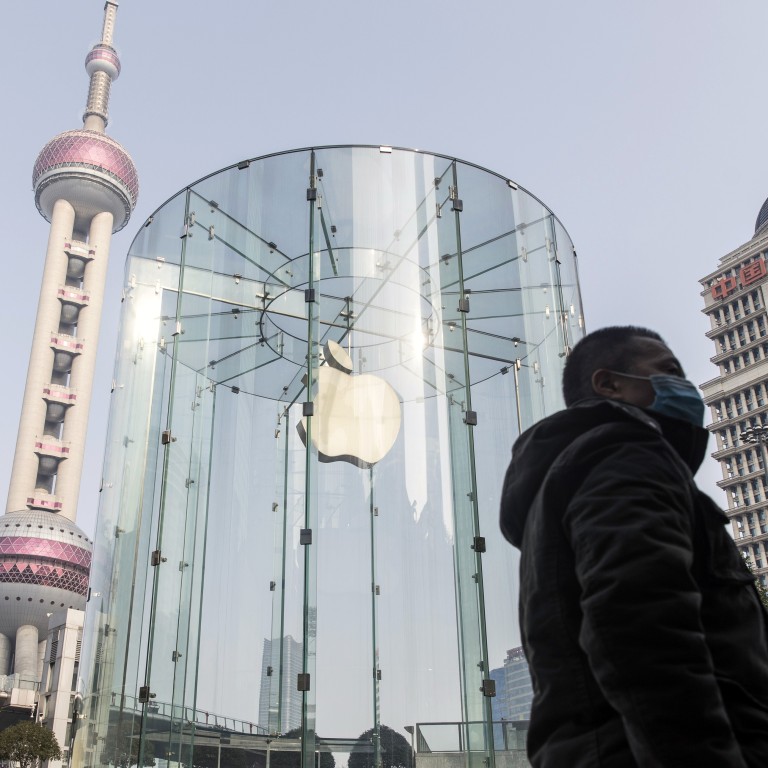 Coronavirus: Chinese banks face test as bad debts tipped to rise while economic growth tumbles
China may be forced to scale back its deleveraging campaign if it wants to maintain economic momentum amid the ongoing coronavirus outbreak
A recent stress test by China's central bank showed 17 of 30 local banks would fail to meet their capital adequacy ratio if growth slowed to 4.15 per cent
China's banking system will be seriously tested by the fallout from the coronavirus outbreak, which could derail growth and trigger a spike in bad debt if banks are told to lend to virus-hit sectors of the economy, analysts said.
The virus outbreak, which has killed more than 2,000 people and infected more than 74,000, is expected to cut China's gross domestic production (GDP) growth by 1-2 percentage points in 2020 and drag it down to 3 per cent or lower in the first quarter. Many analysts say the economic toll will be greater than that of the
severe acute respiratory syndrome (Sars) epidemic
in 2002-2003.
A recent stress test conducted by China's central bank showed that nine of 30 local banks would fail to meet their capital adequacy ratio if growth slipped to 5.3 per cent, and 17 of them would fail if it slowed to 4.15 per cent.
As the coronavirus outbreak continues, growth as low as 5 per cent is turning into a reality and many analysts believe China may be forced to slow its two-year-old campaign to curb debt in the financial system if it wants to boost the economy.
"Given the epidemic, corporates and local governments are likely harder hit than the households. It's therefore likely that the central government will be more lenient in local government debt situation," said Amy Yuan Zhuang, chief analyst at Nordea Markets.
"For example, allow them to borrow more and relax repayment criteria. A possible consequence of this action is more debt going forward, more likely in the years ahead, but it depends on the magnitude of stimulus."
Last month, China's banking and insurance regulator asked banks to provide extra support – such as extending loans – to entities and individuals that were helping combat the coronavirus.
Beijing's deleveraging campaign
has targeted so-called shadow banking practices – lending and other financial activities conducted by unregulated institutions like trust companies or brokerages, or unregulated off-balance-sheet operations by traditional banking institutions. Regulators say this poses a threat to the stability of the financial system.
By the close of the fourth quarter of 2019, the non-performing loan balance of commercial banks was 2.41 trillion yuan (US$344.3 billion), an increase of 46.3 billion yuan (US$6.6 billion) from the previous quarter, data from the China Banking and Insurance Regulatory Commission showed. The non-performing loan ratio of commercial banks was 1.86 per cent, flat from the previous quarter.
The People's Bank of China (PBOC) has said it will be more tolerant of sour bank loans that had been affected by the
coronavirus outbreak
.
"We are prepared to allow non-performing loans to increase. We believe that with our efforts, the problem of non-performing loans will be properly resolved," PBOC deputy governor Fan Yifei said last Friday. "In the past two years, we have strengthened financial risk governance, and non-performing loans is also one of the problems we face. Overall, the ratio of non-performing loans is relatively low."
But the outbreak could seriously test the resilience of China's banking sector. Last year the Chinese government had to intervene in the operations of three local banks, raising questions about the stability of the banking system.
Baoshang Bank was taken over
by the central government, while Bank of Jinzhou and Hengfeng Bank were partially bailed out by state and private investors.
Based on data from China's 30 largest banks, Standard & Poor's estimated earlier this month that China's non-performing loan ratio (NPL) could jump above 6 per cent if the public health crisis was drawn out.
"The system's NPL formation for exposure to the worst affected regions and sectors are likely to see upwards pressure if the outbreak is prolonged. The official NPL figures may not fully reflect such changes in the underlying asset quality," said S&P.
The rating agency said the PBOC is likely to offer further support to the banking system through cuts to the reserve requirement ratio, including targeted reductions for banks that share its burden.
Banny Lam, head of research at CEB International Investment, said that while local banks were more vulnerable than larger commercial banks, the central bank had injected billions of dollars into the financial system to spur lending and lower borrowing costs.
"[Regulators] have asked banks to help companies that are experiencing difficulties to repay loans," said Lam. "At this moment in time I'd say corporates are more at risk than banks."
Analysts said that coupled with the impact from the outbreak, default risks are rising for Chinese companies, which have seen finances deteriorate because of their already high debt levels and slow growth.
"We expect the default risk of Chinese companies to persist in 2020 given the increased tolerance of defaults, including state-owned enterprises, by the Chinese government under the ongoing de-risking campaign," said credit rating agency Moody's in a report published last week. "The government is likely to let distressed companies rely on markets-based solutions while bailouts will become more selective."
This article appeared in the South China Morning Post print edition as: mainland lenders set for test of Resilience