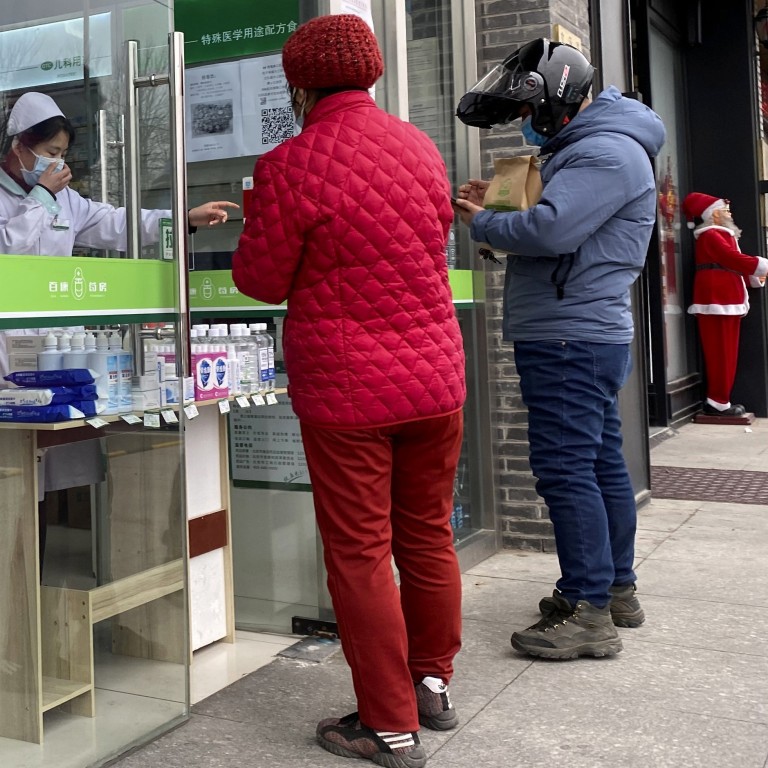 China floods economy with cash with coronavirus outbreak set to hit economic growth hard
Commercial banks extended 3.34 trillion yuan (US$477 billion) of credit in January, an all-time high for bank lending in a single month, the People's Bank of China said
Aggregate financing also reached a new high of 5.07 trillion yuan (US$724 billion)
Chinese banks flooded the economy with a record amount of bank credit at the start of 2020, a move aimed at protecting fragile growth amid the coronavirus outbreak.
Commercial banks extended 3.34 trillion yuan (US$477 billion) of credit in January, an all-time high for bank lending in a single month, the People's Bank of China said on Thursday. The figure is almost equivalent to the country's total bank loans for the whole of 2007.
The net increase of medium and long-term lending for corporations reached 1.66 trillion yuan, showing banks' support for large investment projects, while medium and long-term household loans, which often refer to mortgages, stood at 749.1 billion yuan (US$107 billion).
Aggregate financing, which includes bank loans, entrusted loans, banker's acceptance bills, bond and equity financing, also reached a new high of 5.07 trillion yuan (US$724 billion), an increase of 388.3 billion yuan (US$55 billion) from the same period last year.
"Will this lead to a historical high this year? Does it mean an end to the deleveraging campaign? Debt concerns will certainly return from a long-term perspective," he said. "If the nominal [gross domestic product] won't be able to grow fast [upon the boost], the country is easy to fall into a liquidity trap like Japan," Yeung warned.
The influx of credit is part of the country's overall plan to kick-start production and bring the national economy back on track after the virus forced an extended Lunar New Year holiday.
In early February, the central bank released 1.2 trillion yuan (US$171 billion) of market liquidity in a single day, in contrast to usual withdrawal after the Lunar New Year holiday.
The central bank also provided an additional 300 billion yuan (US$42.9 billion) for commercial banks to lend, aiming to lower the cost of financing, especially for those taking part in control of the virus.
After the seven and 14-day repurchase agreements, as well as the one-year medium-term lending facility (MLF), were cut by 10 basis points, market rates have been guided down.
While the destination of the funds remains unclear, concerns have risen over whether small and medium firms, which are usually privately run, will be able to gain sufficient capital to avoid bankruptcy.
In the past, January lending has also spiked as Beijing took action to start the new year. It reached a high in January 2009 with a 4 trillion yuan (US$571 billion) package to offset the financial crisis, while it also reached a new high in January 2019 amid the trade war with the United States.
Julian Evans-Pritchard, a senior China economist at Capital Economics, said that further monetary easing is expected in the coming weeks in China both in the form of targeted and broad based as Beijing needs to shore up credit growth and economic activity.
Ding Shuang, chief Greater China economist at Standard Chartered, expects a cut of 100 basis points in the reserve requirement ratio and a 10 basis points cut in the MLF rate by the third quarter. Standard Chartered has already lowered its first quarter GDP growth rate estimate to 2.8 per cent from 4.5 per cent.
"If the epidemic is not contained by the end-March as our base case assumes, the central bank may consider cutting the benchmark deposit rate," Ding said.
The outstanding broad money supply, or M2, rose 8.4 per cent to exceed 202 trillion yuan (US$28.9 trillion) at the end of January, an all-time high, almost double the size of China's economy.
This article appeared in the South China Morning Post print edition as: Credit flows as banks join attempt to lift economy