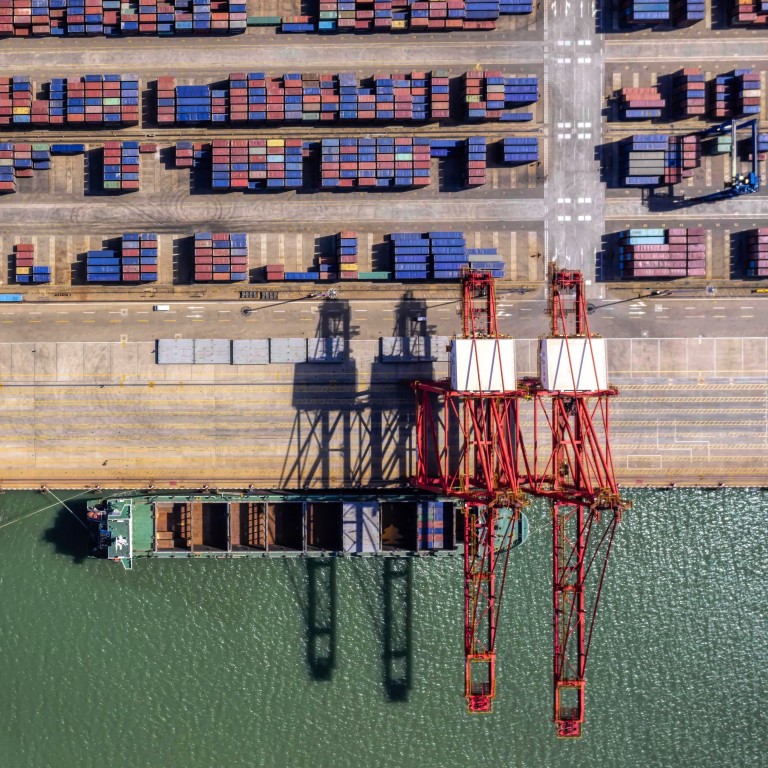 Coronavirus hits China's farms and food supply chain, with further spike in meat prices ahead
Many farmers in China's are unable to access animal feed due to lockdowns across the country, leading to fears for the future of the meat supply chain
China has been forced to loosen restrictions of agriculture market access, amid fears of a further spike in food prices
On his farm in China's Guangdong province, a chicken farmer named Chen is facing a race against time.
The rapid spread of the
novel coronavirus
throughout China has led to the shutdown of many marketplaces and cut farmers off from their livestock and the supply of animal feed.
Chen, who wished only to give his family name, keeps around 60,000 chickens, and before the Lunar New Year holiday in January, he could have sold the birds for 20 yuan each (US$2.8). Now he says he will be lucky to get 2 yuan.
"Have you ever seen a chicken sold for 0.5 yuan per kilogram? That is what we are suffering now. Most markets are closed in Guangdong now, we have nobody to sell to if the markets are closed. However, chickens must be sold when they are 70-days old," said Chen.
Last year, China's agriculture sector was rocked by an
African swine fever outbreak
, which reduced the nation's pig herd by half, sending meat prices skyrocketing around the country and leaving many farmers penniless. If producers had hoped 2020 would be better, the last few weeks is likely to have left those hopes in tatters.
In an effort to contain the virus, China's central and local governments have placed huge areas on lockdown, meaning people cannot come or go, nor can vehicles freely pass between counties and provinces.
While animal feed production resumed on February 10, the Ministry of Agriculture said, the logistics network is understaffed and faced with travel restrictions. This means farmers are struggling to feed their livestock, while many of the live and wet markets where they sell their animals or the slaughtered meat remain shut.
On Wednesday, the Ministry of Commerce warned that China's agriculture and food industries will be "heavily impacted" if the coronavirus crisis persists. On the same day, Premier Li Keqiang told local governments to make sure farmers do not miss the grain planting season, despite the virus, because it "will have an impact on the economic foundation and social stability for the whole year".
"Animal farms have big problems," said Rosa Wang, an analyst at Shanghai-based agricultural data provider JCI China. "There has been a shortage of feed getting to regions due to transport and logistics issues. Farmers are feeding their animals cheaper corn and [distiller grains] just to keep them alive as they cannot get soybean meal. They also cannot sell their produce at the markets."
Beijing has ordered local authorities not to hold up animal feed passing between regions at the temporary checkpoints that have sprang up to counter the virus' spread, but continued restrictions on
logistics
still mean that the options to transport feed often do not exist.
"Even if a company can restart [trading], they're dealing with upstream and downstream logistics," said Darin Friedrichs, a grain and oilseed analyst in Beijing. "[Imports] are happening, but there's a shortage of drivers."
It was reported earlier this week that thousands of containers of frozen meat are piling up at Chinese ports because the trucking network has effectively collapsed. Ports are running out of power points to keep the meat frozen, further stoking fears of damage to the food supply chain.
An American company which makes equipment for immunising and monitoring a billion baby chicks in China each year said its cargo imported from the US had been sitting at a
Chinese dock
for four weeks, with no transport to get it to hatcheries around the country.
"This is obviously not good for our business, but I am more concerned about some of our customers, who appear to be in real trouble," said the company director, who because of the sensitivity of the situation, preferred not to be named.
In the poultry sector, it is these hatcheries – where layer birds and eggs are cultivated – that could be at most risk, said Chenjun Pan, protein analyst at Rabobank.
"I believe hatcheries are threatened. If farms want to slow down, they could destroy eggs instead of destroying breeders," she said, with the impact being that the population of chickens in China could be reduced over the coming months.
Pan said that food prices in China will probably spike again during the first quarter and possibly into next, following an eight-year high consumer inflation reading in January of 5.4 per cent.
The price of pork – China's most popular meat – rose by 116 per cent last month, the biggest increase on record. With the government already the brunt of severe and widespread criticism for its handling of the coronavirus outbreak, it will be desperate to avoid further social unrest that could stem from
prolonged food inflation.
Wang at JCI China, meanwhile, predicts a 2 million to 3 million metric tonne supply gap of soybeans in March, with crushers in the country slowly returning to operation, but still suffering from logistical problems.
This confluence of issues has persuaded Beijing to loosen the barriers to entry to its agricultural market. This week, it announced a process through which importers could apply for waivers on trade war tariffs on
goods from the United States,
including pork and soybeans. This is viewed as a way of both satisfying its purchase commitments in the
phase one trade deal
and filling holes in its food supply.
"According to our contacts within the Chinese government, the likelihood of success on granting a request under this new process would be very high. We understand this is the basic approach adopted by China to meet its purchase commitment without formally repealing the retaliatory tariffs," said Frank Pan, partner at Xin Bai Law in Shanghai.
Already, Bloomberg reported that Chinese buyers have bought at least two cargoes of sorghum and inquired about soybean purchases.
Last weekend, China formally lifted a ban on
US poultry products,
paving the way for much needed protein imports in the world's second largest economy.
US food giant Tyson Foods said recently that its pork exports had been disrupted due to the virus, but said that its chicken exports remain on target.
"We have not redirected any of our current export chicken products from their intended destinations. We're closely monitoring news of the coronavirus," said Tyson spokeswoman Yang Hli. "In China, we have been working with the government and we have successfully restarted all of our operations."
Additional reporting by Cissy Zhou
Purchase the China AI Report 2020 brought to you by SCMP Research and enjoy a 20% discount (original price US$400). This 60-page all new intelligence report gives you first-hand insights and analysis into the latest industry developments and intelligence about China AI. Get exclusive access to our webinars for continuous learning, and interact with China AI executives in live Q&A. Offer valid until 31 March 2020.
This article appeared in the South China Morning Post print edition as: farmers suffer again as nation grinds to a halt country shuts down