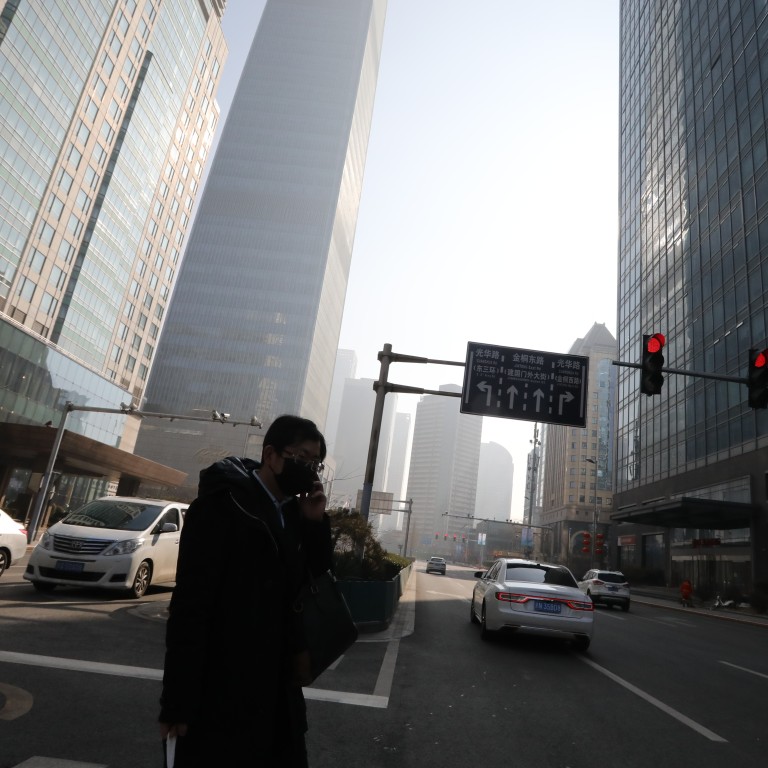 Coronavirus: China pledges to hit 2020 targets despite economic impact of epidemic
China's leaders say the coronavirus outbreak is a 'temporary' setback and the country's social development targets for this year can be achieved
Beijing is intent on doubling the size of the economy in the decade to 2020, but supply chain disruptions and factory shutdowns threaten to throw growth of course
China has reaffirmed it can meet its economic and social development targets in 2020 despite the coronavirus epidemic, although it remains tight-lipped on what specifically those goals are.
China's top leaders decided the country's general economic plans for 2020 at the
Central Economic Work Conference
last December, before signing a phase one trade deal with the United States on January 15, and the outbreak of coronavirus, which has roiled supply chains and killed close to 2,500 people in the mainland.
The 2020 targets, including the gross domestic product (GDP) growth rate, as well as unemployment and inflation, were set to be unveiled at the National People's Congress in March, but the annual parliamentary gathering has been postponed.
Chinese officials, including President Xi Jinping, have said Beijing would forge ahead with the goals, including building a "
comprehensively well-off society
". To realise the vision, China must double its GDP this year from 2010, which economists have calculated would require a minimum 5.6 per cent growth rate.
"As [China is] the world's second largest economy, the impact of the epidemic over the Chinese economy is temporary and short-term," said Cong Liang, the general secretary of the National Development and Reform Commission in Beijing on Monday. "The goals and tasks of economic and social development in 2020 can be achieved."
Cong said the outbreak had exposed weak links and shortcomings in many areas, but that China's economy had shown "tremendous resilience and potential" as many sectors – including e-commerce, online education, remote offices, online entertainment and intelligent manufacturing – had grown during the public health crisis.
"This is not only a new opportunity to expand domestic demand and promote development, but also is a good time to cultivate and expand new economic growth points," Cong said. "This is critical to lay a good foundation for the sustainable and healthy development of China's future economic and social development."
Cong said more than 90 per cent of industrial enterprises in Zhejiang province, a key export and manufacturing base, had returned to work, with more than 70 per cent resuming operations in Jiangsu, Shandong, Fujian, Liaoning, Guangdong and Jiangxi. However, the official figures cover only larger firms, with a minimum annual turnover of 20 million yuan (US$2.85 million).
More than 67 per cent of steel enterprises, 76 of coal mines and 86.3 of enterprises in the ferrous metal sector had returned to work across the country, said Cong.
"We believe that local finances across the country can run stably, backed by the strong economic development, as the epidemic improves and production gradually resumes," said Ou Wenhan, assistant minister of finance.
"[We] will step up policy efforts to prevent economic growth from slipping out of the reasonable range and avoid the short-term impact of it becoming a trend change."
You Jun, vice-minister for human resources and social security, said that increasing employment was now the top priority, with coordinated fiscal, financial and employment policies to be focused on supporting the service sector, small and medium-sized enterprises as well as labour-intensive industries that all have larger employment capacity.
"Policies in all aspects should focus on promoting the employment," he said.
"The overall stability fundamentals of China's employment status have not changed … we are confident to maintain overall employment stable this year."
Ren Hongbin, assistant minister of commerce, conceded that the outbreak would impact foreign investment in the first quarter, but remained confident for long-term growth.
"China's foreign trade has strong resilience and competitiveness, especially innovative ideas and the ability to explore [new] markets of enterprises, therefore, the long-term positive trend of the foreign trade will not change," he said.
Meanwhile, Chen Yulu, the deputy governor of the People's Bank of China (PBOC), said the central bank would adopt a policy of "dynamic adjustment" for targeted reserve requirement ratio (RRR) adjustments.
He also confirmed the PBOC would offer greater support to China's three policy banks, the Agricultural Development Bank of China, China Development Bank and The Export-Import Bank of China, to boost their role in helping offset the impact of the outbreak.
This article appeared in the South China Morning Post print edition as: Growth targets within reach despite outbreak, Beijing says