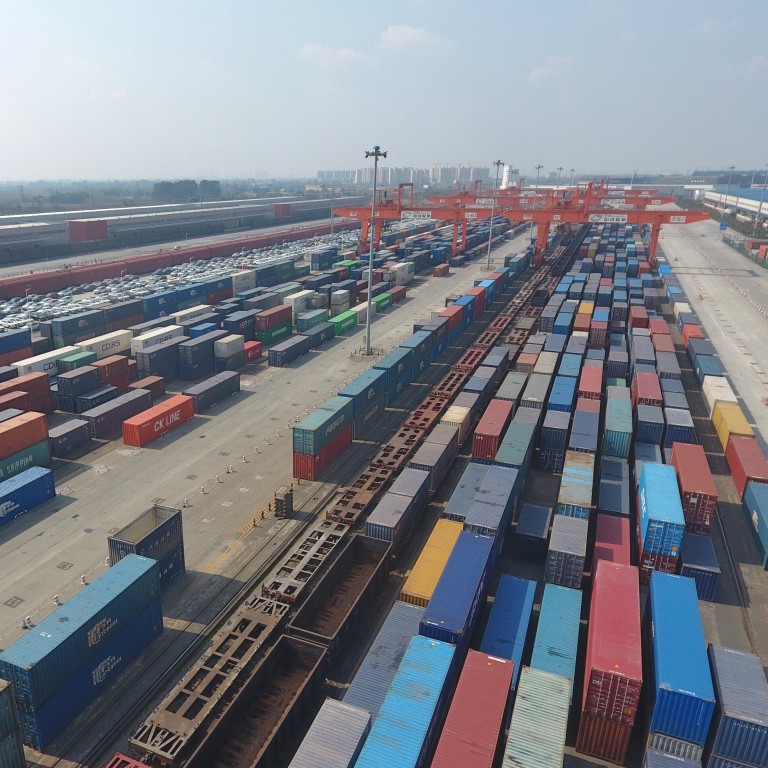 Coronavirus: doubts raised over whether Chinese companies can use force majeure to counter risks
More than 3,000 certificates were issued in February to Chinese companies seeking to invoke force majeure because of the coronavirus outbreak
But legal experts say the companies may be in for a 'rude awakening' if they think they will be let off the hook with international parties
Chinese firms are rushing to invoke force majeure – or an unforeseeable act of God – to shield themselves from contract obligations they cannot meet because of the coronavirus outbreak, but many may be unsuccessful in their efforts, lawyers and experts said.
A government-backed agency issued more than 3,000 certificates to Chinese companies in the first three weeks of February certifying that they were victims of unexpected external circumstances that prevented them from fulfilling contracts signed before the
coronavirus outbreak.
The certificates, issued by the China Council for the Promotion of International Trade (CCPIT), a quasi-government trade body, provide a form of legal documentation for firms to help them renegotiate terms with overseas clients.
However, lawyers and experts said the certificates did not ensure that contract commitments could be waived.
The CCPIT issued the first force majeure certificate on February 2 to an exporter based in Huzhou in Zhejiang province because disruptions caused by the outbreak prevented the firm from delivering products to its overseas clients on time, according to state news agency Xinhua.
The unidentified company faced direct contract losses of 2.4 million yuan (US$341,000) and a possible claim for damages of 30 million yuan (US$4.2 million) from buyers if it was unable to provide a legitimate reason for the delay, according to the report.
It is unknown whether the exporter's clients accepted the explanation and waived contract commitments. The CCPIT and its local branches had issued 3,325 force majeure certificates by the end of last week, covering contracts with a total value of 270 billion yuan (US$38.4 billion), Xinhua reported.
Wanjiamei Textile, a garment exporter based in Fujian province with about 800 employees, applied for a force majeure certificate as a precautionary move.
"There's no dispute between me and my client in Spain, and I applied for the certificate just in case the client side demands an explanation," company chairman Tang Bofa said.
"The client actually knows the situation in China well and has showed understanding. For my side, the most important thing is to deliver the shipments as quickly as possible. I plan to arrange shipment by air instead of by sea to make up the lost production time."
Liuzhou Glory Zinc Minmetchem was the first company in Guangxi region to apply for force majeure because it is set to miss delivery deadlines to a Japanese client because of disrupted traffic and port operations. Chen Wei, a manager of the company, said the application was "like getting the umbrella ready before it rains".
"My client isn't suing me or demanding compensation … I got an official paper in place so that my client can explain it to its own clients in Japan," Chen said. "The certificate from CCPIT also doesn't automatically release me from my contractual obligations."
Like a number of other large companies, the China National Offshore Oil Corp (CNOOC), China's biggest importer of liquefied natural gas, has invoked force majeure to suspend contracts with at least three suppliers, Reuters reported this month. But the request was rejected by its counterparts, including energy giants Total and Royal Dutch Shell.
Analysts are also closely watching whether Beijing will cite the coronavirus outbreak as a reason to renege on some trade commitments included in the
phase one deal
with Washington. As part of that deal, China promised to buy US$200 billion worth of American products and services over the next two years – a goal that my be unattainable if domestic demand is hurt badly by the epidemic.
The issuance of force majeure certificates comes
as China seeks to protect its traders from additional damage caused by the trade war with the US and now by the coronavirus.
President Xi Jinping
said at a nationwide teleconference on Sunday that China must strive to maintain its market share in global trade despite the impact of the outbreak.
But the real effect of force majeure could be limited, according to law firm Holman Fenwick Willan. Chinese companies with certificates "face a rude awakening if they think they will allow them to get out of contracts with international parties," the firm said in a statement. "Most of these force majeure claims will not succeed," it added.
Wang Yue, a Beijing-based partner at law firm King and Wood Mallesons, wrote in an article on his firm's website this month that the certificates from the CCPIT could only prove there was a situation that indicated force majeure, but the documents did not have the legal effect of releasing companies from contractual obligations.
"The CCPIT certificates can serve as trustworthy supporting documents … in the case foreign governments, customs, chambers of commerce, businesses and courts or arbitrators don't fully understand or trust a Chinese company's self-serving statement about force majeure," Wang wrote.
Purchase the China AI Report 2020 brought to you by SCMP Research and enjoy a 20% discount (original price US$400). This 60-page all new intelligence report gives you first-hand insights and analysis into the latest industry developments and intelligence about China AI. Get exclusive access to our webinars for continuous learning, and interact with China AI executives in live Q&A. Offer valid until 31 March 2020.
This article appeared in the South China Morning Post print edition as: Firms 'may struggle with force majeure claims'