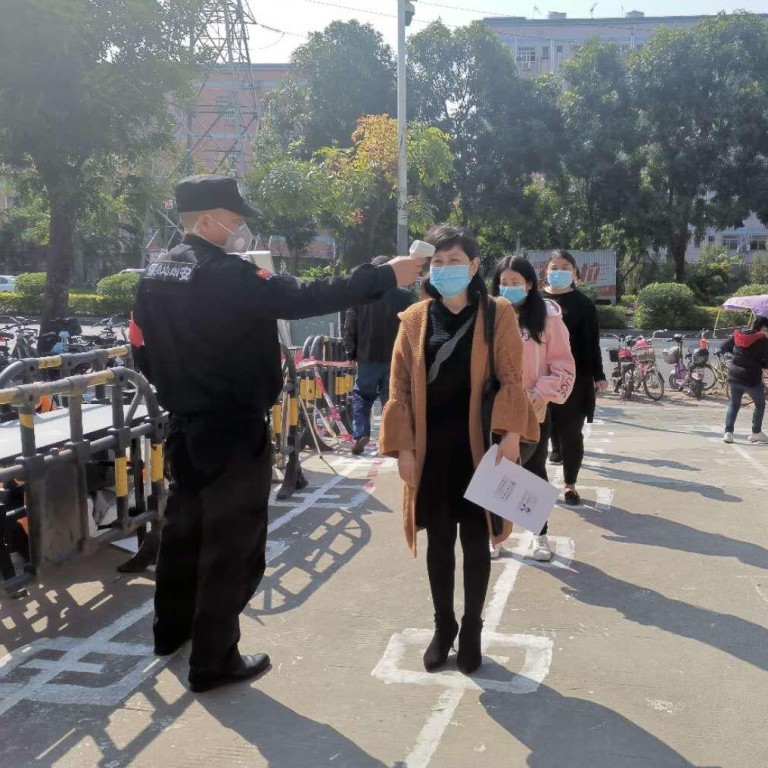 Coronavirus: can Hong Kong firm regain trade war losses by turning Covid-19 crisis into an opportunity?
Hong Kong electronics firm, which has a manufacturing operations in Guangdong province, says it has already secured a 10 per cent increase in orders
The firm has restored 60 per cent of its production capacity by offering increased wages and ensuring a supply of face masks while others battle against restrictions
"If you manage a crisis well, you can get market share from your competitors" may be seen as a blunt assessment, but one Hong Kong electronics manufacturer with production facilities in Dongguan, in southern Guangdong province, is hoping that its rapid response to the coronavirus outbreak will help it make up ground lost as a result of China's trade war with the United States.
Eric Wong, which is not his real name because his is not authorised to speak to the media, said he took advantage of the shorter four-day Lunar New year holiday in Hong Kong to make advance purchases of much-needed surgical masks and liaise with its customers. In contrast, its mainland rivals were forced to take an extended holiday after authorities implemented restrictions in an effort to combat the spread of the
coronavirus.
Wong said his firm also ensured an adequate supply of raw materials and components, a shrewd move which is now paying off with
supply chains across China
stretched as companies slowly resume production amid the ongoing outbreak.
As a result, Wong's firm has already secured a 10 per cent increase in orders over the next three months compared to the same period last year, although the year-earlier level was depressed by the effects of the US trade war.
"If you manage a crisis well, you can get market share from your competitors," said Wong. "Our customers were reassured by our fast reaction in notifying them about how we were handling the situation.
"We made early preparations to purchase tens of thousands of masks as soon as we knew that this was happening. If you have a sufficient supply of masks, workers will naturally be more willing to come to work for you."
Analysts said that the US tariffs on Chinese imports in effect last year not only adversely affected direct exports to the US, but also covered 98 per cent of Hong Kong's total re-exports of Chinese-produced goods to the US. In December, Wong said his company bought manufacturing facilities in Penang, Malaysia for the development and diversification of its manufacturing and supply chain capabilities.
The effort to rapidly bring production back online this month dovetails with the call by
Chinese President Xi Jinping
for mainland businesses to return to work to get the economy back on track amid the outbreak, which escalated a day before the start of the Lunar New year holiday with the lockdown of the city of Wuhan in Hubei province on January 23.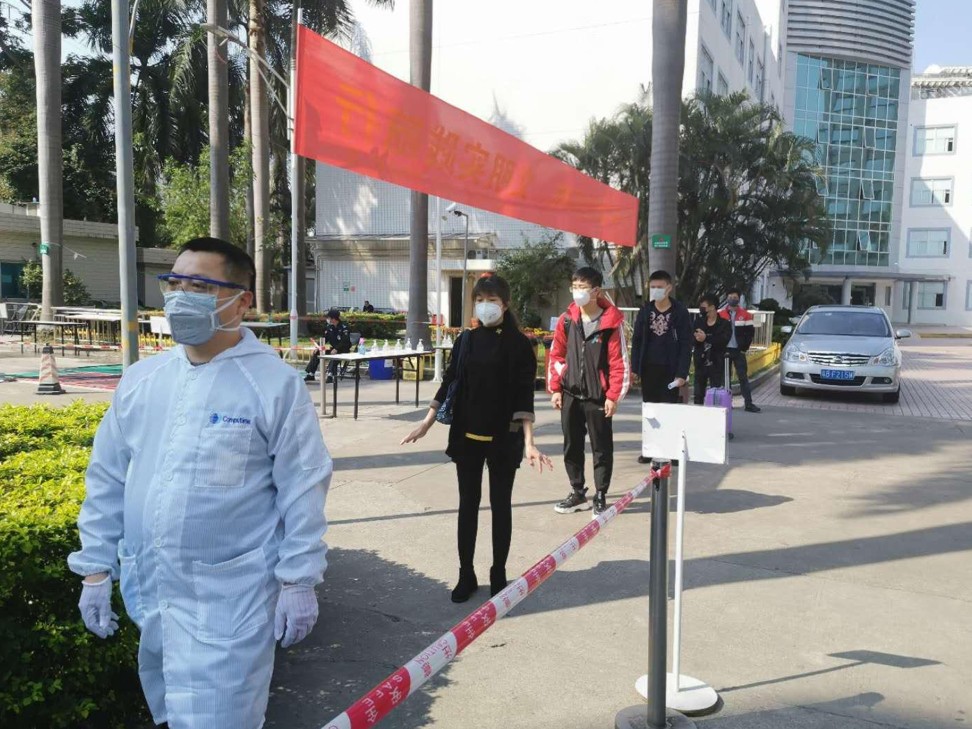 "[The] mobility of people as well as logistics bottlenecks should be eased. It is necessary to loosen restrictions on freight logistics and promote the coordinated resumption of supply chain operations," Xi said on Sunday.
Many
Chinese companies
have resumed operations, but most have yet to recover full capacity as authorities in many areas have been slow to relax epidemic control measures.
Initially, many migrant factory workers from the countryside had planned to return to work in urban areas in the February 7-10 period, having typically spent two weeks visiting their families in their hometowns to celebrate the Lunar New Year festival.
Wong's Dongguan facility, which employs 3,000 workers, has returned to around 60 per cent of production, and is expected to reach full operational capacity before end of February.
Some competitors, though, had to wait until February 17 to resume production, meaning they have only returned to around 20 per cent of their capacity, according to Wong.
"It is possible that some companies are helpless if their bosses are still stuck in Wuhan or Hubei," Wong said. "You wouldn't be able to do anything about it and that would be very problematic. Your recovery would definitely be much slower."
According to a senior official from China's Ministry of Industry and Information Technology, only 30 per cent of
small businesses
have been able to reopen due to the ongoing coronavirus epidemic. According to local authorities, around 91 per cent of the 300 large foreign-funded companies in the southern Chinese city of Dongguan have restarted operations as of Sunday.
Transport restrictions and checkpoints on road networks have been the main impediments for
labourers returning to work
in Guangdong, which is the second worst virus-hit province after Hubei. Guangdong province, which neighbours Hong Kong, had 1,347 confirmed cases and seven deaths as of Monday.
But the number of new cases reported each day has fallen to single digits over the past week, and on Monday, Guangdong lowered its public health emergency response from the highest level of Grade I, which had been in place for a month to Grade II, a move which was matched by five other provinces.
This is expected to
improve the flow of workers and cargo,
but Guangdong still requires workers showing no symptoms to make a declaration to authorities that they have not visited Hubei or had any contact with people from the province since January 15, otherwise they are subject to a mandatory 14-day self quarantine.
Once they return to the production lines, workers are still required to pass regular temperature checks, and they must also wear a face mask and use hand sanitiser.
"We have laid down very strict steps to ensure workers who come back will be screened so that they are clean and free from infection," Wong added. "Authorities could make a surprise inspection in a few weeks and suspend factory operations if there is a compliance problem."
Manufacturers across Guangdong are still faced with similar difficulties in restoring production, with the owner of a lighting factory in Dongguan expecting to only able to resume full production by mid-March.
Factory owner Sam, who only provided his first name due to fears of reprisals by local authorities, said only 70 of his 100 workers had returned to work as of Monday, which will result in a delay in production and revenue.
"Even with 70 per cent of workers back on board now, if one of my suppliers cannot deliver, I will still be stuck and cannot complete the production of a product," Sam said. "This means I will have to explain to my clients that I need more time. Some are understanding, but others can say 'it's not my problem that you have an epidemic and cannot deliver on time.'"
Sharon Wu, a sales representative for Xinyu MLS Lighting Technology, which makes LED chip packaging as well as LED tubes and bulbs which are sold to lighting factories in China, confirmed all of their production lines had resumed operations although some workers had yet to return to the factory in Zhongshan, another city in Guangdong province.
This article appeared in the South China Morning Post print edition as: firm says early action on virus gave a boost