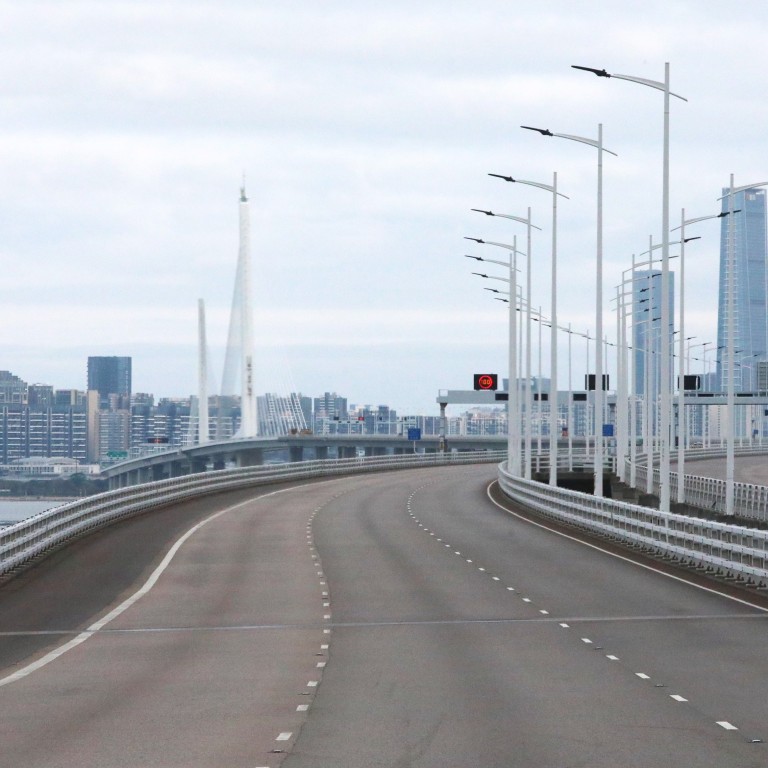 Coronavirus adds new hurdle for Hong Kong's integration into China's Greater Bay Area plan
China's Greater Bay Area plan is facing fresh uncertainty as the coronavirus limits the flow of people between Hong Kong and the mainland
The outbreak is adding to reluctance among Hong Kong residents to relocate across the border, say recruitment consultants
The novel coronavirus outbreak has added a fresh obstacle for Hong Kong's integration into China's Greater Bay Area plan, as the epidemic is discouraging workers from taking jobs across the border.
The ambitious plan was set back when anti-government protests erupted in Hong Kong last year and faces fresh uncertainty as transport restrictions limit the flow of people between the financial hub and mainland China.
Robert Sheffield, Greater China managing director at global recruitment consultancy, Morgan McKinley, said the number of jobs in the mainland part of the region was stable, but there was a "the lack of applicants looking to relocate into that area".
"[It] is largely driven by the political situation, and then obviously the coronavirus situation that we are currently facing," Sheffield said. He added the reduced number of candidates in the first half of the year would drive employers to take special measures to attract applicants.
The Greater Bay Area, also known as the Pearl River Delta, is China's economic and export power house. After Beijing opened it to Hong Kong businesses four decades ago, capital poured in as companies looked to take advantage of its cheap land and labour to manufacture goods for the world.
The success of the
Greater Bay Area plan
, which also includes Shenzhen and Guangzhou, depends largely on its ability to attract new investment and fresh talent. The region is being linked by high-speed railway, a sea bridge and other infrastructure. Tax breaks, work permits and help buying mainland property have been introduced to lure Hongkongers across the border.
But major differences still exist in terms of justice, tax rates and the flow of goods and people between Hong Kong, Macau and other cities in the region. The initial mishandling of the coronavirus in
Wuhan, the epicentre of the outbreak
, has amplified mistrust of the mainland's health care and governance among many in Hong Kong.
This means the Greater Bay Area still remains largely off limits to Hong Kong's professional graduates such as doctors, lawyers, architects, insurance brokers and accountants, said Haywood Cheung, president of the Chinese Gold and Silver Exchange Society.
Cheung said the region needed to open up to overseas professionals, rather than just hiring "their own people".
Carmen Ng, a partner specialising in litigation and dispute resolution at Hong Kong law firm Deacons, said she expected cooperation to increase between law firms in Hong Kong and the mainland in the future.
Foreign companies looking to do business in the mainland may prefer to do arbitration, mediation and settlement of cross border disputes in the city, which practices common law that is more similar to the Western legal system, she said.
Last year China's Ministry of Justice and its counterpart in Hong Kong agreed on measures to promote partnership associations set up by law firms in Hong Kong and the mainland.
"I would not necessarily choose to move to the Greater Bay Area," said Ng, who has had her cases put on hold in Hong Kong due to
the coronavirus
. "I'm a litigation lawyer in Hong Kong so I prefer to work near Hong Kong courts – I'm not qualified in China.
"It will take time for more cooperation and integration because they have different jurisdiction, different law and different legal systems," she added.
Even though Hong Kong was in the midst of an economic downturn caused by the protests and the coronavirus, its status as a gateway to China was unlikely to change, said Simon Calton, CEO of private investment firm Carlton James Group.
Mainland China's legal system still made it tough for foreigners to do business there, he said.
"There is that intrinsic control from the government that means that China is a very difficult place for us to want to invest in," Calton said. "So the next best thing for us would be Hong Kong's connection to the East and the West. I don't think that's going to change any time soon. Riots or not."
Coronavirus or not, many people would prefer to stay in Hong Kong due to employment opportunities and lifestyle.
"I prefer developing my career in Hong Kong because I think it is a better working experience," said Gloria, an administration manager at a Hong Kong-based US tech company.
Gloria, who did not want to disclose her name for fear of "doxxing" by mainland Chinese, fled in January because of the coronavirus outbreak to Canada, where she is working remotely. She said she would return to Hong Kong "once the situation stabilises".
"I haven't worked [in China] before but it probably has a different work culture that could limit your creativity and performance."
This article appeared in the South China Morning Post print edition as: Job hurdles mar HK integration into bay area