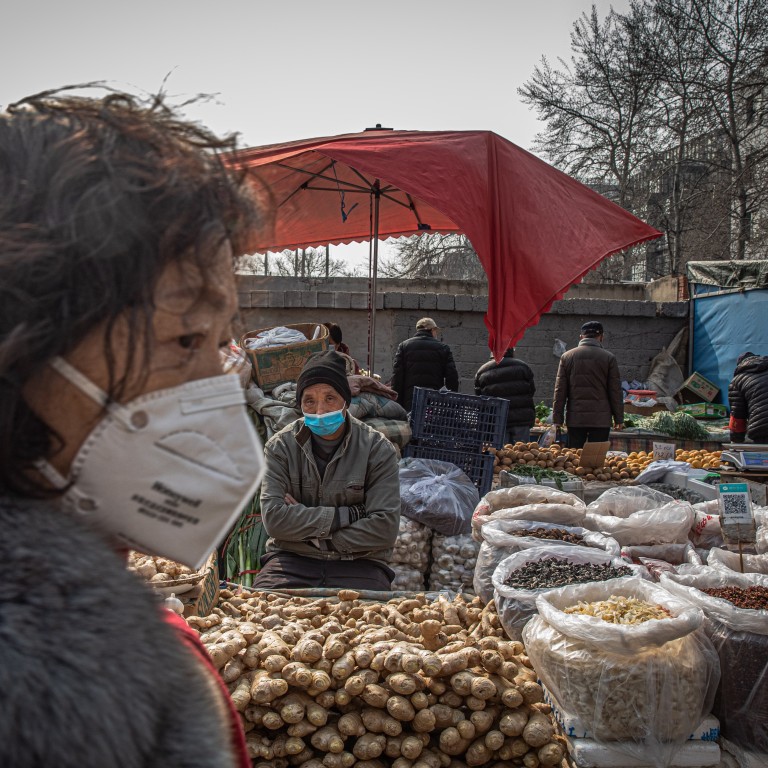 Coronavirus: China will 'definitely' meet US trade deal agricultural demands, but may invoke force majeure
China has agreed to buy an additional US$32 billion in US farm goods over a two-year period, but demand is likely to be complicated by coronavirus outbreak
Wei Jianguo, former deputy minister responsible for foreign trade, suggested China could invoke force majeure on other items due to coronavirus impact on economy
China will "definitely" honour its agricultural purchase commitments as part of its phase one trade deal signed with the United States in January, despite the coronavirus epidemic, a former senior Chinese government official said on Friday.
Wei Jianguo, a former deputy minister responsible for foreign trade at the Ministry of Commerce, told a press conference in Beijing that China was fully committed to the deal.
However, the coronavirus outbreak that followed the signing of the deal in Washington may mean China has to invoke a
force majeure clause
in the trade deal with regard other planned purchases, "if some parts fail to happen", Wei said, adding
that Beijing will redouble its efforts to implement the deal "once the coronavirus epidemic is over".
"China is fully able to complete the agreed amount of agricultural product imports [from the US]," Wei said, without mentioning purchases of non-agricultural products, such as manufactured goods and energy.
Wei's comments mark the first on-the-record confirmation from Beijing insiders that China has no plan to walk away from the
trade dea
l because of the coronavirus epidemic, which has caused huge damage to its economy.
It is also the latest suggestion, however, that China may look to a clause in the deal which states that both parties will enter consultations if "a natural disaster or other unforeseeable event outside the control of the parties delays a party from timely complying with its obligations".
At the same time, Wei said he is not speaking for the Chinese government.
According to the terms of the phase one deal, China will buy an additional
US$200 billion American goods and services
over two years, including US$32 billion in agricultural products. These will come on top of pre-trade war import levels, with many analysts questioning whether China had demand for such volumes, even before the
coronavirus
hit.
"The first phase of the agreement did not come easily and is the result of our efforts. But to implement the agreement, the two sides must continue to move towards each other," said Wei, now vice-chairman at China Centre for International Economic Exchanges, a state-backed think-tank.
"I would like to emphasise that after the coronavirus epidemic in China, the cooperation between China and the US in the agriculture sector will definitely deepen," he said. "China will definitely honour the phase one trade deal."
There are growing concerns that the weakened demand for imported goods caused by the coronavirus will mean China is unable to meet its lofty import target. China's pledged purchase of Boeing planes, for instance, has begun to look very ambitious when thousands of flights are cancelled everyday by Chinese airlines and international airlines flying to and from China.
A note from US trade representative Robert Lighthizer and Agriculture Secretary Sonny Perdue, released on Tuesday in Washington, stated that China is taking numerous steps to meet the
agricultural purchasing commitments.
Without mentioning the virus, which has infected more than 80,000 and killed more than 2,700 people worldwide, Perdue said that he was "encouraged by progress made last week" in meeting the agriculture purchase commitments in the deal and that "we fully expect compliance with all elements of the deal".
Purchase the China AI Report 2020 brought to you by SCMP Research and enjoy a 20% discount (original price US$400). This 60-page all new intelligence report gives you first-hand insights and analysis into the latest industry developments and intelligence about China AI. Get exclusive access to our webinars for continuous learning, and interact with China AI executives in live Q&A. Offer valid until 31 March 2020.
This article appeared in the South China Morning Post print edition as: Beijing 'to honour phase one trade deal promises'