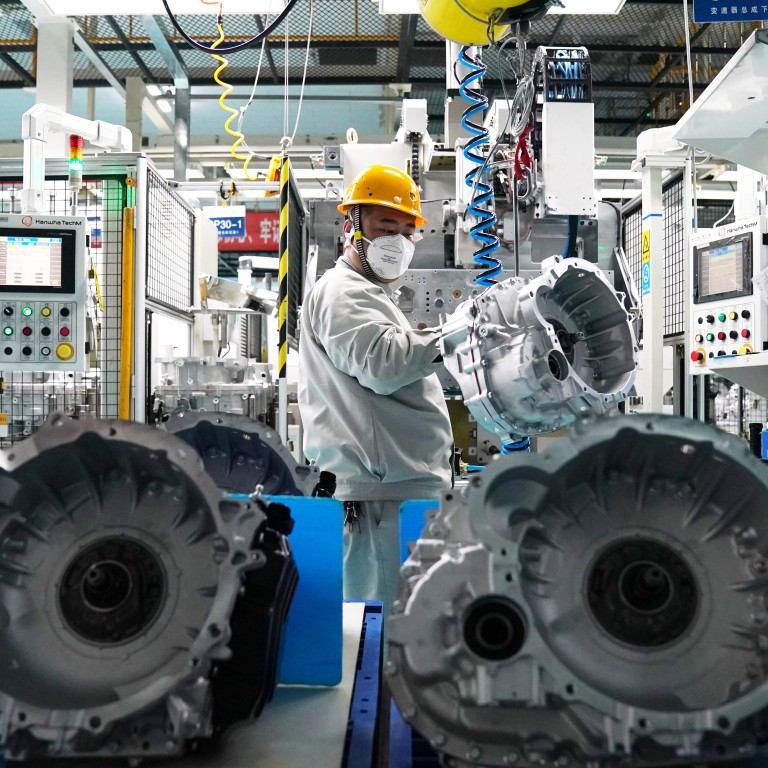 Coronavirus: China says over 90 per cent of state firms back in business after manufacturing index hits all-time low
The 48,000 subsidiaries under the 96 central government-owned firms supervised by the oversight agency have reported a 91.7 per cent work resumption rate
In contrast, small and medium-sized businesses continue to struggle to get back to work following the various quarantine and work-from-home policies
Over 90 per cent of China's state-owned enterprises have resumed production, according to the state assets oversight agency, after fears over the economic impact of the coronavirus escalated with the announcement of economic data for February that was much weaker than expected.
The 48,000 subsidiaries under the 96 central government-owned firms supervised by the oversight agency have reported a 91.7 per cent work resumption rate, following the quarantine and work-from-home policies announced across the country in the past five weeks to contain the spread of the novel coronavirus.
"In particular, oil and gas, communications, electricity generation, transportation industries have [an operation rate of] over 95 per cent; some have achieved a 100 per cent rate," an official WeChat account run by the State-owned Assets Supervision and Administration Commission said on Saturday, citing a report by state broadcaster CCTV.
Economic production has been sharply curtailed since late January, when Beijing extended the Lunar New Year holiday for a week, with several provinces announcing further extensions until mid-February, prompted by the effects of the
coronavirus outbreak,
which had caused more than 79,000 infections and over 2,800 deaths in mainland China as of Sunday.
While the state-owned enterprises (SOEs) appear to have been successful at returning to business-as-usual, other official metrics for the virus-stricken Chinese economy were not as optimistic.
On Saturday, China announced that its February
manufacturing purchasing managers' index (PMI)
had slowed to an all-time low of 35.7, signalling a sharp contraction in factory activity. This was also a level worse than the previous low reached during the global financial crisis in November 2008, when PMI dropped to 38.8.
The National Bureau of Statistics (NBS) also said China's non-manufacturing PMI – a gauge of sentiment in the services and construction sectors – had dropped, to 29.6 from 54.1 in January. This was also the lowest on record, below the previous low of 49.7 in November 2011, according to the NBS.
In addition, the deputy minister of the Ministry of Industry and Information Technology, Zhang Kejian, said on Wednesday that only 30 per cent of China's small and medium-sized enterprises (SMEs) had resumed work – a rate much lower than for state enterprises.
"While the resumption is relatively low at the moment for the SME sector as a whole, recovery picked up in many sub-sectors," Zhang said. "Manufacturing firms had a recovery rate of 43.1 per cent by Wednesday, up 6.2 percentage points from Sunday, while online education and information technology service providers achieved over 40 per cent of resumption."
Zhang said that the government had sought to ease SMEs' plight by lowering interest rates, deferring social insurance fees and cutting energy costs.
The contribution of state-owned firms to China's gross domestic product (GDP) was estimated to be between 23 and 28 per cent and their share in employment at anywhere between 5 and 16 per cent in 2017, according to a World Bank report released in July.
Beijing has repeatedly said that its economic and social development targets in 2020 can be met despite the coronavirus epidemic. The specific 2020 targets, including for the GDP growth rate as well as unemployment and inflation, were set to be unveiled at the
National People's Congress
in March, but the annual parliamentary gathering has been postponed because of the coronavirus outbreak.
Purchase the China AI Report 2020 brought to you by SCMP Research and enjoy a 20% discount (original price US$400). This 60-page all new intelligence report gives you first-hand insights and analysis into the latest industry developments and intelligence about China AI. Get exclusive access to our webinars for continuous learning, and interact with China AI executives in live Q&A. Offer valid until 31 March 2020.