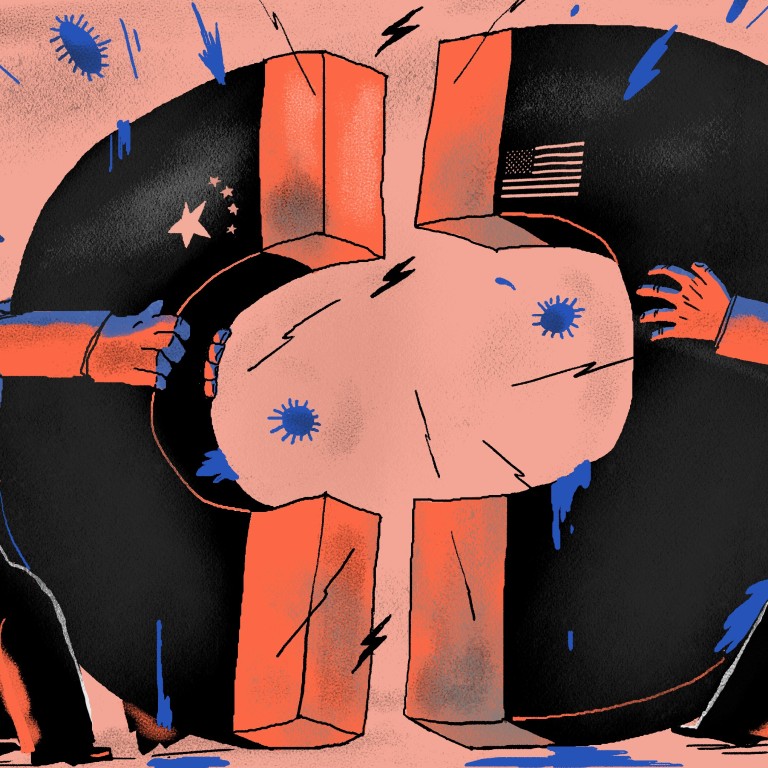 Coronavirus outbreak fans the flames of US-China decoupling debate in Washington
Any hope that the US-China phase one trade deal would salvage the superpower relationship have been scotched by the coronavirus
Epidemic set to hit US economy and has led to rising discord among Washington figures, some of whom call for decoupling between the world's two largest economies
This is part of a four-part series looking at how the coronavirus epidemic affects China's relationships with the rest of the world. Part one focuses on the virus' reignition of a long-term debate over decoupling of the US and Chinese economies.
At an event in Washington on Friday, Florida senator Rick Scott used the term "Communist China" 25 times in a 10-minute speech pushing the idea that the coronavirus epidemic should be used as a wedge to prise apart the US-China relationship.
"I think there is going to be more decoupling, as we're seeing with the coronavirus. I think people are saying to themselves, are we too dependent on a country that acts as an adversary? And I think that is going to cause some people to rethink their
supply chains
," Scott told a crowd gathered at the Hudson Institute, a think tank.
"Communist China just does not want to join the community of nations, so much as it wants to rule it. The result, whether we want to admit it or not, is there is a new Cold War."
While Scott's has long been one of the loudest voices trying to push the Trump administration's policies in an anti-China direction, his rhetoric is now finding more favour in an increasingly hostile environment towards China in the American capital.
The pomp of the
phase one trade deal
signing ceremony in mid-January only temporarily papered over the deep cracks in the superpower relationship, and various metrics now suggest that an idea previously existing on the fringes of US President Donald Trump's administration – decoupling – enjoys growing support.
Still, the leaderships of both China and the United States have been eager to play down any talk of separation.
After January's signing ceremony in Washington, Vice-Premier Liu He said that the deal would "effectively prevent" decoupling.
"Some non-economic figures are advocating the decoupling, which is not realistic. On the one hand, the US and China are highly integrated with each other as a global supply chain has been formed. On the other hand, it is essential to cooperate as technology is constantly advancing," Liu said.
Trump, meanwhile, has continued to talk enthusiastically about his "friendship" with Xi Jinping and has censured US officials who have publicly criticised China's response to the virus, according to US media reports.
However, concerns over national and economic security are growing in both liberal and conservative political circles, even as American business groups push for continued cooperation with an economy predicted to account for one-third of global growth in the decade ahead.
The coronavirus outbreak has served to amplify the conversation, with a string of senior White House officials and Trump loyalists weighing in over recent weeks.
US Commerce Secretary Wilbur Ross and director of the National Economic Council Larry Kudlow both suggested early on in the outbreak that it would benefit the American economy.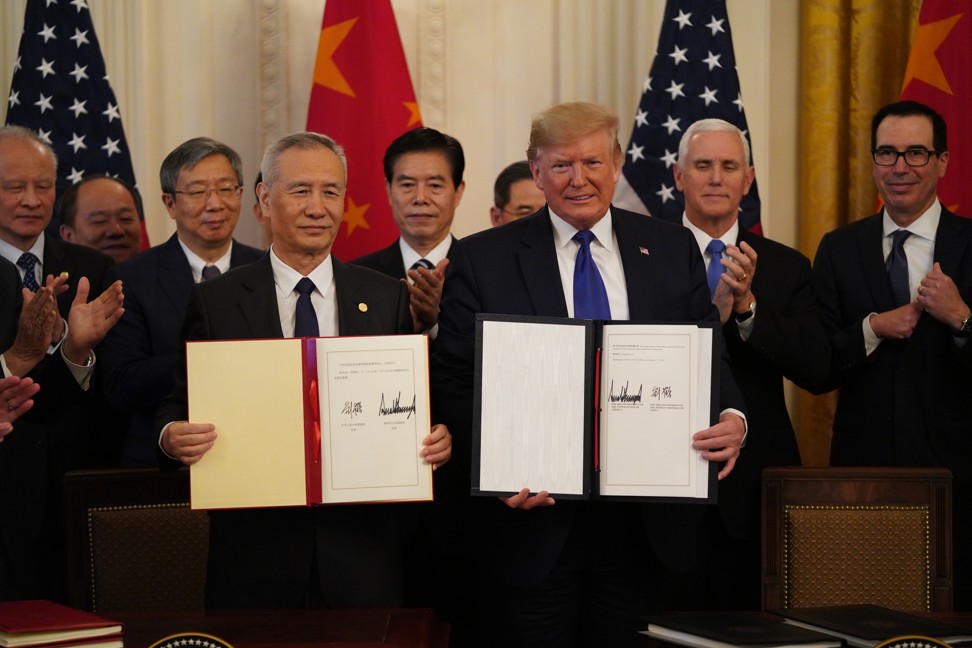 Jeff Ferry, chief economist at the pro-Trump Coalition for a Prosperous America, echoed these claims, even as US financial markets reel from the virus' rapid spread. Ferry said that a 25 per cent tariff on all Chinese goods would add "up to 1 million additional US jobs".
"There are both national security issues and economic issues for the US being too dependent on Chinese production for decades, including the risk of a crisis that stops or slows down China production, like the coronavirus, and the risk of [intellectual property] theft and US goods suffering from counterfeit production once they begin producing in China," Ferry said.
Coronavirus has, then, been added to a basket of grievances that led to Trump's
hardline approach
towards China. As the economic fallout deepens, it would not be a great shock if the clamour to divorce grows.
From congressional hearings to various think tank events, many in Washington are now convinced that it is impossible for China and the US to move in the same direction.
At a hearing of the US-China Economic and Security Review Commission on January 23, commissioner Kenneth Lewis did not mince his words, comparing US investment in German companies in the 1930s that aided the rise of Adolf Hitler with American investments in China today.
"When their whole system of treating the Uygurs, [and] treating the protesters in Hong Kong, is so antithetical to US values, why should we allow them to raise even one penny in this country?," he asked of witness Carl Walter, an independent consultant.
The topic of China has not played a major part in any of the Democratic primary debates so far, but any discussion of Beijing suggests the party's nominee will need to take a hard line if they are to have a chance of beating Trump.
In the Democratic debate in South Carolina last week, former vice-president Joe Biden called President Xi a "thug", while Bernie Sanders, currently leading in the polls, called the Chinese Communist Party a "real dictatorship".
While the rhetoric has sharpened, long-term China watchers say that a "de facto decoupling" has been pursued by both sides for some years.
"China has accelerated its effort in certain industries, replacing foreign technology with domestic technology to try and achieve greater technology independence. I don't see any slowdown in that effort by China," said Scott Kennedy, a China expert at the Centre for Strategic and International Studies, referring to a policy of replacing all foreign hardware and software used in Chinese government offices with home-grown technology by 2022.
Kennedy cited China's use of the Great Firewall to restrict the flow of information and to censor Western media as examples of long-term decoupling trends from Beijing's side.
Under Trump, the US has restricted the flow to China of goods that are perceived to be sensitive goods in the interest of national security and foreign affairs. Such restrictions used to be like "small yards with high fences", Kennedy said, but are now moving towards "large yards and high fences".
The creation of an Entity List by the US Department of Commerce last year saw 100 individuals and companies banned from buying US-made goods, in response to perceived national security threats from
Chinese tech companies
such as Huawei.
"Whether it's trade investment, technology, or tourism, we're seeing that neither the Chinese or the US government has very clear boundaries between what is economic and what is national security," Kennedy added. The rapid spread of coronavirus cases around the globe has deepened these schisms.
When the US announced on January 31 that it would bar the entry of any foreign nationals who had visited China in the preceding 14 days, Chinese foreign ministry spokeswoman Hua Chunying accused Washington of "violating civil rights" and "reacting inappropriately".
In return, Republican senator Tom Cotton pushed a theory, debunked by scientists, that the coronavirus was a leaked Chinese biological weapon, and called for a
full shutdown
of commercial travel between the US and China.
There are other signs that the virus might intensify ideological differences and distrust between the two superpowers.
In February, Washington declared several mainland Chinese media outlets, including state news agency Xinhua, to be foreign government functionaries. Hours after the classification, China expelled three Wall Street Journal reporters, insisting the move was prompted by an opinion piece about the coronavirus' impact headlined "China is the real sick man of Asia", but prompting furious responses from US officials.
The tit-for-tat continued on Monday, when Trump demanded five Chinese state media agencies reduce the number of their US-based Chinese employees from 160 to around 100.
"When the Chinese Communist Party has a crisis at home, sometimes they'll be more willing to perhaps create a crisis abroad to maintain its rule," said Eric Brown, a senior fellow at the Hudson Institute.
Furthermore, as the virus' impact on global supply chains becomes clear, the US economy will take a hit. Last week, financial markets were roiled into their biggest weekly losses since the global financial crisis more than a decade ago.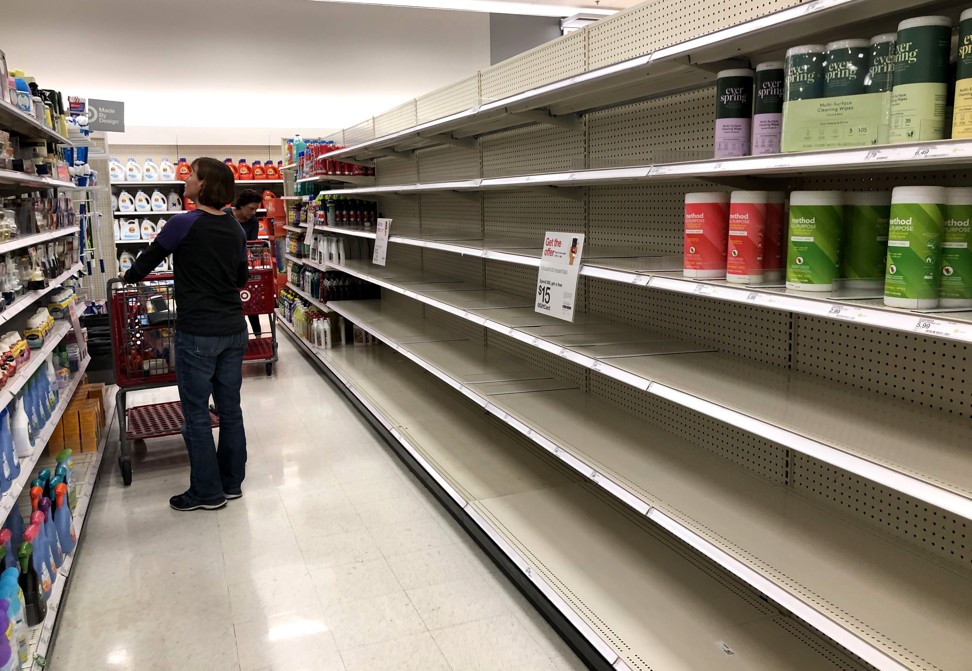 The Port of Los Angeles, one of the world's busiest cargo hubs and a main gateway for China products entering the US, is projecting a 25 per cent drop in container traffic in March, as Chinese factories struggle to get back up to speed following a prolonged shutdown.
So too will revelations from the Australian Strategic Policy Institute that dozens of US companies including Amazon, Apple and General Electric, have been buying products from factories in China that employ Uygur people "under conditions that strongly suggest forced labour".
Already Google and Microsoft are set to hasten their China departures due to the virus,
Nikkei Asian Review
reported, and with a recent US-China Business Council survey suggesting 45 per cent of its members are just "somewhat positive" towards the watered-down contents of the
phase one trade deal,
there is much chatter about whether the time is right to cut their losses.
"It's particularly risky for the US that, if the high tariffs remain in place, China does not take the steps to further open up its market and to adhere to market driven principles, and that we do not get a full fledged phase two deal," said Robert Holleyman, deputy US trade representative under the Obama administration, who is now president and CEO of consulting firm Crowell & Moring International.
With US election season kicking into gear,
economic uncertainty
in the air, and the world facing a global health care crisis, the
trade deal
could soon be a distant memory for executives, who may have to get used to a new era of tumult between the US and China.
"Regardless of who's in the White House, we're concerned that the positive constructive relationship of the past is now something that will only exist in the past," said Jake Parker, senior vice-president at the US-China Business Council
Purchase the China AI Report 2020 brought to you by SCMP Research and enjoy a 20% discount (original price US$400). This 60-page all new intelligence report gives you first-hand insights and analysis into the latest industry developments and intelligence about China AI. Get exclusive access to our webinars for continuous learning, and interact with China AI executives in live Q&A. Offer valid until 31 March 2020.