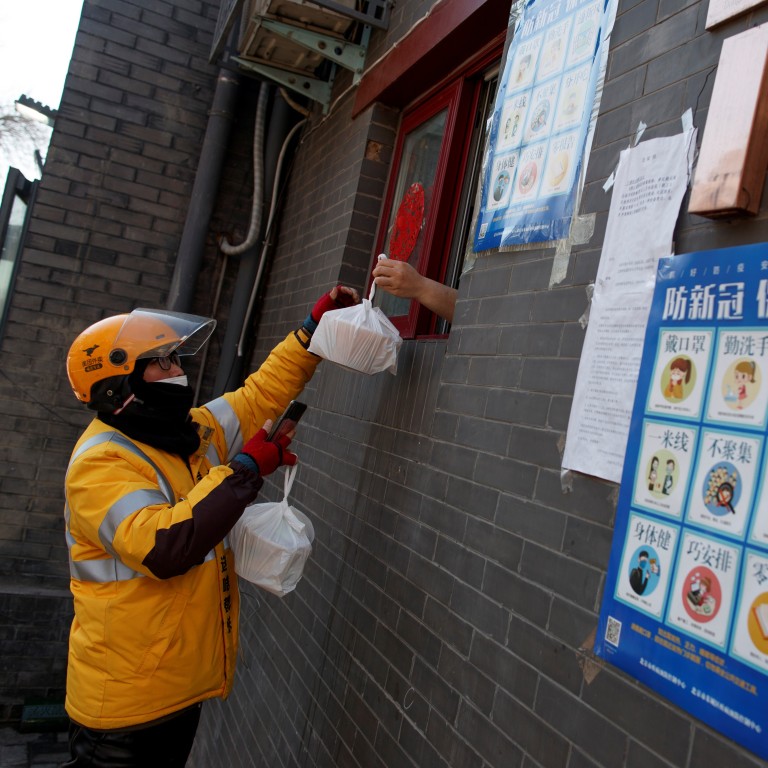 Coronavirus: China's services sector drops to all-time low in latest blow to economy amid Covid-19 outbreak
The Caixin/Markit services purchasing managers' index (PMI) fell to 26.5 in February from 51.8 in January
The latest figure followed the larger-than-expected deterioration in the official and private sector manufacturing sector PMIs to all-time lows in February
Confidence in China's services sector dropped to a record low in February, with a new survey of privately-owned firms the latest blow to the economy amid the coronavirus outbreak.
The Caixin/Markit services purchasing managers' index (PMI) fell over 25 index points to 26.5 in February from
51.8 in January,
with the figure adjusted for seasonal factors, including the Lunar New Year. A reading below 50 indicates a contraction in activity.
The latest figure, the first reduction in business activity across China's service sector since the survey began in November 2005,
followed the larger-than-expected deterioration in the official and private sector
manufacturing sector PMIs
to all-time lows in February.
The
official non-manufacturing PMI
– a gauge of sentiment in the services and construction sectors – also dropped to 29.6 from 54.1 in January, the lowest since November 2011.
"The Caixin China general services business activity index fell to 26.5 in February, about half the reading of the previous month, marking its first drop into contractionary territory since the survey launched in November 2005. Stagnating consumption amid the coronavirus epidemic has had a great impact on the service sector," said Zhengsheng Zhong, chairman and chief economist at CEBM Group.
The Caixin/Markit composite PMI dropped to 27.5 in February from 51.9 in January.
"The Caixin China composite output index dropped to 27.5 in February from 51.9 in the previous month. While the gauges for new orders, new export orders and employment all weakened to their lowest levels on record, the gauge for backlogs of work rose to a record high. The decline in input costs was greater than that in output prices because upstream industries' supply capacity was less affected," added Zhong.
Plunges in official and private sector purchasing managers' indices amid the coronavirus outbreak have prompted sharp revisions of
China's economic forecasts for 2020,
with the odds now rising that China will report a sharp deceleration in growth – or even a contraction – in the first quarter.
"The coronavirus epidemic has obviously impacted China's economy. It is necessary to pay attention to the divergence of business sentiment between the manufacturing and the service sectors," added Zhong.
"While recent supportive policies for manufacturing, small businesses and industries heavily affected by the epidemic have had a more obvious effect on the manufacturing sector, it is more difficult for service companies to make up their cash flow losses."