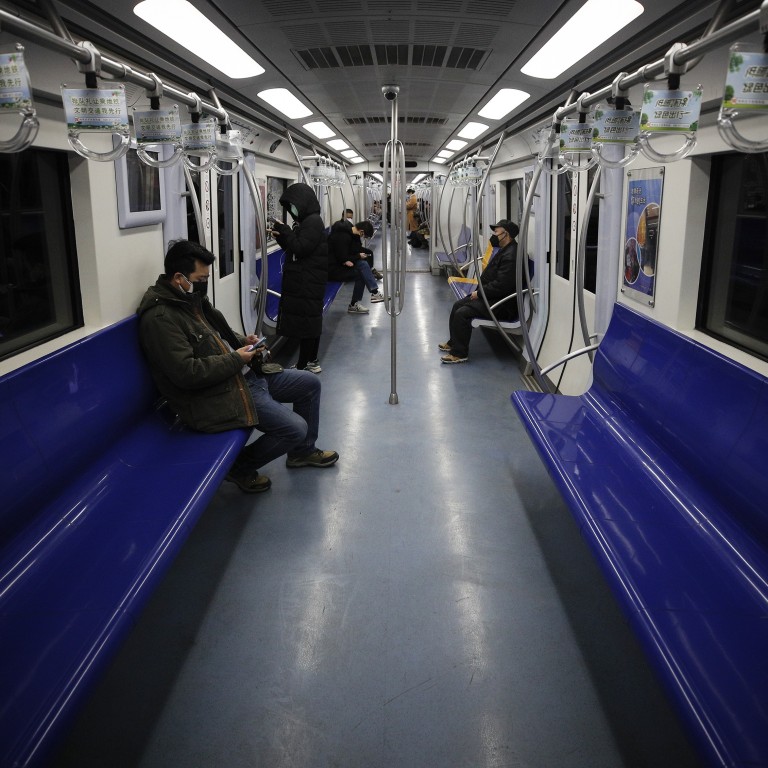 Coronavirus: China set to cut interest rates along with other countries to offset Covid-19 damage
Hong Kong was the latest to follow the United States, Australia and Malaysia in announcing an interest-rate cut
China, though, is unlikely to fully match the half point interest rate cut by the US Federal Reserve
China is under pressure to reduce interest rates in the near future to offset the economic damage caused by the coronavirus outbreak, spurred on by central bank rate cuts in the United States, Australia and Malaysia on Tuesday.
Data released earlier in the week showed that activity in the country's manufacturing and service sectors fell in February to their lowest levels on record, leaving Beijing with little choice but to act to shore up the economy. The
US Federal Reserve
half-point rate cut gives the People's Bank of China (PBOC), the nation's central bank, more leeway to ease lending rates to support growth.
China,
though, is unlikely to fully match the US Federal Reserve move to lower borrowing costs after the PBOC gave banks an extra 800 billion yuan (US$115 billion) in February to lend out to struggling businesses and farmers.
The Hong Kong Monetary Authority (HKMA), the city's de facto central bank, already acted on Wednesday, matching the Federal Reserve's half point interest rate cut less than 12 hours earlier.
Whether the HKMA's rate cut translates into cheaper mortgage rates across the board will depend on the city's commercial banks, which are now holding their prime rates at between 5 per cent and 5.25 per cent, after easing them in 2019 amid citywide social unrest to what some lenders described as the floor.
The Bank of Japan injected money to shore up its financial system on Wednesday for the second day in a row, while governor Mark Carney told the British Parliament on Tuesday that the Bank of England was ready to cut interest rates to offset the impact of the coronavirus. The European Central Bank is widely expected to trim its interest rates at its meeting next week, if not before.
Amid global moves to support growth, pressure is building for the PBOC to act soon.
The China Securities Journal, published by the official Xinhua news agency, said in front-page editorial on Wednesday that the "window has opened" for the People's Bank of China (PBOC) to join its peers in cutting interest rates.
"It's a relatively good choice [for China] to adjust its policy rates amid a wave of rate cuts by major central banks," the editorial said.
The newspaper's public call for China's central bank to loosen monetary policy joined an increasingly loud chorus by analysts and economists asking the PBOC to act more boldly, partly as the existing "targeted" measures have proved too weak for the abrupt collapse of economic activity caused by the virus.
The demise in China's services sector is particularly critical given that it now account for 60 per cent of overall economic activity, having taken over in recent years from the investment and export-led growth model on which China previously depended.
The PBOC said on Wednesday that it had held a teleconference on Tuesday with the China Insurance and Banking Regulatory Commission, the Ministry of Finance and all major state-owned lenders, to discuss how to provide financial support for the country's economy, but did not reveal what exact steps it might take and when it might take them.
The PBOC also reiterated that China would not relax restrictions on its property market "to stimulate short-term growth", and urged local authorities to maintain strict property finance policies, an apparent move to rebut speculation that China would significantly relax mortgage rules to boost the economy.
Several years ago, the national as well as local governments, particularly in bigger cities, imposed strict rules to control rapidly rising housing costs that threatened to price many in China's growing middle class out of the market.
Global financial markets were mixed after the US Federal Reserve's surprise rate move, with many investors unconvinced that rate cuts alone would be sufficient to stabilise the global economy.
The S&P 500 Index in the US fell 2.8 per cent on Tuesday, while Australian stocks fell 1.5 per cent and Japan's Nikkei dropped 0.5 per cent on Wednesday. South Korean share prices bucked the trend, rising 2 per cent after the government announced a nearly US$10 billion economic support plan.
US stock index futures, a gauge of how American stocks will open on Wednesday, rose on news of Democratic presidential candidate Joe Biden's strong showing during the primaries held in 14 US states on Tuesday.
"Further developments of the coronavirus are still very uncertain and financial markets will continue to see considerable volatility. Investors should manage their risks prudently," said HKMA chief executive Eddie Yue Wai-man.
This article appeared in the South China Morning Post print edition as: pressure on Beijing to follow Fed's lead