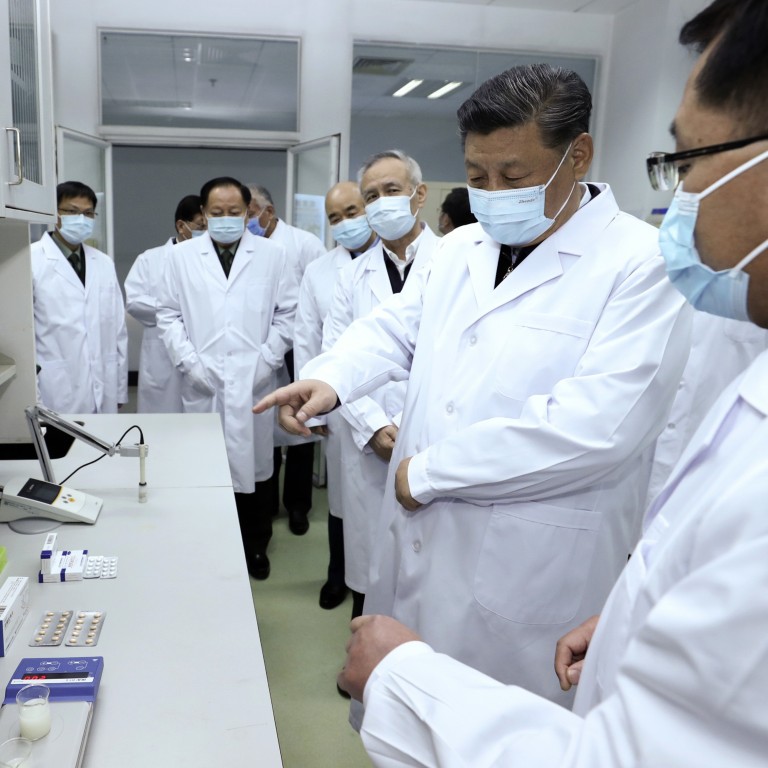 Coronavirus: China, Xi Jinping put 5G technology on top of huge spending plans to salvage economy
President Xi Jinping made it clear that Beijing will rely on additional infrastructure investment to stimulate growth on top of traditional projects including railways
There are concerns China's economy will shrink in the first quarter of 2020 for the first time since the Cultural Revolution in 1976
Unprecedented spending on "new infrastructure," including 5G networks and data centres, as well as accelerated expenditure on traditional projects including high-speed railway lines, will top China's response to the economic impact caused by the coronavirus outbreak, said President Xi Jinping.
China must accelerate construction of "new infrastructures such as 5G networks and data centres" on top of speeding up "key projects and major infrastructure construction already included in state plans" like additional high-speed railway lines, Xi told Wednesday's meeting of China's top policymaking panel, the Politburo Standing Committee, according to a report by the official Xinhua News Agency.
Xi's comments made it clear that Beijing will rely on additional infrastructure investment to stimulate growth, as it has in the past, with concerns
China's economy
will shrink in the first quarter of 2020 for the first time since the Cultural Revolution in 1976.
The comments confirm investment will be made in new technologies, echoing parts of the controversial "Made in China 2025" industrial policy plan that was downgraded last year after sharp criticism from the United States and European Union.
The coronavirus, which has infected over 80,000 people and killed over 3,000 in China, has raised questions over Xi's grand vision of creating a comprehensively well-off society by
2020,
with the theoretic minimum growth rate of 5.6 per cent that it needs to
double the size of its economy
in 2020 compared to 2010 under threat.
The impact of the new infrastructure push, though, should not be overestimated, according to Guotai Junan analysts led by Hua Changchun, with traditional spending on railways, roads, airports and urban utilities still set to make up most local government spending plans, they noted.
Expecting new infrastructure projects to drive China's US$14 trillion economy is like "using a cup of water to put out a fire on the entire cart," Hua wrote.
China's capital spending on next generation communication technology, including 5G networks, is expected to be around 200 billion yuan (US$28.7 billion) in 2020, with total investment over the next eight years expected to be 1.5 trillion (US$216 billion) yuan, he said.
Liu Xuezhi, a senior researcher with the Bank of Communications, the country's fifth largest lender, said Beijing has made clear the intended direction of future investment but warned the immediate effects could be limited.
China's nationwide fixed asset investment only grew 5.4 per cent last year, compared to 5.9 per cent in 2018, while infrastructure investment, which accounts for nearly one third of total national investment and is closely associated with government-backed projects, grew only 3.8 per cent in 2019.
Xi, through, attempted to differentiate the new spending from the all-out economic
stimulus measures
Beijing adopted in late 2008 to cushion the impact from the global financial crisis, which was later blamed for wasteful spending and huge piles of debt.
"[We] must choose investment projects well," Xi added. "We must also try to stimulate enthusiasm for private investment."
Xi's message received strong approval from investors as stocks related to 5G, ultra-high voltage power transmission, intercity rail lines, electrical vehicle charging stations, big data storage centres, as well as artificial intelligence and industrial internet firms, surged on Thursday, with both the Shanghai Composite Index and Shenzhen Component Index closed up almost 2 per cent.
Guangfa Securities analysts Guo Lei and Wu Qiying said that new infrastructure sectors, which accounted for 15 per cent of total public and private infrastructure investment in 2019, are expected to see a strong inflow of funds.
"[It] will not only optimise the structure of infrastructure investment but also boost spending in the manufacturing and service sectors," the analysts noted.
For Xi, the urgency to
restart the economy
is mounting with each day, especially as most the country is not reporting any new cases, with other areas outside Hubei province having reported only a handful of new cases in the last 10 days.
"[We] must quicken the pace of building an economic and social order in line with epidemic control … try to bring the national economy and society back to normal as soon as possible and create the conditions to accomplish the goals of building of a comprehensive well-off society and reducing poverty," Xi said.
Purchase the China AI Report 2020 brought to you by SCMP Research and enjoy a 20% discount (original price US$400). This 60-page all new intelligence report gives you first-hand insights and analysis into the latest industry developments and intelligence about China AI. Get exclusive access to our webinars for continuous learning, and interact with China AI executives in live Q&A. Offer valid until 31 March 2020.
This article appeared in the South China Morning Post print edition as: 5G networks top spending plans to salvage economy