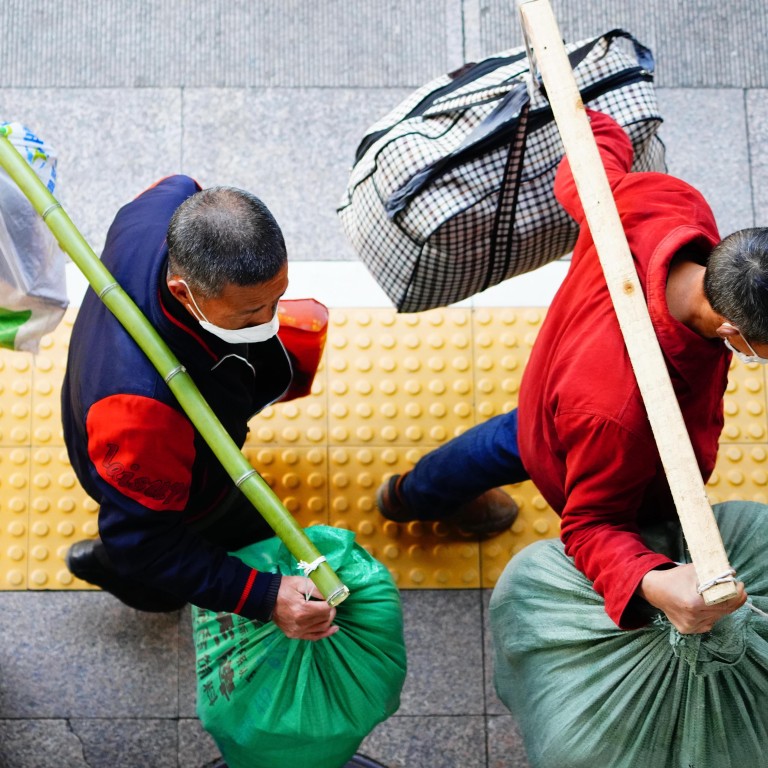 Coronavirus: China's huge migrant worker population bearing the brunt of economic shutdown
Migrant workers could lose a combined US$115 billion in wages as factories struggle to resume output and many services businesses remain closed
Nearly impossible for them to make up lost wages by working longer hours, analysts say, since earnings largely supplemented by commission
Lily Zhu, a migrant worker from the southern province of Hunan, who works as a sales manager at a high-end Beijing restaurant, does not expect to be paid at all in February, March or April.
Her employer, like most restaurants in the Chinese capital, remains closed due to the coronavirus outbreak.
"I have been waiting for my employer to call me back to work in Beijing, but the latest notice was that payment of my basic salary for February had been 'postponed'," she said from her hometown. "My salary has stopped, but other payments cannot be stopped, like the mortgage for my flat in Hunan or rent on my flat in Beijing."
The coronavirus, which has infected more than 97,000 and killed over 3,300 people worldwide, has brought China's factories and service sector businesses to a halt since late-January. New data this week showed that activity in both the manufacturing and services sectors plunged to the lowest levels on record in February.
While there have been no official figures outlining the total nationwide losses, economists said that China's migrant labour force is the most vulnerable to the disruption.
Ernan Cui, China analyst at research firm Gavekal Dragonomics, a consultancy, estimated that the outbreak could cost China's migrant workers a combined 800 billion yuan (US$115 billion) in lost wages, an amount that will be impossible to recoup by working longer hours when business is back to normal.
"Rural migrants have been trickling back to their jobs, but it is a slow process. They are mostly wage earners concentrated in sectors like manufacturing, construction, household services and retail, so every day that they are away from their jobs is a day of lost income," Cui wrote in a note this week. "The sectors with mostly blue collar workers and relatively lower pay have been those hardest hit by the coronavirus shutdown."
Wages earned from factories, construction sites and urban service jobs are particularly important for China's rural population and are crucial to narrowing the country's still-huge wealth gap and lifting people out of absolute poverty – one of President Xi Jinping's top policy goals.
Per capita disposable income in China's poor rural areas rose by 11.5 per cent in 2019 to 11,567 yuan. Most of this income comes from farming, rentals and government subsidies, with wage increases rising 12.5 per cent to just 4,082 yuan last year, according to Chinese official data. Across the whole country, rural per capita income rose by 9.6 per cent to 16,021 yuan, of which 6,583 yuan was in form of wages and salaries, or just over 40 per cent of the total.
The loss of working hours due to the coronavirus shutdown could result in a 5 per cent fall in income for migrant workers this year, Zhang Hengchun, a researcher at the Research Centre for Rural Economy, a think-tank under China's Ministry of Agriculture and Rural Affairs, told Chinese state media on Wednesday.
China's Ministry of Transport earlier estimated that more than 60 per cent of the country's migrant workers would return to work before the end of February, including those who had already returned by mid-February. The remaining 100 million workers should return this month, the ministry said.
On Wednesday, China's State Council, the ruling cabinet, ordered local authorities in "low-risk" areas not to stop people from returning to work. It also told provinces to recognise "health certificates" issued by other provinces so that migrant workers could leave home and return to work.
However, since many cities still require returning workers to undergo self-quarantine for 14 days before going back to work, during which they will not be paid, the hit to migrant workers will be higher still.
"The loss of income is going to be largely a permanent one, since the number of lost days is too large to be made up by just working longer hours later," said Cui of Gavekal.
About 60 per cent of migrant workers must travel far from their hometowns to reach their places of work, with 75 million having to cross provincial boundaries. About half of migrant workers are in the manufacturing and construction sectors, according to National Bureau of Statistics' latest annual survey of 226,000 rural migrant workers in 2018.
A recruitment agency for factory workers in Zhuhai, a manufacturing-rich city bordering Hong Kong, was this week offering workers average monthly salaries ranging from 5,300 yuan to 6,200 yuan, much higher than the average monthly salary last year, which was 3,962 yuan, according to official data.
In some service industries such as housekeeping, migrant workers might still find it difficult to find employment after completing their 14-day quarantine period, partly because of homeowners' fears of infections, according to a state media report from the Yuhang district of Hangzhou, the capital of the prosperous eastern province of Zhejiang.
The district now has a shortage of cleaners and housekeepers, with only a third of the workforce back at work.