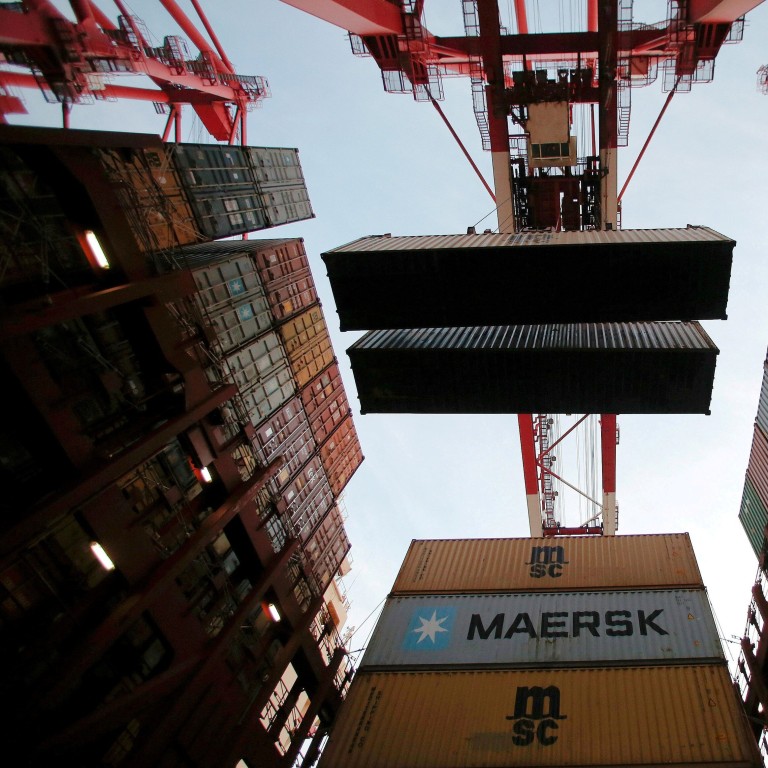 Coronavirus: China's exports and imports plummet in January and February
Customs data shows that China's exports shrank by 17.2 per cent in January and February combined due to coronavirus' impact
China had postponed January's data release, instead combining the first two months of the year
China's exports and imports both plunged over the first two months of the year, as the coronavirus tore through the world's second-largest economy.
Exports fell by 17.2 per cent in January and February combined compared to the same period a year earlier, according to data released on Saturday by the General Administration of Customs. This was down from 7.9 per cent growth in December. Imports dropped 4 per cent from a year earlier, down from 16.5 per cent growth in December.
A poll of analysts conducted by Bloomberg predicted that exports would fall by 15.2 per cent and imports by 16.6 per cent, respectively. In total, China's foreign trade was US$591.99 billion over the two months, down 11 per cent on last year.
The lowest monthly trade figures in China's history were minus 22.2 per cent for exports in August 2009 and minus 43.1 per cent for imports in January 2009, as the world struggled to escape the global financial crisis.
China usually releases trade data on a monthly basis, but postponed January's release plans as the virus had placed large swathes of the country on lockdown, from which it is just slowly trying recovering.
The numbers mean that China ran a trade deficit over the first two months of the year, of US$7.09 billion, compared to the surplus of US$41.45 billion over the same period in 2019.
The trade numbers add to what has been a horrendous opening quarter for the Chinese economy, with many analysts predicting the first quarterly contraction in the economy since 1976.
China's non-manufacturing PMI – a gauge of sentiment in the services and construction sectors – also dropped, to a new low of 29.6 from 54.1 in January.
Before the virus swept through China, January actually looked like quite a strong month in economic terms. Before the annual Lunar New Year shutdown, firms tend to top up inventory, meaning export numbers generally benefit from front-loading.
However, the combined figures are no worse than previous February drops in exports in 2019, of 20.7 per cent and 2016, of 25.4 per cent.
"The decline in foreign trade was mainly due to the impact of the novel coronavirus epidemic and the extended Lunar New Year holiday," said a customs statement accompanying the numbers.
Furthermore, a phase one trade deal signed with US President Donald Trump took effect on February 14, meaning a halving of a 15 per cent tariff on US$120 billion of Chinese imports to the United States was reduced to 7.5 per cent, but this has clearly had little bearing in the numbers, with the potential boost overridden by the rampant impact of the virus.
Many Chinese firms are struggling to get back up to speed, even if they have been granted permission to reopen. As of Tuesday, just 45 per cent of China's small businesses, which account for 60 per cent of gross domestic product and 80 per cent of employment, had reopened.
Many factory owners are also struggling to obtain the parts they need, since their suppliers have not returned to work.
Research firm Gavekal Dragonomics estimated that the outbreak could cost China's migrant workers a combined 800 billion yuan (US$115 billion) in lost wages, an amount that will be impossible to recoup by working longer hours when business is back to normal. This loss, in turn, will dampen consumer spending, which Beijing is counting on to help support growth this year.
While data from Cargometrics, which tracks every vessel on the planet, this week showed that seaborne imports to China surpassed their pre-Lunar New Year levels on seven recent days, other indicators show a lag.
Daily container traffic at US ports from China fell from 32,550 units on February 4 to just 2,784 on February 26, according to data from trade research firm Ocean Audit.
Additional reporting by Orange Wang.