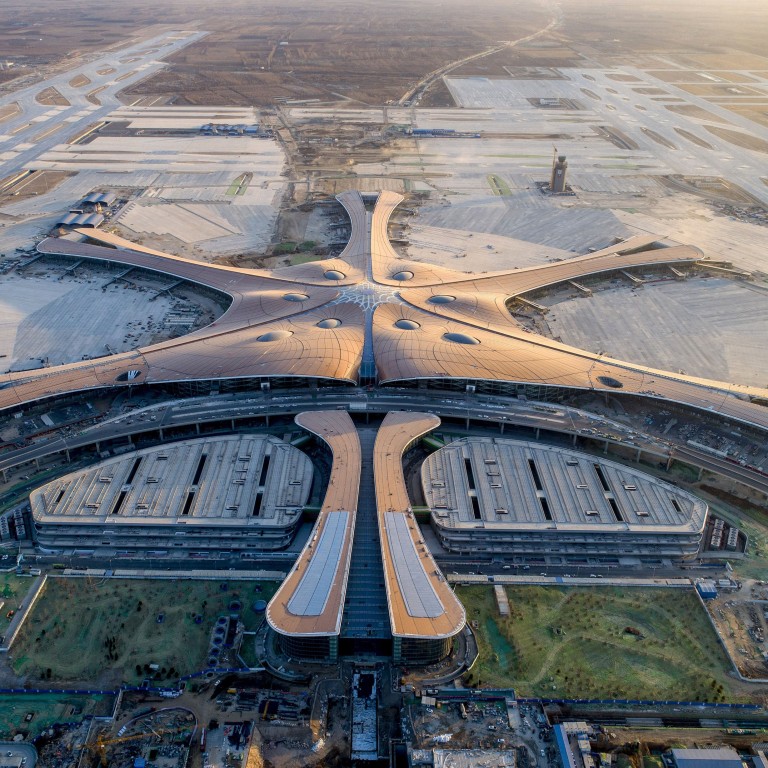 China forges ahead with airport construction binge, despite signs of slowing air traffic growth
China plans to build an additional 215 airports by 2035 in an effort to turn its aviation industry into a strategic part of its trillion dollar economy
But the sector appears to be cooling as growth in passenger and cargo volumes has slipped over the past three years
China is pressing ahead with plans to build an average of 14 airports every year over the next 15 years, despite passenger and cargo growth showing signs of slowing after a period of rapid expansion.
Already equipped with some of the world's largest airports, the Civil Aviation Administration of China (CAAC) wants to add another 215 to reach a target of 450 by 2035, helping to turn China's aviation industry into a strategic part of its trillion-dollar economy.
China's aviation sector is on track to surpass the United States and become the world's largest in 2024, according to the International Air Transport Association.
Between 2014 and 2019, China spent 486.32 billion yuan (US$70 billion) on ground infrastructure and upgrades of airports and air traffic controlling systems, helping fuel its ambitions to become an international aviation hub.
The CAAC budgeted 85 billion yuan (US$12.2 billion) for fixed asset aviation investment in 2019 and 100 billion (US$14.4 billion) this year, while it spent 85.79 billion yuan in 2018.
But after years of fast growth in the sector, there are indications that the pace of expansion may be cooling.
The growth of annual passenger numbers in China has slowed over the past three years, increasing 7.9 per cent to 660 million in 2019, compared with 10.9 per cent in 2018 and 13 per cent in 2017, according to data from the CAAC.
Overall cargo volume last year was 75.26 billion tonnes, a mere 1.9 per cent rise from a year earlier, and well below annual growth of 4.6 per cent in 2018 and 5.7 per cent in 2017, CAAC data showed.
Passenger growth at Shanghai Pudong International Airport, one of the country's aviation hubs, has been declining since 2015, falling to 2.8 per cent last year – or some 76.09 million passengers – its slowest rate in eight years.
Guo Yufeng, chief executive of WinSale Airport and Q&A Consulting, said China's airport construction plan was focused on long-term demand as well as the
development of local economies
.
"With demand rising, more airlines and airports are needed," said Guo. "Some international routes between major global cities are always profitable, like between Shanghai and New York. Some are bound to make a loss in the short term.
"But local governments have an incentive to keep the route going with subsidies for the sake of general economic development and trade growth, especially in second tier cities."
China's international routes have been losing money to the tune of billions of yuan a year over the past three years, with losses in 2018 hitting 21.9 billion yuan (US$3.1 billion), Li Jun, chairman of the China Air Transport Association, said at a forum last year.
And it is not just international flights, either, with some domestic carriers suffering due to high operating costs and low passenger volumes.
Professor Li Guijin, from the Civil Aviation Management Institute of China, told Chinese media last year that the total share of regional flights in China's aviation market had dropped from 16 per cent to about 5 per cent over the past 18 years.
While China's aviation market has taken a hammering this year as the coronavirus curtails worldwide travel, approvals for new airports and expansions have pressed on.
In the past two months, China's state planning body, the National Development and Reform Commission (NDRC), approved three new airport projects, including a third runway at Shenzhen airport, worth a total of 91 billion yuan (US$13.1 billion).
Construction of 81 stalled airport projects, meanwhile, has resumed following an extended Lunar New Year holiday due to the virus outbreak, and the CAAC was working hard to start a new batch, local media have reported.
The government in Shandong province also said last week it would hire local staff and help transport migrant workers back from their hometowns to kick-start delayed airport projects.
More than 70 countries and territories have slapped travel restrictions or tightened visa requirements for travellers from China due to the coronavirus outbreak, severely denting
China's share of global air traffic
and prompting Beijing to pay domestic and foreign airlines to restore services.
The CAAC announced new measures to support airlines and airports on Monday, including reducing airport and air control fees.