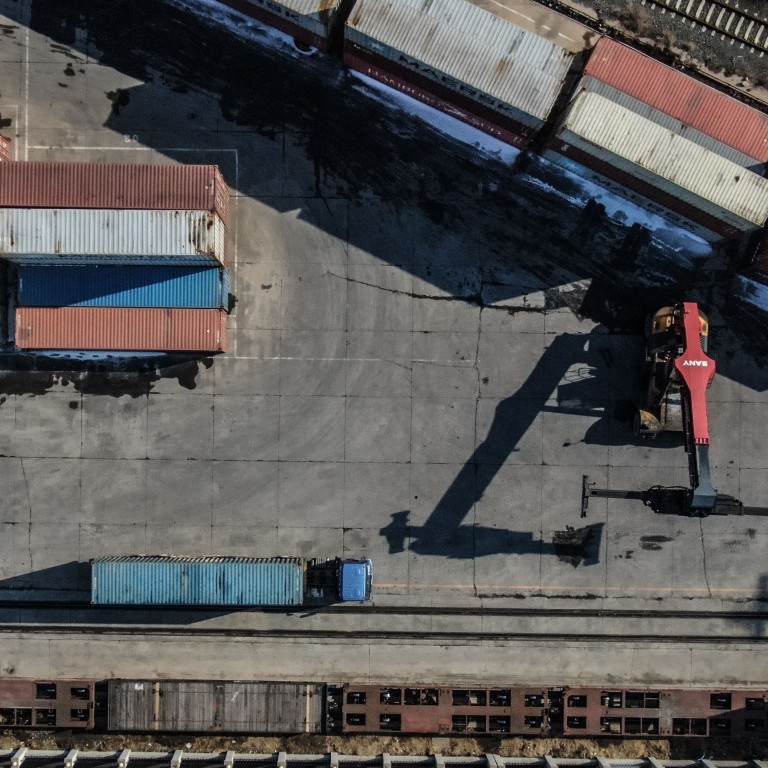 Coronavirus: China export slump 'on par with global financial crisis' as surprise trade deficit concerns Beijing
China's trade deficit in the first two months was US$7.1 billion, the first since March 2018, which could hit recovery hopes from coronavirus shutdown
Analysts suggest that while January-February data were bad, the worst will come later, as other countries' demand for Chinese exports sags
China's surprise drop into trade deficit over the first two months of the year will raise concerns in Beijing that "the worst is yet to come" for the economy, as the country tries to recover from the shutdown caused by the coronavirus.
On Saturday, China's customs body reported a rare
trade deficit
of US$7.1 billion – the first since March 2018, when it was US$5.5 billion – although that was for a single month. Meanwhile "the decline in exports, if seasonally adjusted, is on a par with the 2008 global financial crisis", said Julian Evans-Pritchard, senior China economist at Capital Economics.
The bigger than expected fall in exports – minus 17.2 per cent for January-February – came even before foreign markets became mired in the supply chain fallout of the virus, with its now-rapid spread around the world set to hit demand for Chinese goods for months to come.
"Any recovery will be significantly dampened by the spread of the coronavirus outside China, which looks set to weigh heavily on foreign demand," Evans-Pritchard wrote in a research note.
But that may no longer be realistic. A drop in the trade surplus suggests trade will provide less support for economic growth and that the impact could be larger than thought.
"The worst is yet to come for exports and supply chains," warned Larry Hu, chief China economist at Macquarie Capital, with China's famed export engine – accounting for nearly 15 per cent of global exports – grinding to a halt for weeks over the Lunar New Year holiday.
Investment bank Nomura said in a note that the "devastating impact" of coronavirus "was not fully reflected" in the latest data.
"Due to the lagged impact from the sharp contraction in processing and assembly imports, we expect export growth to slow further in March to around minus 20.0 per cent year-on-year. Import growth could slow more sharply to around minus 18.0 per cent year-on-year in March, due mainly to the slumping price of crude oil and a slow domestic demand recovery," the note read.
Trade deficits are rare in China, with a strong surplus often seen as a sign of its competitiveness in merchandise trade and a source of financial stability.
Even as China entered deficit this year, the US remained a key source of surplus. In the first two months of 2020, China's exports to the US dropped 27.7 per cent to US$42.9 billion while imports rose 2.5 per cent to US$17.6 billion, resulting a trade surplus of US$25.3 billion, according to Chinese government data.
Net exports accounted for 11 per cent of China's economic growth in 2019, compared to 57.8 per cent from consumption and 31.2 per cent from investment, and while their importance to the economy is less than in the past, Beijing will still be hoping it can in part export its way out of the coronavirus crisis.
China's current account surplus spiked after its accession to the World Trade Organisation in 2001 and reached 9.9 per cent of gross domestic product in 2007. It has kept falling since then to 0.4 per cent in 2018 but rebounded to 1.2 per cent last year.
A merchandise surplus has long been viewed as a key component to China's external strength, even as its quarterly service trade deficit hovered around US$50 billion in the past three years.
This article appeared in the South China Morning Post print edition as: Surprise deficit dims hopes for Recovery