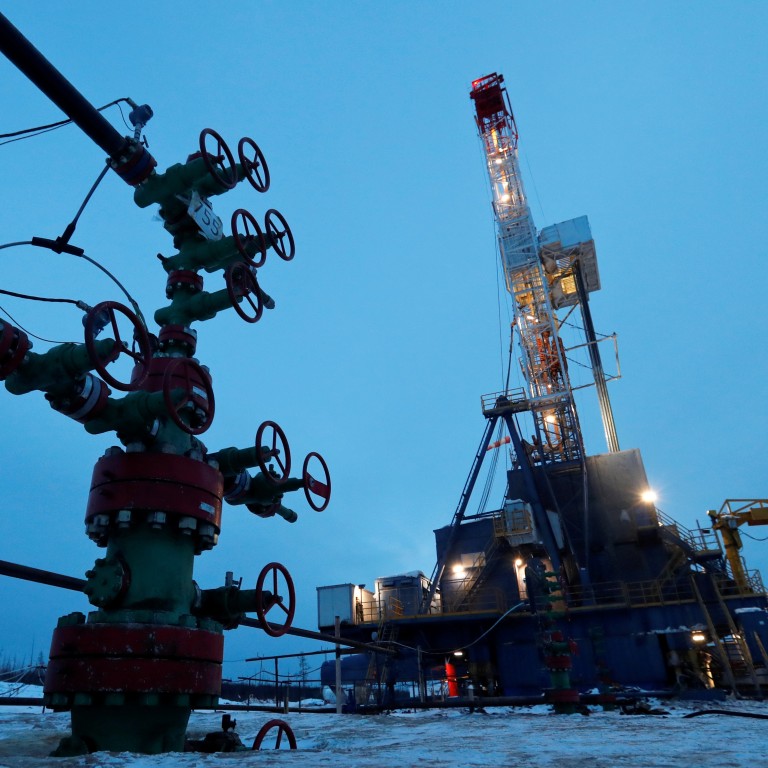 China's oil reserves to be boosted amid global crude price rout, Beijing researcher says
Current low prices mean China is likely to top up its oil reserves, but purchases may be limited due to weaker demand and a lack of storage capacity
China, which imported more than 70 per cent of its crude oil requirements in 2019, could take advantage of a price war between Saudi Arabia and Russia
China should use the crash in crude oil prices to top up critical national emergency reserves, a top government researcher said on Tuesday.
Regardless of the current oil market situation, China will not curb its efforts to secure stable and reliable oil supply, including continuing to increase domestic production, as energy security remains one of the government's top economic policy priorities in the
trade war era,
said Wang Yongzhong.
"Neither a rally [in oil prices] nor a plunge is good for China. The Chinese government is concerned more about energy security, i.e., how to find multiple sources of stable supply," said Wang, who heads global energy research at the Chinese Academy of Social Sciences, a key governmental think tank based in Beijing.
China may buy additional oil at cheaper prices for its strategic stockpile, but those purchases may be limited, Wang indicated.
"It is a good opportunity. China's reserves are far below the 90-day usage amount, the standard in the United States. It has room to increase," Wang added.
"[However] you may not be able to buy a larger amount at the current price, even if you want to buy more. It will depend on the cost and market conditions."
China imported more than 70 per cent of its crude oil requirements in 2019, with foreign purchases rising to a record 506 million metric tonnes (3.7 billion barrels), equivalent to 10.1 million barrels per day. It marked the 17th straight year that China's oil imports had increased, with more than a third coming from the Middle East.
On Friday, Saudi Arabia, China's top supplier, launched a price war with Russia, its second largest supplier, after the two countries failed to agree on production cuts to support prices. The price of Brent crude, the key international benchmark, dropped almost 30 per cent to US$31 per barrel on Monday before rebounding to US$37 per barrel on Tuesday.
Compared to the long-distance costs of shipping crude oil from the Middle East, the supply via pipelines from Russia is deemed to be "safe," according to Wang.
The security mindset is incorporated in self-sufficiency ratios for a variety of raw materials and other industrial components that are used in a variety of Chinese sectors and written into national industry development plans.
This means that, even though the cost of domestic oil exploration and production is high, government support will continue as part of its effort to ensure sufficient supply, Wang said.
Beijing has gone to great lengths to diversify the sources of raw material supplies throughout the world, from war-torn Sudan in Africa to politically turbulent Venezuela in South America, regardless of western criticism that its efforts amounted to so-called neocolonialism, or using economic, political, cultural, or other pressures to influence other countries.
The National Development and Reform Commission, China powerful planning agency, set up a strategic oil reserve centre in 2007, which involved building large storage facilities in coastal regions including Zhoushan, Dalian and Qingdao, as well as in westernmost Xinjiang province.
However, a sharp decline in both consumer and business demand for oil due to the impact of the coronavirus and a lack of adequate storage facilities may limit China's willingness and ability to significantly boost its reserves.
China's current oil stocks are believed be at relatively high levels, given an estimated 20 per cent decline in domestic demand so far this year.
The focus on energy security will infuse Beijing's decision-making into when and how much additional oil to buy, a mindset that has been reinforced during the ongoing trade and technology war with the United States.
Imports from the US rose 2.5 per cent to US$17.59 billion in January and February despite the virus outbreak, compared to a 4 per cent drop of overall imports during the same period.
Crude oil from the US, though, only accounts for a small proportion of China's energy imports, with the China-US market estimated to be around US$10-20 billion.
This article appeared in the South China Morning Post print edition as: price crash a chance to top up oil reserves