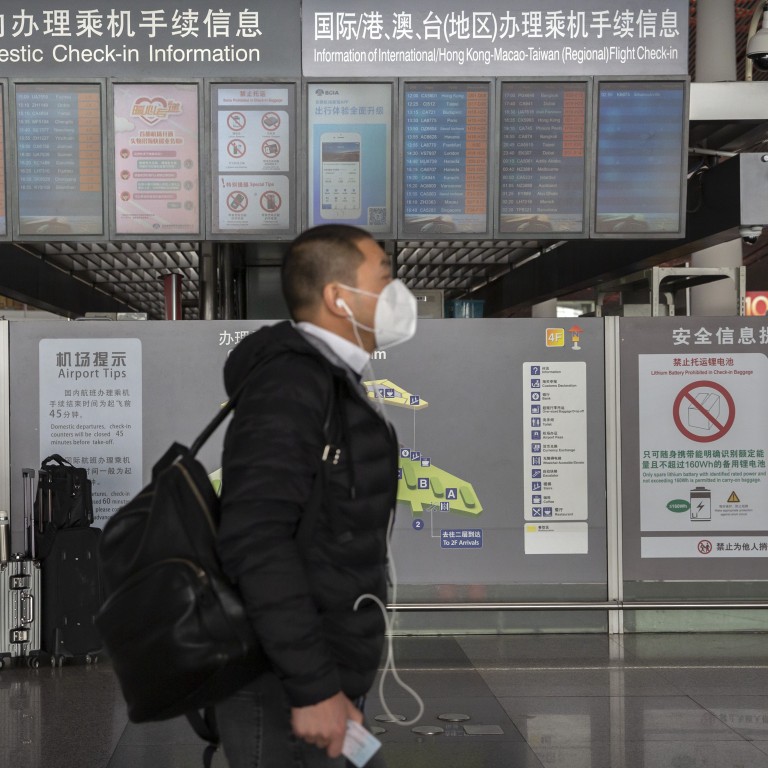 Coronavirus: China airlines post record revenue loss in February as passenger volumes plunge
Chinese airlines lost 20.96 billion yuan (US$3 billion) in February as passenger traffic plunged 84.5 per cent from a year earlier due to the coronavirus
February was expected to be a big month for air travel following the Lunar New Year holiday
Chinese airlines posted a record loss of 20.96 billion yuan (US$3 billion) in February after tens of thousands of flights in and out of the country were cancelled because of the coronavirus outbreak, the Civil Aviation Administration of China (CAAC) said on Thursday.
Passenger traffic plunged by 84.5 per cent to 8.34 million people while cargo volumes slumped 21 per cent to 297,000 tonnes last month compared to the same time last year, data from the aviation regulator showed.
February was expected to be buoyant for air travel in China after the Lunar New Year holiday ended early in the month. But population lockdowns and nationwide travel restrictions put in place to contain the virus wreacked havoc on those plans.
Flights should resume gradually as the country's economic and social life returns to normal, the CAAC said. However, people are still reluctant to fly with the deadly outbreak still not fully under control.
In the first week of March, only 40 per cent of domestic flights had been resumed, the CAAC said. China was the initial epicentre of the coronavirus outbreak with more than 70 countries or territories putting restrictions on flights from the country.
The aviation regulator has already announced a number of measures to help cushion the blow, including subsidies to Chinese carriers and extra funding for international flights.
Chinese airlines are attempting to make up for the losses by slashing fares. Shenzhen Airlines, a division of state-owned carrier Air China, was running a special offer on a flight from Shenzhen to Chongqing, with a one-way ticket for the 1,000km journey costing just 100 yuan (US$14). That was around 5 per cent of the standard price of 1,940 yuan (US$276) for the flight that lasts two hours and 15 minutes.
One of China's biggest carriers, Hainan Airlines, has effectively been taken over by the Hainan provincial government after its main shareholder, HNA Group, asked the government for help to resolve increasing liquidity risks and a slow down in business because of the outbreak.
Airlines around the world are expected to be hit hard by the continued spread of the disease. In a forecast published on March 5, the International Air Transport Association said airlines could lose up to US$113 billion from the coronavirus outbreak, four times their estimate two weeks earlier.
This article appeared in the South China Morning Post print edition as: Mainland airlines post record loss last month