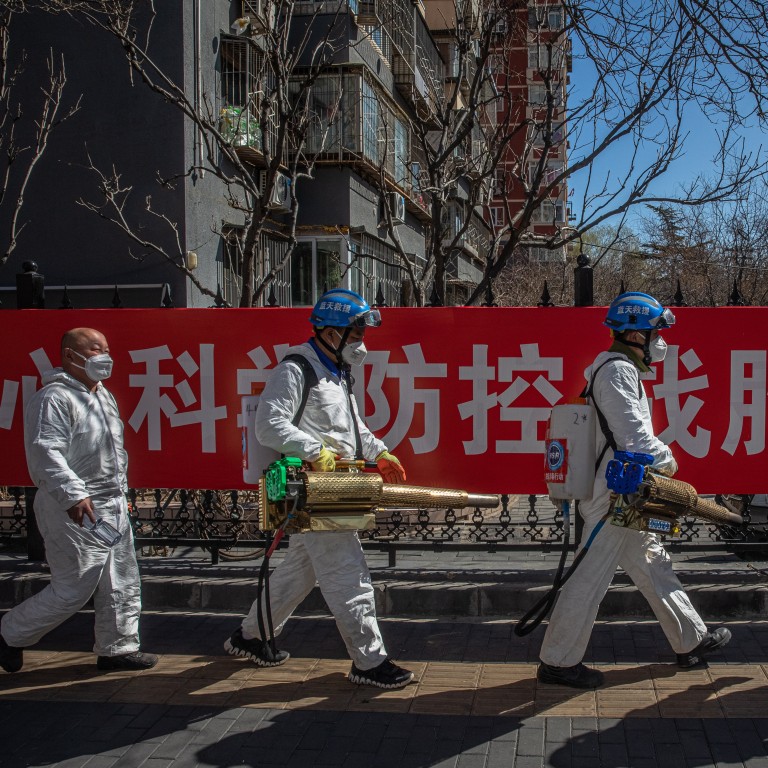 Coronavirus: China's central bank will use 'variety of measures' to cut loan costs for firms
The People's Bank of China will use monetary tools to ensure banks have sufficient liquidity, while also implementing interest rate reforms
Deposit benchmark rate will also be leveraged to help small businesses cope with impact of the pandemic
China's central bank on Sunday said it would use "a variety of measures" to bring down the cost of borrowing for companies that have been hit hard by the coronavirus outbreak.
"The People's Bank of China (PBOC)
will continue to take a variety of measures to promote a decline in loan interest rates, and to support the resumption of production and economic development," Sun Guofeng, head of the PBOC's monetary policy department, said at a press briefing in Beijing.
Those measures included using monetary tools to ensure banks had sufficient liquidity, and interest rate reforms, he said. It would also leverage its deposit benchmark rate so that banks could cut lending rates to help small businesses cope with the impact of the coronavirus.
Since January 31, the central bank had allocated 184 billion yuan (US$26.3 billion) of its 300 billion yuan re-lending quota – money loaned to other banks – to support firms including those making equipment needed to contain the outbreak, Sun said. Chinese banks had also issued 107.5 billion yuan in loans at favourable rates to small and agricultural firms.
Economic fallout from the public health crisis included weakened demand for new loans from the private sector, according to Ye Yanfei, director general of the China Banking and Insurance Regulatory Commission's Policy Research Bureau.
Chinese banks extended just 905.7 billion yuan (US$129 billion) in
new yuan loans in February,
down from a record 3.34 trillion yuan (US$476 billion) in January, according to data released by the central bank last week.
"It's always been difficult for small and micro enterprises and private firms to find financing. And the impact of the epidemic is relatively bigger for these enterprises – especially those in the transport, wholesale and retail, cultural and entertainment, accommodation and catering industries," said Ye.
"In particular, banks are encouraged to lend more – resuming work and production will require a lot of liquidity."
Chinese regulators have been trying to boost bank lending and lower financing costs, especially for
smaller and private companies
which generate a sizeable share of the country's economic growth and jobs.
On Friday, the central bank said it would cut the amount of cash that banks must hold as reserves for the second time this year, releasing 550 billion yuan to help its coronavirus-hit economy.
Analysts expected further easing moves from the central bank, with more targeted measures to bolster its economy, which may see a contraction because of the virus outbreak in the first quarter. But they believed Beijing would not resort to the huge stimulus measures used in response to the global financial crisis in 2008-09, which left local governments mired in debt.
The central bank could instead inject liquidity through channels including its medium-term lending facility, with targeted cuts to the medium-term lending facility rate and its reserve requirement ratio, according to a report by investment bank Nomura. It could also use its pledged supplementary lending facility to fund loan extensions, tax cuts, rent cuts and reductions in interest payments and utility costs.
Ren Zeping, chief economist at Evergrande Think Tank, a research centre affiliated with the Hong Kong-listed property developer, said China was unlikely to follow the US Federal Reserve, which is expected to cut its policy interest rate this week.
"[The central bank] will take small but regular and reformist steps to guide the real interest rates lower, through improving liquidity [to encourage banks to] lift lending to smaller and private companies," Ren wrote in a blog post on Sunday.