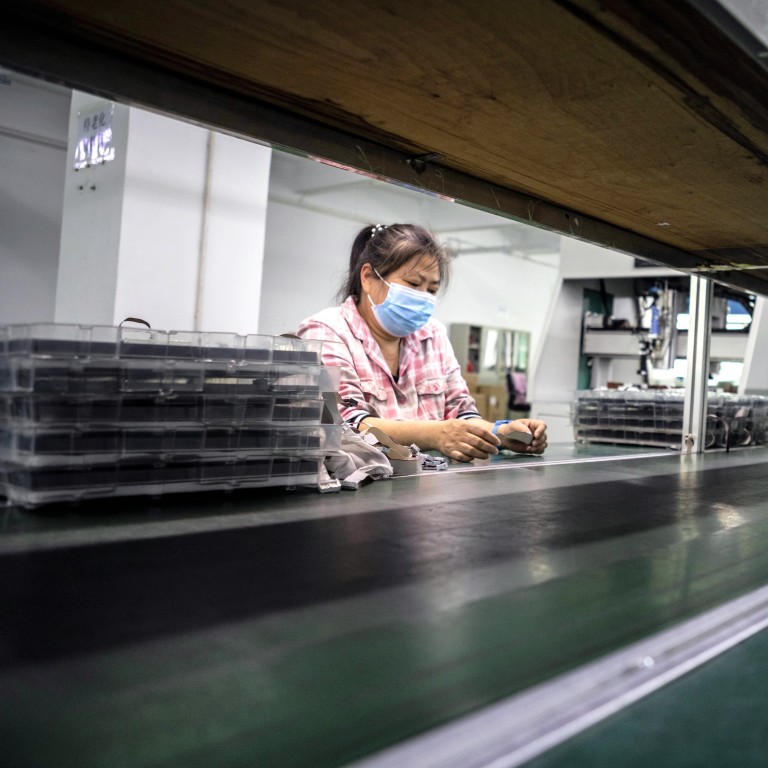 Coronavirus: China unemployment rate rose more than during US trade war
China's unemployment rate jumped to 6.2 per cent for January and February from 5.2 per cent in December and 5.3 per cent a year earlier
The month-on-month increase is larger than the gain over the previous 18 months, but it does not include most migrant workers who have been hit hard by the outbreak
Unemployment in China rose at a faster pace in the first two months of 2020 while under pressure from the coronavirus outbreak than it did in the previous 18 months, when the economy was weighed down by the trade war with the United States.
China's surveyed unemployment ratio, a key parameter used by Beijing's policymakers to gauge the health of the economy, jumped to 6.2 per cent for January and February from 5.2 per cent in December and 5.3 per cent a year earlier, according to data released by the
National Bureau of Statistics (NBS)
on Monday.
The month-on-month increase is larger than the 0.3 percentage point gain over the previous 18 months, which included the height of the trade war with the US.
Beijing has yet to release an unemployment target for 2020 as the
National People's Congress
has been delayed due to the coronavirus, having been initially scheduled for the first week of March, although the latest reading is above the 2019 target of "around 5.5 per cent".
The rate is the highest on record, although the unemployment survey has only been published since 2016. It also combines January and February data to smooth out the impact of the Lunar New Year holiday, which occurs over different dates each year.
Stable employment has long been a top priority to ensure social stability, and as its annual economic planning conference in December, China's top leadership pledged that "there will be no families in which all members are unemployed".
"It's not a big deal whether the economic growth rate is a bit higher or lower this year, as long as China's job market is stable," said Li Keqiang.
But the official unemployment rate, based on a survey of employers, does not tell the full story of the current status of China's job market because it does not include most migrant workers, many of which work in factories that were closed in a bid to contain the spread of the virus.
China's 291 million migrant workers are seen as the most vulnerable as many have been unable to return to work, or have suffered significant delays after the extended Lunar New Year holiday and subsequent production and transport disruptions.
"We have to admit that the pressure on employment is still relatively large," NBS spokesman Mao Shengyong said on Monday.
Mao, though, expects the unemployment rate to fall in the second half of the year, citing the expectation that the resumption of production will lead to economic recovery, helped by
stimulus measures
and policies aimed at boosting jobs.
China has already rolled out tax cuts and trillions of yuan worth of emergency funds to help hard-hit
small businesses,
which employ the majority of China's workforce.
However, a survey of workers by online recruitment service provider Zhaopin.com released on Monday showed only 40.2 per cent of the 7,129 respondents said their firms had fully resumed production, with 25.1 per cent saying they had lost their job as a result of the coronavirus disruption.
In addition, 17 per cent said that their wages had not been paid, while a further 20 per cent said their payments had been delayed.
A separate Zhaopin.com survey of human resource officials painted an equally bleak picture as one third of respondents said they expected to cut jobs, while 28.2 per cent said they would not fill vacant positions.
Liang Haiming, head of China Silk Road iValley Research Institute, said job losses at small service firms were unavoidable, given their vulnerability to the virus-induced economic disruption.
To make matters worse, "many large enterprises may also be reluctant to add to their headcount" given the uncertain global economic outlook, he added.
The number of university graduates will also reach a new high of 8.74 million in the summer, but the number of new urban jobs created fell to 1.08 million in the first two months of year from 1.74 million during the same period of 2019.
Purchase the China AI Report 2020 brought to you by SCMP Research and enjoy a 20% discount (original price US$400). This 60-page all new intelligence report gives you first-hand insights and analysis into the latest industry developments and intelligence about China AI. Get exclusive access to our webinars for continuous learning, and interact with China AI executives in live Q&A. Offer valid until 31 March 2020.
This article appeared in the South China Morning Post print edition as: Unemployment rate grows at a faster pace than during trade war