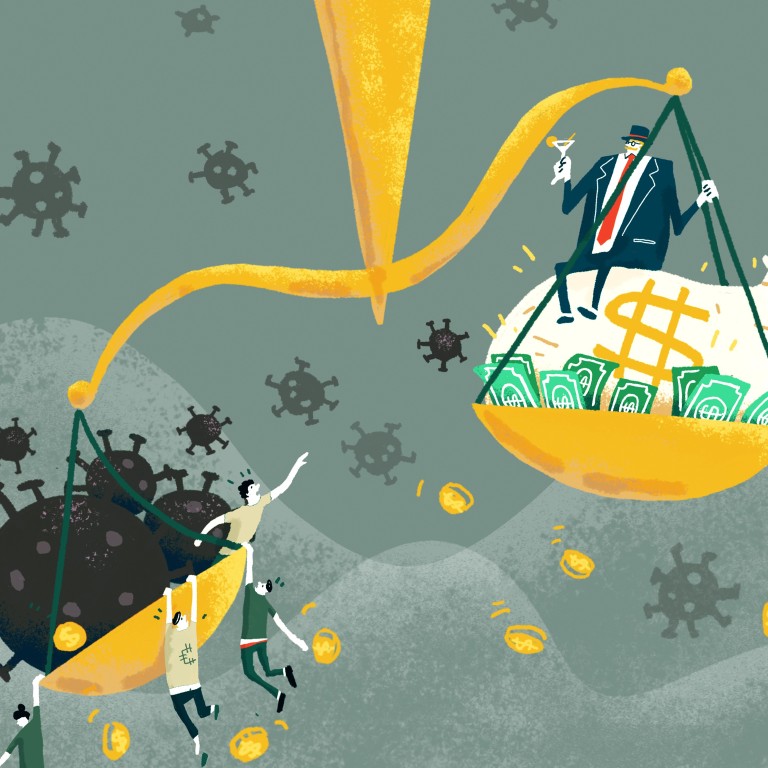 Coronavirus: China's income inequality could expand in 2020 as outbreak rattles world's No 2 economy
Income inequality in China could expand in 2020 as the impact of the coronavirus outbreak ripples through the economy
Poor Chinese are likely to be disproportionately hit, both in terms of lost earnings and their ability to withstand risk, a new survey shows
For years, China has been trying to reduce the gap between rich and poor, but those efforts could be undermined by the coronavirus outbreak that has shaken the world's second largest economy.
About a third of Chinese households earning annual incomes of between 10,000 yuan (US$1,426) and 30,000 yuan expect their earnings to drop significantly this year, compared to 11 per cent of high-income households taking home more than 200,000 yuan (US$28,500) per year, according to a February survey conducted by Gan Li, professor of economics at Texas A&M University.
Only 13 per cent of affluent households – or those earning above 1.3 million yuan (US$185,000) per year – believed that the coronavirus would hit their incomes severely, half that of lower-income households earning below 423,000 yuan (US$60,000), said the survey, which tracked wealth across 2,000 households from different income levels.
The February survey tapped into a pool of about 40,000 respondents from the biennial China Household Finance Survey (CHFS), which is also led by Gan and a team at Southwestern University of Finance and Economics in western China.
The latest CHFS survey, conducted last summer, also offered clues on how much in savings and other liquid assets Chinese households had to cover basic living expenses, including utilities, food and rent, if their incomes dried up from the virus.
Families that relied on income from temporary work without formal contracts could last 2.3 months, while those with full-time work could survive 5.6 months. Households that owned businesses could last 9.8 months.
A family's ability to weather an economic storm also varied across industries, with households relying on a member who worked in repair services able to survive for 3.8 months and those with a primary income earner in the finance industry able to hold out for 9.4 months.
"This data shows that the virus might affect everybody, but the impact on temporary workers and low-income families is much more severe. And their ability to withstand risks are very weak," Gan said.
"The quarantines, travel restrictions and business closures are not a process of breaking down institutions, but rather the exertion of China's state power on a massive scale," he wrote. "The people and companies who suffer most from the shutdown are those that were already disadvantaged in the system."
"For decades migrants have fallen through the cracks of social programmes and government policy because their job and their household registration are not in the same place," Batson said. "White-collar office workers may grumble about the tedium of working from home, but at least they are still drawing a salary. Wage and income inequality is therefore likely to widen this year."
To prevent income inequality widening, Gan suggested that the Chinese government allow households to delay home mortgage repayments and provide one-off cash subsidies to low-income groups.
If a cash payment of 1,620 yuan (US$231) was made to every household with an annual income below 60,000 yuan (US$8,500), a total of 176 million people could benefit, Gan said. The overall cost, which would amount to 286 billion yuan (US40.8 billion), would not be too much of a burden on the government's balance sheet either, he added.
The ratio of government debt to gross domestic product was less than 40 per cent last year, well below developed countries like the United States and Japan.
"These subsidies are temporary," he said. "The government could issue treasury bonds to solve the funding."
The Gini coefficient, a gauge of income distribution that ranges from 0 to 1, fell from 0.479 in 2003 to 0.465 in 2016, according to the National Bureau of Statistics. The higher the number, the greater the degree of inequality.
But alternative research has painted a slightly different picture. A study by scholars Xie Yu and Zhou Xiang showed China's income inequality between 2005 and 2014 hit high levels, with the Gini coefficient in the range of 0.53 to 0.55.
A paper led by French economist Thomas Piketty in 2017 found inequality levels in China were once close to those of Nordic countries, but were now approaching levels seen in the US.
The top 10 per cent of income earners in China earned 41 per cent of total national income in 2015, compared to 27 per cent in 1978, Piketty's research showed.
This article appeared in the South China Morning Post print edition as: Tipping the balance