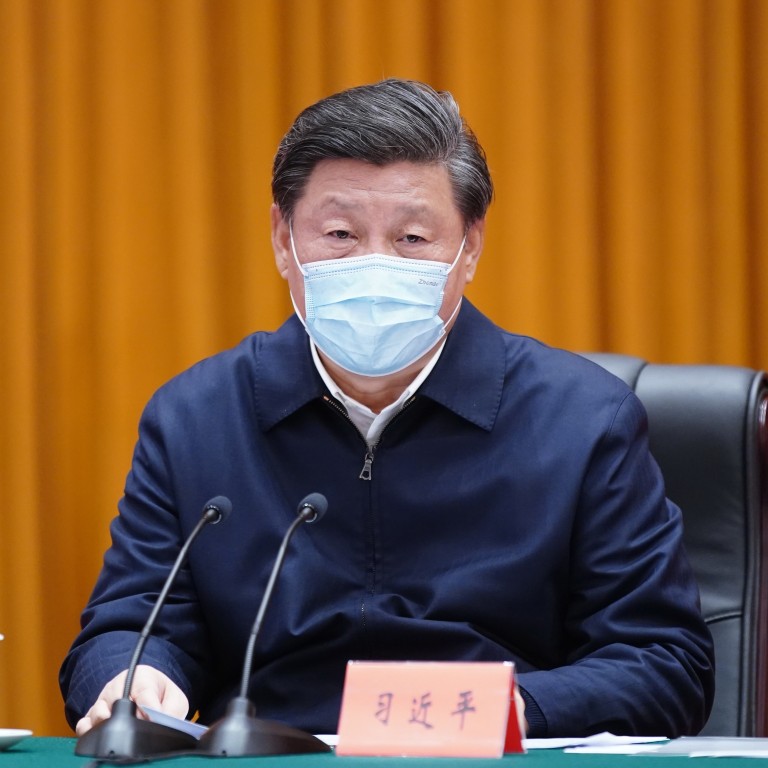 Coronavirus: emergency G20 summit to contrast gung-ho US economic package with China's softer approach
Emergency virtual summit of leaders from the Group of 20 major economies will take place on Thursday to discuss a global response to the coronavirus pandemic
Meeting will contrast the different approaches taken by China and Western powers to stymie the economic fallout of the outbreak
World leaders from the Group of 20 major economies, including Chinese President Xi Jinping, will convene an emergency virtual summit on Thursday to discuss the global response to the coronavirus pandemic and the economic damage it is causing.
The summit will take place against a backdrop of an oil price war between two members, Saudi Arabia and Russia, and rising tensions between two others, the
United States and China
, over the origin of the virus, which has infected nearly 400,000 people globally and killed more than 18,000.
The meeting, which was called by host Saudi Arabia, will also contrast the different approaches taken by China and Western powers to stymie the economic fallout of the outbreak so far.
While the US and Europe are pulling out all the stops to rescue their virus-hit economies, China has opted for small and calculated measures to steady employment and consumption in the world's second-largest economy. 
Iris Pang, Greater China economist at ING, said it was "anybody's guess" whether there would be global co-ordination emanating from the Group of 20 (G20), but China was unlikely to follow the large-scale monetary easing taken by the US when it comes to stabilising its economy.
"There is no need for China to engage in large-scale monetary easing," said Pang. "After cutting the targeted reserve requirement ratio, there is already a lot of liquidity in China. So the chance of another round of large scale easing is very slim.
"Too much liquidity increases the chance of an asset bubble. It's not helping out individuals or companies that have suffered because of the outbreak."
The US Federal Reserve has pledged to do whatever it takes to bolster the US economy, rolling out a series of unprecedented measures including backing purchases of corporate bonds for the first time, backstopping direct loans to companies and preparing a programme to get credit to small and medium-sized businesses.
It also announced it would buy bonds and mortgage-backed securities "in the amounts needed" to stabilise financial markets in a new round of quantitative easing.
The Fed has already cut interest rates twice to near zero since the start of the month to trim borrowing costs on mortgages, home equity lines and credit cards, while the White House and Congress are nearing a near US$2 trillion deal to bail out airlines and other business hit hard by the virus as well as hand every American adult at least US$1,000 in an effort to pump hundreds of billions of dollars into the US economy.
China's response to the outbreak of coronavirus, which was first reported in the central city of Wuhan late last year, has been much more measured, even though it is likely to report an economic contraction this quarter for the first time since 1976 when the Cultural Revolution ended.
So far China has resisted joining the global bandwagon of cutting interest rates to rock bottom, expanding quantitative easing or handing out cash to individuals to boost consumption.
Authorities have instead directed banks to extend loans to companies and individuals that need to pay debts, offering subsidies to industries and sectors hit by the virus, and helping its 800 million-strong labour force to return to work while imposing restrictions to minimise new infections.
"While I believe China will be cutting interest rates, I don't think it is as urgent as in the US' case, " said Xia Le, chief economist for Asia at BBVA Research. "Right now, the chance of China launching quantitative easing is not very high … [to be effective] you need to have a market economy, so when the central bank buys bonds or assets in financial markets it can have an impact on borrowing costs at banks."
The People's Bank of China (PBOC) has resisted cutting policy rate so far, but has reduced prime loan rates in February and slashed reserve requirement ratios several times to free up liquidity in the banking system and encourage lending and refinancing.
Since January 31, the central bank has allocated 184 billion yuan (US$26 billion) of its 300 billion yuan re-lending quota – money loaned to other banks – to support firms, including those making equipment needed to contain the outbreak.
"China also has a national team [to buy up shares] if needed. Not even the US can say 'let's buy up US stocks', but China has that option. You can say that is one form of quantitative easing that is effective [in China's case]," he said.
China has shied away from any form of extensive direct handouts or offers to guarantee employee salaries. The British government last week said it would pay up to 80 per cent of an employee's salary if they were kept on by their employers to prevent a spike in unemployment.
China's official urban unemployment rate jumped in February to 6.2 per cent, its highest on record. Some 5 million people lost their jobs in January and February.
"There is growing pressure on China's unemployment rate," said Banny Lam, head of research at CEBI. "China can ask its state firms not to lay off staff. The private sector like retailers, which are among the worst hit, are suffering and it's very difficult to ask them not to lay off people."
Lam said the central government would focus on asking lenders to extend borrowing to ailing companies rather providing pay guarantees, which would add pressure to its finances due to the large workforce it had compared to the US.
"This is a main reason why the central government has urged its industries to return to business as soon as there were signs that the outbreak had stabilised," he said. "I think there will be further policies to support employment and if the situation worsens, they may even consider similar to what the British government has offered."
Local governments in recent days have began offering shopping vouchers to its residents to boost spending. Nanjing, the capital of the eastern province of Jiangsu, said last week it would distribute 318 million yuan (US$44 million) worth of consumer coupons to union members and those in low-income groups.
"In the short term, getting a few hundred dollars here and there or even HK$10,000 as the Hong Kong government has offered, won't make a huge difference [to actual spending], but it has a calming effect psychologically speaking," Lam said.
China is more inclined to rely on speeding up infrastructure spending to prevent growth from falling off the cliff.
But few see Beijing reintroducing a 4 trillion yuan (US$565.5 billion) infrastructure expenditure programme like it did following the global financial crisis in 2008, which has led to mountains of debt and the so-called ghost cities across the country.
"While we now anticipate further cuts in policy interest rate against the backdrop of a huge shift in global monetary policy settings, we still do not see a reversion to massive credit stimulus in an attempt to 'do whatever it takes' to hit earlier growth targets of at least 6 per cent," said Fitch Ratings.
Additional reporting by Reuters