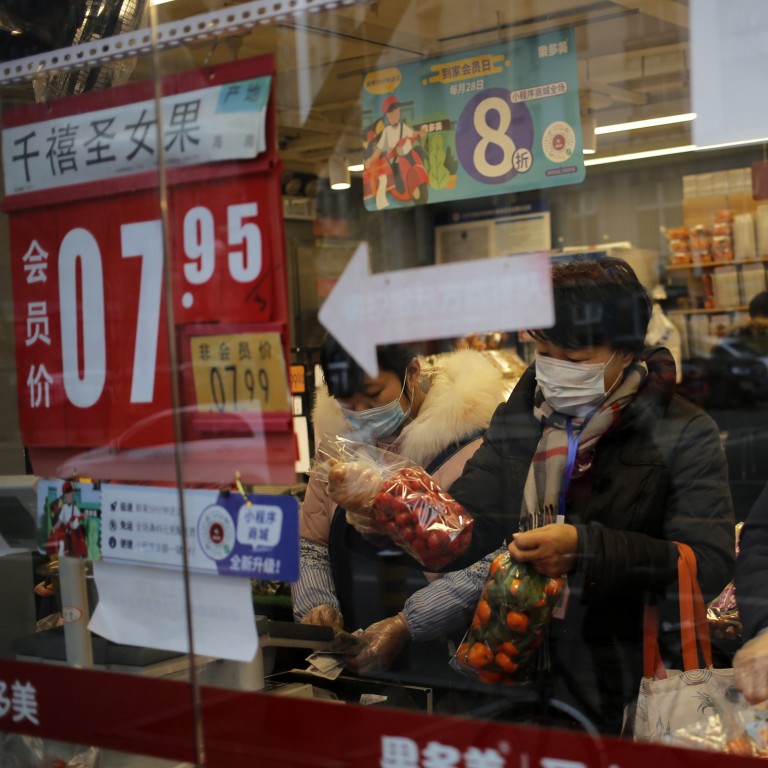 China eases US dollar debt rules, but dollar squeeze presents new challenge for firms facing cash crunch
China has eased restrictions on US dollar debt to allow private firms and small businesses to borrow up to 250 per cent of net assets
But ability of Chinese businesses to borrow in the US dollar market has been hindered by a global squeeze in dollar liquidity and concerns over creditworthiness
China's efforts to free up US dollar borrowing for private firms and small and medium-sized enterprises (SMEs) hit by the coronavirus pandemic are being hampered by a squeeze in the dollar market and concerns about the credit quality of Chinese businesses.
The limit for cross-border financing has been raised from 2 to 2.5 times the value of net assets based on the risk-weighted ratios for these firms in China, Xuan Changneng, deputy administrator of the State Administration of Foreign Exchange (SAFE) said at the weekend, reiterating an initial announcement made earlier this month.
The higher borrowing limit could result in tens of billions of US dollars flowing into China, he said, while stressing the new policy would not apply to property developers or local government financing vehicles. Beijing has clamped down on both to contain risks to financial stability.
But foreign investors are reluctant to buy dollar debt from Chinese private firms because of a massive shortage of US dollars globally and concerns about creditworthiness, said Owen Gallimore, head of credit strategy at ANZ Bank.
"Given the liquidity problems of [Chinese] private sector companies, there needs to be some policy flexibility [for them to] fund somewhere," Gallimore said. "At this stage with offshore US dollar China bond markets shut for new issuance it's a moot point, but market sentiment can change quickly and if there is a window for issuance the private sector companies should be allowed to tap it."
A global dollar squeeze has occurred as companies and banks rushed to hoard the currency, which is perceived as a safe haven, to pay down debt and bills while keeping their business afloat during the coronavirus pandemic.
Reflecting the difficulties of funding, the volume of risky, high-yield US dollar bonds issued by Chinese firms have shrunk to US$422 million this month, down from US$2.87 billion in February and US$9.16 billion in January, according to markets data provider Refinitiv. The January figure was boosted by the signing of the US-China phase one trade deal in the middle of the month.
Panic in the global financial system has eased after the US government took unprecedented measures to guard the world's largest economy from the virus.
The US Federal Reserve has pledged to purchase an unlimited amount of US Treasury and mortgage-backed securities, including those backed by commercial mortgages, as well as US corporate debt.
The US Congress is expected to pass a historic US$2 trillion fiscal stimulus package this week that includes US$500 billion to rescue troubled US industries, US$100 billion for hospitals, and enough money to give most Americans a direct payment of US$1,200 each.
Shan Hui, China economist at Goldman Sachs, said Beijing had not anticipated a global US dollar squeeze when it made more room for more bond issuances.
"But in any case, the policy is unlikely to result in a sharp increase in dollar issuance since property companies and local government financial vehicles are excluded from this change," Shan said.
"These two types of companies account for most of the issuance overseas."
In the past, many SMEs and private companies have been shut out of the domestic markets and unable to access yuan funding, holding back their businesses. In a slowing economy, banks have also traditionally preferred lending to large state-owned firms because they have government backing.
Financial firms have made up more than half of Chinese US dollar-denominated bond issuers this year, followed by real estate, at just under a third, with the remainder made up by industrial companies, retail and other sectors, according Refinitiv.
Xuan was confident the new policy would not trigger a significant increase in China's foreign debt, saying the current scale and structure was reasonable.
China's foreign debt stood at US$2.03 trillion at the end of last September, an increase of US$67.3 billion from a year earlier.
Outstanding nonbank dollar debt was US$499 billion at the end of the third quarter of 2019, down from a peak of US$690 billion hit in 2014, according to data from Bank of International Settlements.
The key question was when market confidence would return and the global liquidity squeeze resolved, said Frances Cheung, head of macro strategy Asia at Westpac. But she added the current offshore funding environment remained tough for Chinese companies in the meantime.
"When companies' [existing] dollar debt cannot be fully rolled over, then they will need [even more] dollars," Cheung said.
This article appeared in the South China Morning Post print edition as: Dollar market squeeze hits SME lending