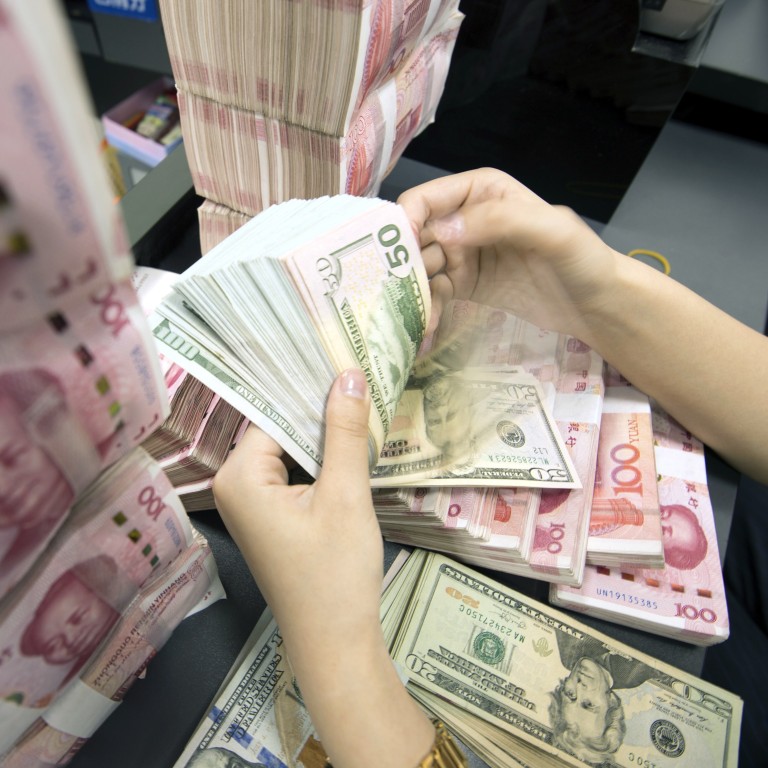 Coronavirus sparks US dollar dilemma for China as Federal Reserve ramps up easing
China is the world's second largest holder of US government debt, with about US$1.1 trillion worth of US Treasury bonds in its foreign reserves
As the US Federal Reserve scales up monetary easing, pushing down bond yields, some analysts have asked whether Beijing should sell its US Treasury holdings
To sell or not to sell? That is the question for Beijing as it looks at its United States Treasury holdings.
Analysts say China, which is hoarding about US$1.1 trillion worth of US government bonds in its
foreign reserves
, is facing a dilemma of whether to cut its exposure to the Treasury securities as the US Federal Reserve loosens its monetary policy at an unprecedented level.
For now, a global sell-off of stocks and commodities over coronavirus fears has seen investors scramble for the stability offered by the US dollar, pushing up its value.
In the long run, however, the decision by the US central bank to slash rates and boost purchases of securities has undermined the US dollar's role as an anchor currency and lowered yields on US government bonds. Yields of one-month and three-month Treasury bills dropped below zero this week.
The Chinese government has so far been mute over the value of the US dollar and the Federal Reserve policy. When the US central bank embarked on quantitative easing during the global financial crisis in 2008, China's then-premier Wen Jiabao said in March 2009 that he was "worried" about the safety of Chinese investments in US treasuries and urged the Federal Reserve to ensure the "safety" of Chinese investments.
Monetary policy easing by the US was "turning on the dollar printing machine", said Xiao Gang, the former chairman of the China Securities Regulatory Commission, in an interview with the official Chinese People's Political Consultative Conference Journal.
Xiao, who stepped down in early 2016 after a stock market rout, said the US was misusing its "dollar hegemony" to "pass its own crisis to the rest of the world". He warned that the bank's unprecedented easing in the form of securities purchases would result in "depreciation of the dollar's value".
Ren Zeping, an economist who worked for leading Chinese property developer Evergrande, wrote in a note that the US easing was an "irresponsible" way of sharing its own losses with the rest of the world.
"China should sell US government bonds and cut holdings of dollar-denominated assets. Instead, China should buy gold, oil, natural gas, iron ore, land, farm products as well as stakes in hi-tech firms on a massive scale," he said.
China's State Administration of Foreign Exchange, the agency that manages the country's foreign exchange reserves, does not publish details of its US$3.1 trillion stockpile – guarding it as a top state secret.
But in a rare disclosure last July, it said that US dollar assets accounted for 58 per cent of reserves at the end of 2014, down from 79 per cent in 2005.
The share of US dollars in China's reserves is already lower than the global average, which account for 62 per cent of foreign reserves worldwide.
China is the second largest foreign holder of US government debt with US$1.1 trillion of holdings at the end of January, followed by Japan's holdings of US$1.2 trillion, US Treasury data showed.
Some analysts said China has to stick to the US dollar as it offers the best protection of value during
market turmoil
.
Hong Hao, the head of research and chief strategist at Bocom International in Hong Kong, said there were limited options to safeguard value and it was unwise for China to sell US dollar treasuries.
"The US dollar, the US bonds, and gold … that's pretty much all the options," Hong said. "For China, it's not possible to change all reserves into cash and put under the pillow."
Lu Zhengwei, chief economist at the Industrial Bank in Shanghai, said selling US dollar assets was not in line with China's strategy.
"The foremost purpose of foreign exchange reserves is to preserve value, not to pursue high returns," Lu said. "In addition, there are really no alternatives … the gold market is too small and the crude market too volatile."
Li Jie, a researcher of China's foreign exchange reserves at the Central University of Finance and Economics in Beijing, said the current crisis actually highlighted the importance of the US dollar for China.
"The US dollar is important … the yields of dollar bonds are getting lower, but the currency is getting stronger," Li said. "It is still a good investment [for China] … and better than gold."
Purchase the China AI Report 2020 brought to you by SCMP Research and enjoy a 20% discount (original price US$400). This 60-page all new intelligence report gives you first-hand insights and analysis into the latest industry developments and intelligence about China AI. Get exclusive access to our webinars for continuous learning, and interact with China AI executives in live Q&A. Offer valid until 31 March 2020.
This article appeared in the South China Morning Post print edition as: Dollar dilemma For China as Fed ramps up easing