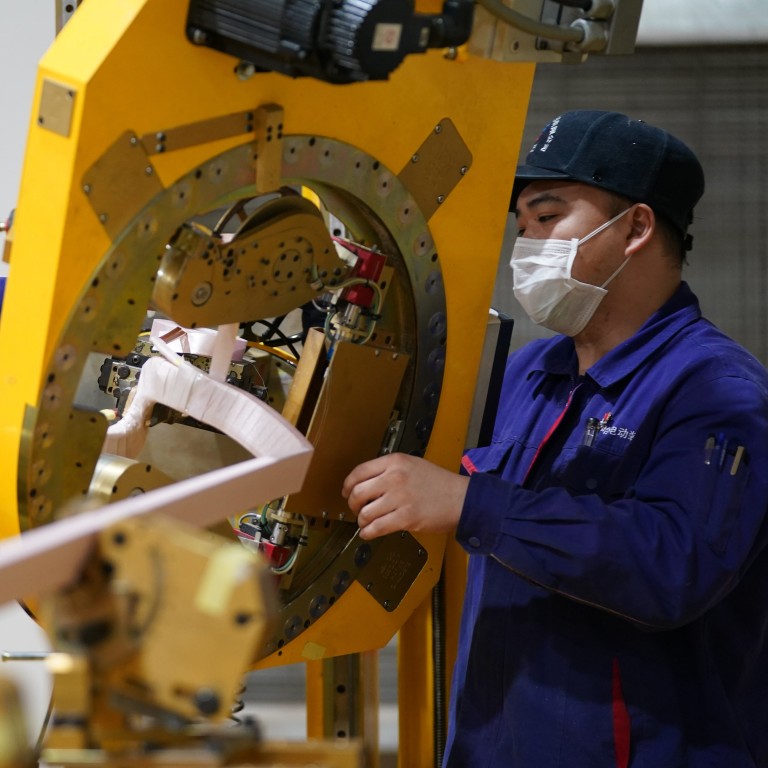 Coronavirus: China's small businesses increasingly desperate to raise cash to stay afloat
Small businesses are turning to friends and family for emergency loans as income dries up but rent, worker salaries and loan payments remain
University study found over 85 per cent of small businesses had only enough cash to keep going for three months without a regular income
Describing herself as an ordinary white-collar worker with a stable income based in China's manufacturing hub of Guangdong, Li Yue was left shocked by phone calls from two friends asking for urgent help to pay rent and salaries for their businesses.
"[I am] not any kind of wealthy investor or boss. I've known both of them for over a decade and it's the first time they have asked me for anything. I think their money is just exhausted," Li said.
They have seen their income shrink sharply or even disappear entirely since lockdowns across China started in late January to contain the spread of the coronavirus, while still liable for their operating costs and debt repayments.
"Each month, I have to repay 16,000 yuan (US$2,255) of interest for 2 million yuan (US$282,000) in loans from the local banks, as well as at least 100,000 yuan (US$14,000) for office rent and employees' salaries. But my business is completely stagnant with zero income this year," said Dong Ming, who runs a travel agency employing 15 people across two offices in Hangzhou and Ningbo in Zhejiang province.
"All the entrepreneur friends I know, either in the service industry or the manufacturing industry, are already in debt. Many of us, including me, have been forced to max out our credit cards or even start selling properties and cars to maintain our business operations."
According to a survey of 995 small and medium-sized businesses (SMEs) conducted in February by Peking and Tsinghua universities in Beijing, over 85 per cent could collapse within three months if they do not receive
financial help.
The technology, retail, service, and manufacturing firms surveyed employ 50 or fewer workers and have an average annual revenue of less than 50 million yuan (US$7 million), and less than 10 per cent said they could survive for six months without a resurgence of income.
Over 38 per cent said they would need to either layoff employees or suspend operations.
Cash flow shortage for SMEs could worsen further if the rapid spread of the virus results in a sharp drop in global demand, according to Simon Zhao, associate dean of BNU-HKBU United International College's division of humanities and social sciences.
"We need to be alert to growing liquidity problems resulting from payment delays between companies, which could pose a threat to trust and credit within supply chains in China," Zhao said.
The impact of the
global spread of the virus,
with almost 200 countries and territories having reported cases, could put Chinese SMEs under even greater financial pressure in the coming months.
"Last week, one of our main buyers from Europe officially informed me that he was cancelling all orders with us because of the outbreak in Europe," said Zheng Bo, a smart helmet producer in Shenzhen. "I had to urgently ask my supplier to suspend production."
An exporter of car bearings in Xinchang county in Zhejiang province said he could no longer contact his Russian client, who had already paid a deposit, after the rouble dropped around 30 per cent against the US dollar in the past two months.
"Our company's trapped. There are no new orders, and even if there were, there are no funds for us to buy raw materials," said the factory owner, who asked not to be identified.
Even under pressure to expand their
lending to small businesses,
using billions of yuan of extra cash being handed out by China's central bank, local banks are still reluctant to lend to struggling small businesses.
Of the SMEs in the survey by Peking and Tsinghua universities, 10 per cent said they would look to borrow money from private lending firms as it was too hard to obtain funding from banks.
"Besides bank loans, I myself have more than 1 million [yuan] of 'triangular debts' where I owe money to suppliers and my clients owe me money," said Liang Lu, who runs a business consultancy firm in Dongguan in central Guangdong province helping local manufacturers to promote their businesses.
Banks have long avoided
lending to small businesses
because of creditworthiness concerns and the fact that they do not have the same
government backing as state-owned firms.
"To be honest, we all know now that the risk of lending to SMEs is extremely high and going higher and higher," said an loan department head of a private bank's Guangzhou branch, who asked not to be named.
Purchase the China AI Report 2020 brought to you by SCMP Research and enjoy a 20% discount (original price US$400). This 60-page all new intelligence report gives you first-hand insights and analysis into the latest industry developments and intelligence about China AI. Get exclusive access to our webinars for continuous learning, and interact with China AI executives in live Q&A. Offer valid until 31 March 2020.
This article appeared in the South China Morning Post print edition as: Small firms feel the heat as the cash runs out