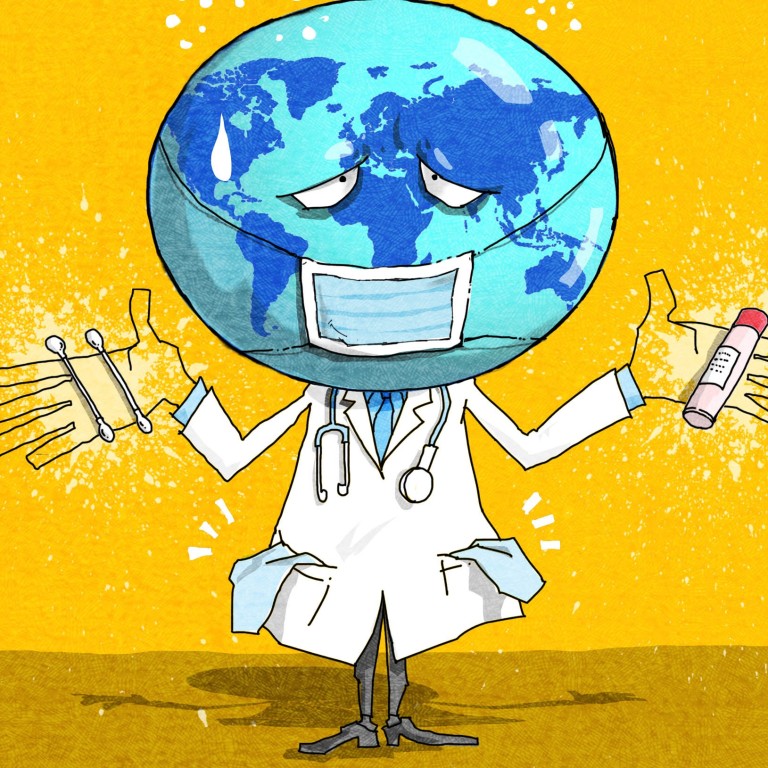 Coronavirus: China ramps up Covid-19 test kit exports amid global shortage, as domestic demand dries up
More than 100 Chinese companies are selling coronavirus testing kits to Europe, but most are not licensed to sell in China
A global shortage of kits has sparked a scramble for resources, but the specialist nature of the production process provides limitations
As the horror of the coronavirus outbreak in China was unfolding over January's Lunar New Year holiday, a group of technicians were holed up in a Nanjing facility with a supply of instant noodles, working long hours to develop testing kits for diagnosing the virus.
Already at that point, the
coronavirus
had ripped through the city of Wuhan and was spreading rapidly around China. A handful of diagnostic tests had already been approved by the central government in Beijing, but hundreds of firms in China were still scrambling to develop new ones.
"I did not think about applying for approvals in China," said Zhang Shuwen, founder of Nanjing Liming Bio-products. "The application takes too much time. When I finally get the approvals, the outbreak might already be finished."
Instead, Zhang is part of a legion of Chinese exporters selling testing kits to the rest of the world amid the rapid spread of the pandemic outside China, where the outbreak is now increasingly under control, leading to a fall in domestic demand.
In February, he applied to sell four testing products in the European Union, receiving official CE accreditation in March, meaning they complied with health, safety and environmental standards set by European regulators. Now, Zhang has an order book brimming with clients from Italy, Spain, Austria, Hungary, France, Iran, Saudi Arabia, Japan, and South Korea.
"We have so many orders now that we are working until 9pm, seven days a week. We are considering working 24 hours a day, asking workers to take three shifts every day," Zhang said.
It is estimated that more than 3 billion people are now on lockdown across the world, with the global death toll from coronavirus surpassing 30,000.
Infection hotbeds have exploded across Europe and the United States, with the epicentre shifting out of Wuhan in central China to Italy, then Spain and now New York. The chronic shortage of testing equipment means that rather than being diagnosed, potential patients considered "low-risk" are being asked to stay at home.
"At the start of February, about half of our testing kits were being sold in China and half abroad. Now, there are almost none being sold domestically. The only ones we sell here now are for passengers arriving from outside [China] who need to be tested," said a senior executive at the BGI Group, China's largest genome sequencing company, who spoke under the condition of anonymity.
At the start of February, BGI was making 200,000 kits a day out of its plant in Wuhan, the original epicentre of the outbreak. The plant, with a "few hundred" workers, was kept running 24 hours a day while most of the city was closed.
Now, he said the company is producing 600,000 kits per day and has just become the first Chinese company to gain emergency approval to sell its fluorescent real-time polymerase chain reaction (PCR) tests in the US.
Chinese-made testing kits are becoming a more common presence throughout Europe and the rest of the world, adding a new dimension to the roaring debate over dependence on
medical supplies from China.
As of Thursday, 102 Chinese firms have been granted access to the European market, according to Song Haibo, chairman of the China Association of In Vitro Diagnostics, compared with just one being licensed in the US. Many of these companies, though, do not have the required National Medical Products Administration permission to sell in China.
In fact, just 13 companies have been licensed to sell PCR testing kits in China, with eight selling the simpler antibody version.
A manager at a biotechnology firm in Changsha, who wished not to be identified, said the company is only licensed to sell PCR testing kits for animals in China, but is preparing to ramp up production of 30,000 newly-designed Covid-19 kits to sell in Europe, after "just receiving a CE certificate on March 17".
Not all of these forays into the European market have been a success. China exported 550 million
face masks,
5.5 million testing kits and 950 ventilators to Spain at a cost of €432 million (US$481 million) earlier in March, but concerns were soon raised over the quality of the testing products.
Last week, Spanish newspaper El País reported that antigen testing equipment from the Shenzhen-based firm Bioeasy Biotechnology only had a 30 per cent detection rate for Covid-19, when they were supposed to be 80 per cent accurate. Bioeasy, it emerged, was not included on an approved list of suppliers offered to Spain by China's Ministry of Commerce.
Bioeasy subsequently denied that the equipment was faulty, suggesting instead that the Spanish researchers had not correctly followed instructions.
Filipino authorities also said on Saturday they had discarded testing kits imported from China, claiming they had only a 40 per cent rate of accuracy.
"I guess, given the desperate situation, maybe the focus is now on speed, and maybe the process has not been that thorough," said a European Union source, who asked not be named.
"But this should be a rude awakening not to give up on quality control, or we will be throwing precious scarce resources out of the window and bringing further weaknesses to the system, allowing the virus to expand further."
The more complex PCR test tries to find genetic sequences of the virus by deploying primers – chemicals or reagents which are added to test if a reaction occurs – that attach to the targeted genetic sequences. The so-called "rapid testing" is also carried out with a nasal swab, and can be done without the subject leaving their car. The sample is then quickly analysed for antigens that would suggest the virus is present.
Leo Poon, head of public health laboratory sciences at Hong Kong University, said PCR testing is "much preferable" to antibody or antigen testing, which can only detect coronavirus once the patient has been infected for at least 10 days.
However, PCR tests are far more complex to develop and manufacture, and with an acute global shortage of quality testing equipment, countries around the world are stocking up on the simpler format.
Increasingly, governments are turning to China, which along with South Korea, is one of the few places in the world with testing kits still available.
On Thursday, Irish airline Aer Lingus announced that it would send five of its biggest planes to China each day to pick up medical equipment, including 100,000 test kits per week, joining a host of other nations repurposing commercial aircraft as jumbo medical delivery vessels.
But it has been suggested that even with such a push, China could not meet all of the world's demand for test kits, with one vendor describing total global demand as "infinite".
Huaxi Securities, a Chinese investment firm, last week estimated the global demand for test kits at up to 700,000 units per day, but given that the lack of tests has still resulted in almost half of the planet implementing draconian lockdowns, this figure seems conservative. And given the fear over virus carriers who do not show symptoms, in an ideal world, everyone would be tested, and probably more than once.
"Once the virus became uncontained, I'm not sure the world, even if fully organised, could have been tested at the levels people want to test at," said Ryan Kemp, director of nucleic acid solutions at Zymo Research, an American manufacturer of molecular biology research tools, which has pivoted "100 per cent to supporting the Covid-19 effort, literally mobilising the entire company to supporting it".
Song, at the China Association of In Vitro Diagnostics, estimated that if you combined the capacities of the firms licensed in China and the European Union, enough tests could be made each day to serve 3 million people with a mixture of PCR and antibody tests.
As of Thursday, the US had tested 552,000 people in total, the White House said. Stephen Sunderland, a partner focused on medical technology at Shanghai-based LEK Consulting, estimated that if the US and European Union were to follow the same level of testing penetration as South Korea, where the testing effort has been heralded, there would be a need for 4 million tests.
With this in mind, it is unlikely that all the manufacturing capacity in the world could meet demand, at least in the near term.
Testing equipment is "not like making masks", said the source at BGI, who warned that it would be impossible for non-specialist firms like Ford, Xiaomi or Tesla to make test kits, given the complexity and barriers to entry.
From the company's current capacity of 600,000 a day, "it is impossible to expand the factory" due to the procedural wrangling involved, said the BGI source. The space in which diagnostic equipment is produced in China must meet tight clinical standards, and so it is understood that the approval process for a new facility takes between six and 12 months.
"It is more challenging to increase the output all of a sudden, or have to look for an alternative source, than in the case of masks," said Poon at Hong Kong University. "The factory has to be accredited and must meet high standards, meaning it is hard to increase capacity all of a sudden, it takes time to do so."
Song said that for something as serious as coronavirus, having a testing kit approved by China could be even more arduous than usual.
"The virus is highly contagious and the specimen management is strict, it is difficult for general enterprises to obtain samples to fully verify and evaluate the products," he added.
The outbreak has also tightened availability of the raw materials used in the equipment, leading to shortages the world over.
For instance, a product made by Zymo Research to transport and store biological samples is available in ample supply. But the firm is seeing a shortage of the simple swabs needed to gather the samples.
Zymo's solution works with other company's swabs, "however there are such limited supplies of swabs worldwide, that we have been providing reagent to organisations to pair with the swabs they have on hand", said Kemp, adding that, in a twist that emphasises the globalised nature of the medical supply chain, many of the world's swabs are made by Italian company Copan, in the virus-stricken Lombardy region.
Benjamin Pinsky, who runs the main reference laboratory for coronavirus for Northern California out of Stanford University, said "there have been huge challenges with the supply of particular reagents and consumables" used in PCR testing.
While Pinsky has devised a PCR test, he has had great difficulty in sourcing supplies, including swabs, viral transport media, PCR reagents and extraction kits.
"Some of those are very difficult to get. There's been delays from some of the companies that produce the primers and probes," he added. "I think it is potentially much more complicated than making personal protective equipment."
Zhang at Nanjing Liming Bio-products has capacity to make 30,000 PCR testing kits per day, but plans to buy two more machines to boost daily production to 100,000 units. The manufacturing process is complex, he said, while the export logistics are arguably even worse.
"Selling antibody test kits overseas is easy, but no more than five companies in China can sell PCR test kits overseas, because the transport needs an environment at minus 20 degrees Celsius (68 degrees Fahrenheit)," Zhang said. "If companies asked cold chain logistics to transport, the fee is even higher than the goods they can sell."
China has never been a world leader in diagnostic equipment, with European and American firms generally dominating the market, but the trajectory of the virus means China has become a vital hub for supplies.
At a time of such shortages, however, the cases in Spain and the Philippines confirm that amid the urgent scramble for medical commodities, which have become as scarce and valuable as gold dust this year, the buyer should always beware.
Purchase the China AI Report 2020 brought to you by SCMP Research and enjoy a 20% discount (original price US$400). This 60-page all new intelligence report gives you first-hand insights and analysis into the latest industry developments and intelligence about China AI. Get exclusive access to our webinars for continuous learning, and interact with China AI executives in live Q&A. Offer valid until 31 March 2020.