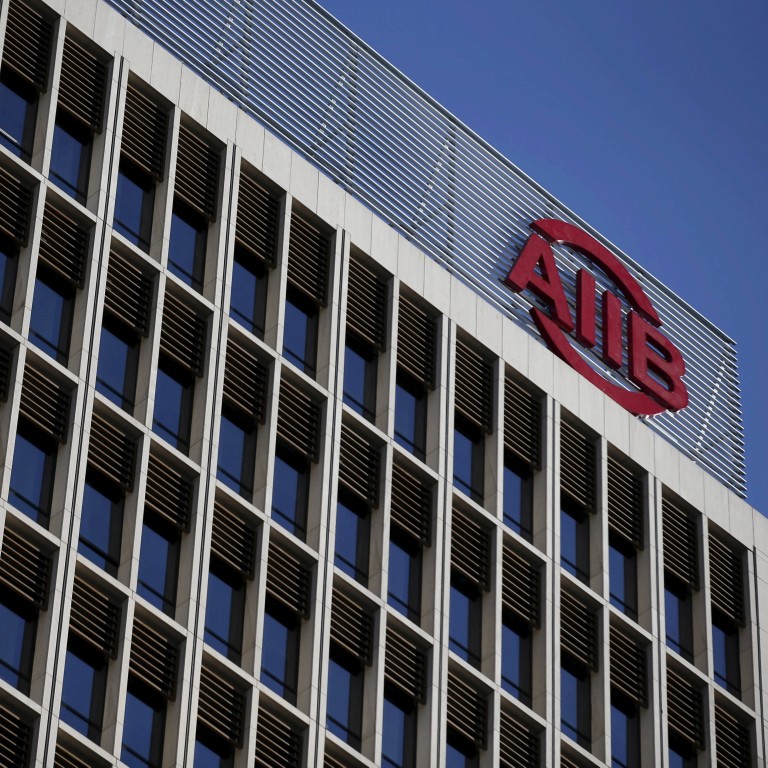 Coronavirus: Asian multilateral bank lends US$355 million to Chinese public health projects
Asian Infrastructure Investment Bank lends Chinese cities of Beijing and Chongqing funds to upgrade local public health facilities
AIIB lending for health care projects a departure from previous concentration on traditional infrastructure spending
The Asian Infrastructure Investment Bank (AIIB) has extended US$355 million in emergency financing to the Chinese cities of Beijing and Chongqing to upgrade their public health response capacities to help fight the current Covid-19 pandemic as well as future health crises.
The AIIB said its funding would cover money spent by the two cities when the crisis was most acute in China.
The funds will help improve the capacity of the centres for disease control and prevention in both cities, buy emergency supplies and equipment, as well as upgrading hospital facilities to treat epidemics.
"[The loans are] both for emergency supplies and equipment but also for permanent infrastructure so that the developments will last beyond the current crisis period," said Joachim von Amsberg, vice-president for policy and strategy at the AIIB.
"It was very important to act as quickly as possible to help finance China in this situation given that they were first hit by this crisis."
The Beijing-based bank's support for China's health care sector has broadened its investment scope beyond the infrastructure projects it has financed since it was established four years ago.
Von Amsberg said its experiences could be shared with its 102 member states as they faced similar challenges.
The AIIB is also creating a crisis recovery fund of US$5 billion dedicated to countries or private businesses facing urgent economic, financial and public health pressures to help them cope with economic recession and pursue crisis-related expenditure over the next 18 months, von Amsberg continued.
Being one of the countries hardest hit by the epidemic, China's efforts to monitor, track, trace, and test individuals for infections on a very large scale along with quick expansion of hospital capacity are important lessons, he said, and its experience in the containing the virus that causes Covid-19 shows that there is a possible exit from the crisis.
China has now moved beyond the initial response stage of its own lockdown, and has ample resources to offset the loss of income and business activity by taking the necessary measures to kick-start the economy as restrictions are being removed, Von Amsberg said.
Some developed countries have also pledged to "do whatever it takes to overcome the pandemic", undertaking massive fiscal and monetary interventions.
But the problem with many developing countries in Asia is that their governments are struggling to handle the health crisis while having less capacity to protect households and companies cope with an economic slump, von Amsberg said.
This could mean a longer lasting and more severe economic contraction for many of these lower income countries.
Over 20 countries, including Bangladesh, India, Indonesia, Sri Lanka and Turkey, have requested crisis-related financing and a number of public health infrastructure projects are expected to be approved in the next few weeks.
"We are worried that if you have [lockdowns in these countries] prolonged for several weeks, or even months, that will create not just a loss of temporary income but you actually damage the economy" in the longer term, Von Amsberg said.
"Companies go bankrupt, people lose jobs and housing, and supply chains are broken. Those things cannot simply be turned on the moment you lift the curfew or lockdown."
The AIIB's moves come after leaders of the Group of 20 top advanced economies last month pledged to inject US$5 trillion in fiscal spending into the global economy to deal with the crisis.
The World Bank last week approved some 25 health sector emergency loans for 25 countries, amounting to US$1.9 billion.
The Asian Development Bank announced a US$6.5 billion package and the International Finance Corporation has put together a US$8 billion package. The International Monetary Fund said it was ready to mobilise US$1 trillion in lending capacity.
Sign up now and get a 10% discount (original price US$400) off the China AI Report 2020 by SCMP Research. Learn about the AI ambitions of Alibaba, Baidu & JD.com through our in-depth case studies, and explore new applications of AI across industries. The report also includes exclusive access to webinars to interact with C-level executives from leading China AI companies (via live Q&A sessions). Offer valid until 31 May 2020.
This article appeared in the South China Morning Post print edition as: AIIB aids health efforts in Beijing and Chongqing