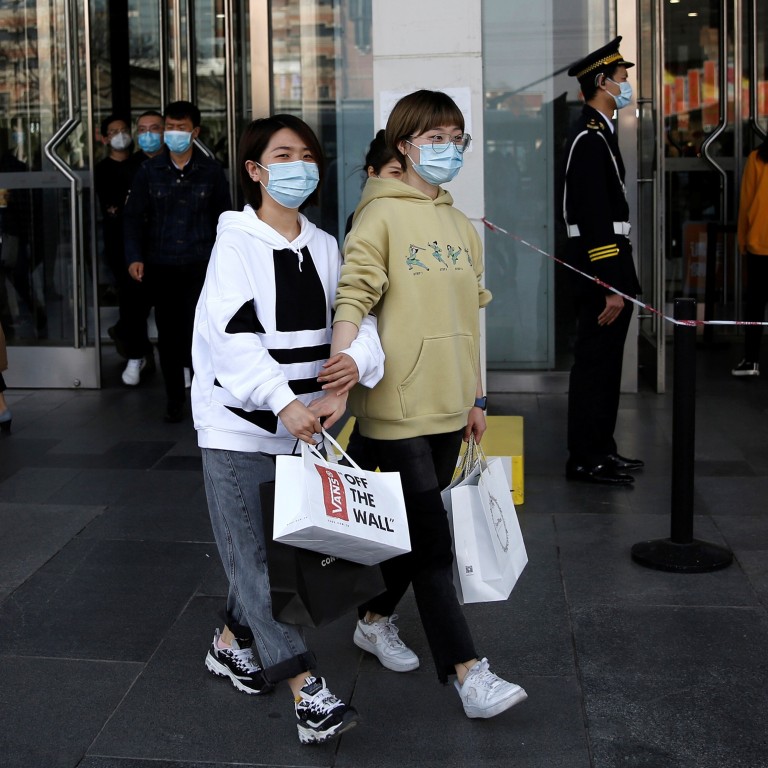 Coronavirus: China handing out more vouchers to spur spending, but cash handout still unlikely
Around 30 Chinese cities have issued 5 billion yuan (US$704 million) worth of vouchers in an effort to help its coronavirus-hit economy
China is still not expected to follow the US, Hong Kong and Japan in giving direct payments to households
A growing number of Chinese cities have joined the race to hand out prepaid vouchers in an effort to revive spending amid the coronavirus outbreak, but there is still little sign that the Beijing is willing to make direct cash payments to consumers.
At least 30 cities across China are issuing
vouchers to residents
for specific products, although the total amount of 5 billion yuan (US$704 million) represents less than 0.01 per cent of total retail sales in 2019.
Private consumption accounted for some 60 per cent of China's economic growth last year, a significant change from the previous model which focused on investment and exports.
In contrast to the United States, Hong Kong and
Japan
where cash is being given directly to households, China's economic support plan relies in large part on pumping funds into the banking system in hope that it will filter down to small businesses. Local governments are also being handed money to fund new infrastructure projects, which will help employment.
"Cash handouts won't be able to drive up similar amounts of consumption as people would tend to deposit [the money] in the bank during uncertain times," said Zhang Jun, chief economist at Morgan Stanley Huaxin Securities.
"[A programme of direct payments to households] is unlikely to be adopted at the central government level and extended nationwide. We don't believe there will be a compensatory rebound of consumption in the second quarter or the latter half of this year, even if the pandemic is under control."
"The [Chinese] government likes to spend a lot of money, but not on the people," said Larry Hu, chief China economist at Macquarie Capital. "There's nothing different this time."
Zhu Zhengfu, a member of the Chinese People's Political Consultative Conference, a political legislative advisory body, suggested that the government should consider giving each citizen 2,000 yuan (US$282) as a pandemic subsidy to spur consumption.
Zhu, who is also vice-chairman of the All China Lawyers Association, said the payment, which is equivalent to the average citizen's monthly consumption spending last year, could save many small businesses.
China's coupons were first introduced in Nanjing, the capital of Jiangsu province in mid-March, with online vouchers for specific retailers valued at 50 or 100 yuan (US$7 or US$14) allocated through a lottery system.
The lack of direct aid to households is fanning a debate in China whether the government's reliance on increased bank lending and state-led investment will benefit those who are bearing the brunt of the economic damage caused by the coronavirus outbreak. These include migrant workers who rely on flexible jobs to earn a living or those who are too poor to apply for a loan.
Wang Jun, chief economist of Zhongyuan Bank, warned that much of the money the government currently plans to allow local government to raise through new bond issues would be wasted on "unnecessary" infrastructure projects, and could instead be used to stimulate consumer spending.
"Vouchers are a sort of policy signal to help offline consumption and low-income families. But the government has the capability to conduct a larger consumption stimulus. It just needs to adjust its expenditure structure," he said.
"It will be a test to see if China will revisit the planned economy mindset, or truly believe in [the role of] the market and the people," Wang added.
This article appeared in the South China Morning Post print edition as: Beijing prefers vouchers to cash as relief measure