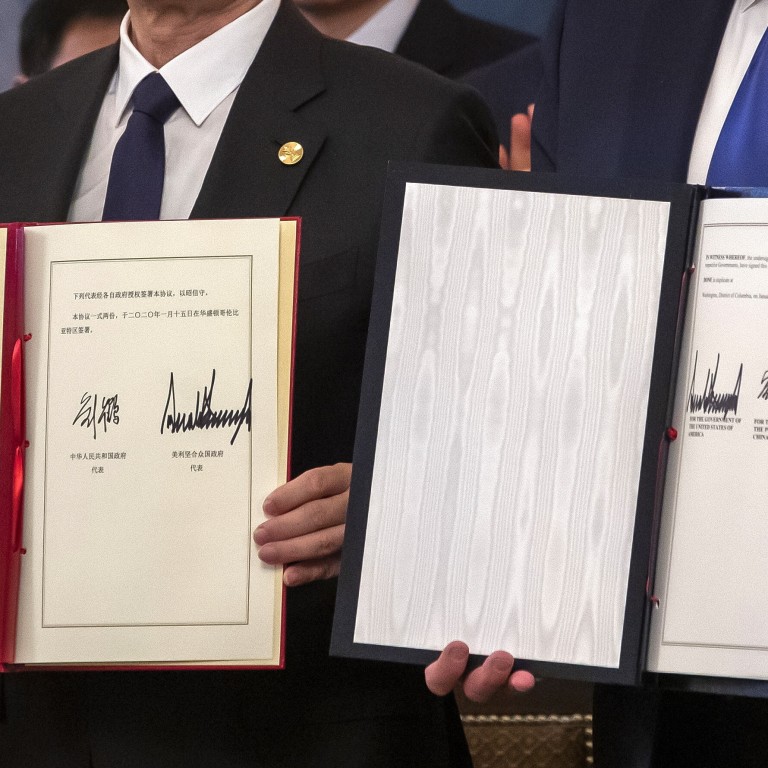 Coronavirus: China yet to meet key phase one trade deal target due to Covid-19 lockdown
China was due to release intellectual property action plan 30 working days after phase one trade deal came into force on February 15
US officials said to be 'frustrated', but content with progress on agricultural purchases and market access
China has yet to deliver on a key component of its phase one trade deal with the United States, with the coronavirus pandemic proving an obstacle to implementation.
The intellectual property protection action plan – viewed in Washington as a
cornerstone of the deal
– was supposed to be delivered 30 working days after the agreement came into force on February 15. Thirty working days theoretically expired at the beginning of April, and no plan has been released.
However, with much of the Chinese economy on lockdown after a protracted Lunar New Year holiday in late January and February, the definition of "working days" has become a bone of contention.
Rather than ask for an extension, China is understood to have argued that the action plan is not in fact late, because the number of actual working days in China was greatly reduced due to the shutdowns. This has caused "frustration" at the Office of the US Trade Representative (USTR), said two people familiar with the affair.
"Remember there is not that much trust between the two sides. If they do not carry out the execution, everything is laden with more meaning," said Kenneth Jarrett, senior adviser at Albright Stonebridge Group and former US Consul General in Shanghai. "We must be mindful that intellectual property protection was at the core of the initial Section 301 tariffs – this is the first real test."
A source briefed on China's delivery of its phase one commitments, meanwhile, said that in terms of intellectual protection, "China has done the best it can given its capacity. There will not be any surprise in the action plan, it is very likely to repeat what it has promised before".
The source confirmed that the coronavirus pandemic has had an impact on the implementation process.
Despite the delay, China was unlikely to backtrack on its guarantees of intellectual property protection, said Kyle Sullivan, China practise lead at advisory firm Crumpton Group.
"Basically all the things agreed to in the action plan are things that China wants to do anyway," he said.
"The [US Trade Representative] has very clear expectations about China's intellectual property rights commitments. For China, the action plan is low-hanging fruit, unlike realising the agricultural purchase agreements. Thus, it is a bit disconcerting that they have not followed through yet."
The bulk of negotiators' conversations have focused on China's agricultural purchases, with experts suggesting that as with trade talks in 2019, negotiators are eager to draw a distinction between trade and commercial issues and the thornier geopolitical tensions.
A call between senior – but not the top – negotiators was postponed two weeks ago after it emerged that Presidents Xi Jinping and Donald Trump were to speak by phone on March 27. The call has been rescheduled to happen this week.
A spate of announcements in February saw China lift bans on some pet food products, chipping potatoes, infant formula, poultry and beef products.
It also started buying up US farm goods, including pork, sorghum, soybeans and wheat, a trend which continued through March. During the week ending March 26, China bought 131,000 metric tonnes of soybeans, 18,900 metric tonnes of pork, 60,000 metric tonnes of wheat and 77,000 metric tonnes of sorghum.
Fears that the current Covid-19 containment measures taking place in the US would hurt the agricultural trade are yet to materialise, but the acid test will be later in April, when the commodities that were bought in March have to be put on ships.
Nonetheless, most analysts remain sceptical that the targets are achievable.
"For the US, it is OK, we do not see any delay at the moment," said Rosa Wang, analyst at Shanghai-based agricultural research firm JCI China. "We are more concerned about the logistics in South America, in Brazil and Argentina. We have a soybean supply shortage in China and some of the crushers have had to close their doors."
Darin Friedrichs, senior Asia commodity analyst at INTL FCStone in Shanghai, said that soybeans from Brazil are currently "loading fine" and there is "probably 10 million tonnes-plus in transit already". Any damage to the supply chain there would only hit Chinese markets in 40 days, given shipping time.
US-based analysts, meanwhile, do not expect any major disruption to the agriculture supply chain with farmers still able to get seeds and rural logistics in particular moving relatively smoothly.
"Unlike our competitors in South America, where there are ongoing restrictions on moving grains and oilseeds from growers to export terminals, there have not been any noteworthy issues moving bulk agricultural exports in the US as the government deems our supply chain for food as an essential industry," said Rob Hatchett, an agricultural economist at Doane Advisory Services in St Louis.
"Issues would most likely develop in the container market due to backlogs at ports around the world," he added. "But if China is going to meet phase one targets then bulk shipments will be required."