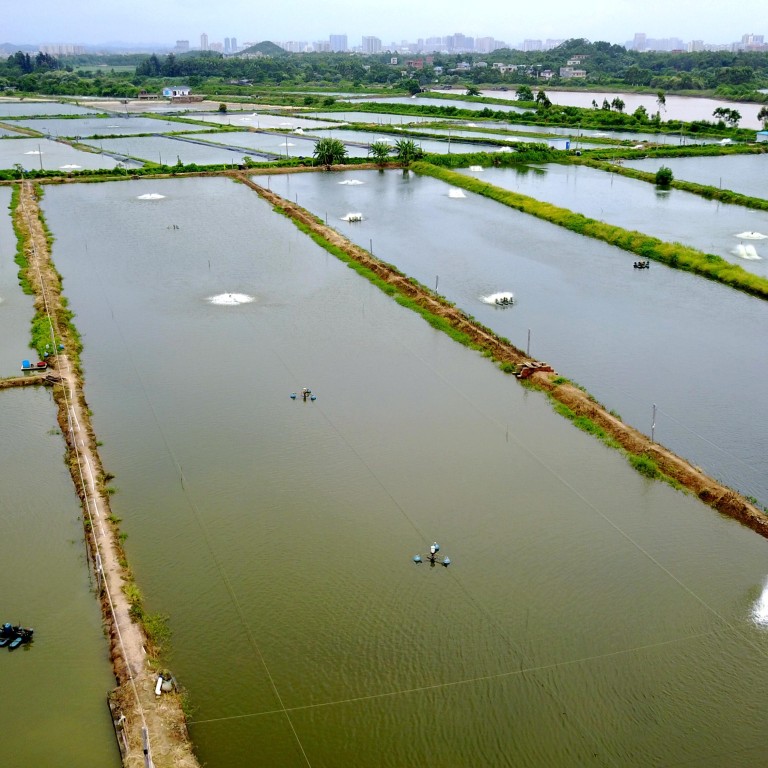 China's shrimp farmers 'terrified' as deadly virus threatens to destroy lucrative seafood industry
The virus, known as Decapod iridescent virus 1, has infected about a quarter of the shrimp farms in Guangdong province, the heart of production in China
It is not known to harm humans but can kill shrimp in a matter of days
Shrimp farmers in China are watching with growing horror as a mysterious virus decimates aquaculture farms in the southern province of Guangdong, slashing output of the popular seafood and threatening the livelihood of tens of thousands of households.
The virus, known as Decapod iridescent virus 1, or Div1, was first detected as early as 2014, but came back with a vengeance last spring and again in February this year, affecting about a quarter of the area under shrimp production, local farmers said.
The spread of the disease, which is not known to be harmful for humans, has left the shrimp industry in Guangdong fretting over whether it will face mass deaths of a similar scale to the
African swine fever crisis
, which wiped out as much as 60 per cent of China's pig herd.
"The infection rate and lethalness of the virus are terrifying," said Wu Jinhong, a shrimp farmer in Da'ao township in Jiangmen city.
"It only takes two or three days from detecting the first infection for all shrimp in the pond to be killed."
The first signs of infection are typically when shrimp begin turning a reddish colour, before their shells soften and they sink to the bottom of ponds, local farmers said.
The virus does not discriminate between species and infects "big or small, the Pacific white shrimp or giant freshwater prawn", said Zhong Qiang, another shrimp farmer in Zhuhai city.
"Once one pond is infected with the virus, there is little our farmers can do given the very high risk of nearby ponds getting infected a few days later," he said.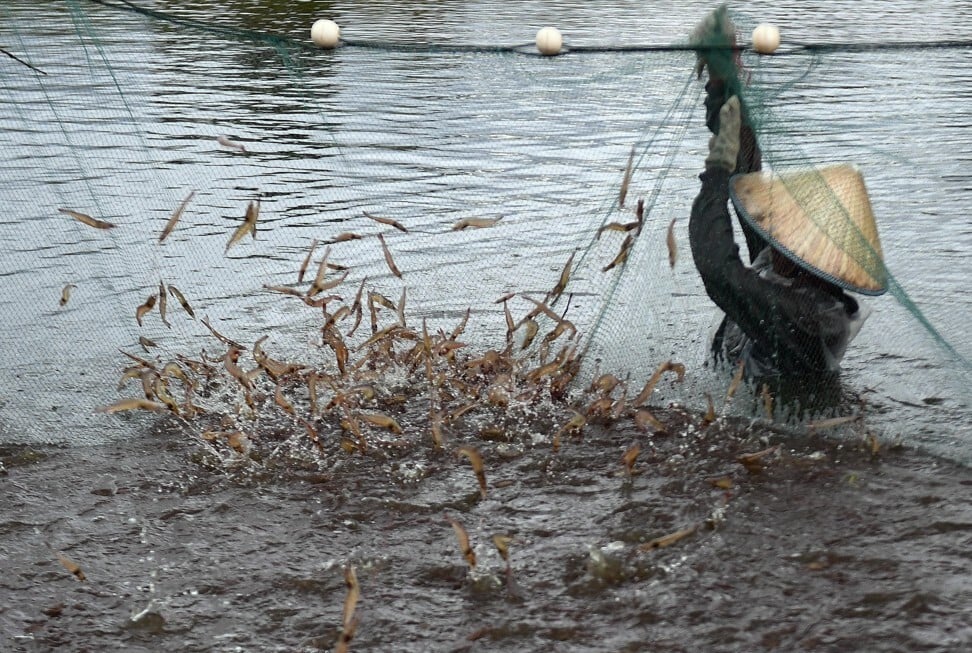 Scientists from the Chinese Academy of Fishery Sciences first identified the mysterious virus in Pacific white shrimp, the main species farmed in China, in Zhejiang province in December 2014.
Div1 has received little public attention since then, despite grave concern in the industry that it could spread across the country.
By 2018, the virus had been found in shrimp farms and breeding operations in 11 provinces, Qiu Liang, a researcher with Yellow Sea Fisheries Research Institute, said.
The most serious outbreak hit aquaculture operations across the
Pearl River Delta
last year. In Da'ao township, where nearly 20,000 people – roughly half of local residents – are employed on shrimp farms, two thirds of
ponds were infected with the virus in the spring of 2019 and had to be immediately drained,
Qiu said.
The outbreak eased during the summer and autumn months when temperatures were higher, but made a comeback again in February. Farmers say that temperatures above 30 degrees keep the virus at bay.
"This virus is horrifying shrimp farmers, like avian flu did to poultry farmers and African swine fever to those raising pigs," said Dai Jinzhi, who found out recently his six hectares of ponds were infected.
After he was forced to drain his enclosures, which held about 3700kg worth of shrimp, he was left with only 200kg of the crustaceans alive – something that cost him more than 100,000 yuan (US$14,000).
"We can't do anything but remove the shrimp and sell them at dirt cheap prices, then dry out the pond and leave it idle for at least two months," Dai said.
"Some [other farmers] suffered another hit by the virus after restarting farming in the same pond [too soon]. So I don't dare start over until the end of next month, when the weather has warmed up."
The source of the virus and how it is transmitted remain unclear, according to industry insiders and experts.
Because there is no effective way to prevent it spreading, a growing number of shrimp farmers in Guangdong will not allow outsiders, including friends and family, to get close to their ponds – similar to the way pig farmers barred people from getting near their farms due to swine fever.
While new infections are thought to occur "mainly through water and the local environment", Qiu said there was a possibility it could be carried onto farms by humans.
However, scientists and industry groups admit they know very little about the virus.
"As far as we know, besides China, the virus has also appeared in Southeast Asian waters," said Huang Jie, director general of the Network of Aquaculture Centres in Asia-Pacific.
He added more attention needed to be paid to it given the threat it poses to shrimp production in China.
"A widespread outbreak could be possible if there isn't enough concern in the industry and among the relevant [government] departments."
It is difficult to accurately count the losses caused by the virus as there is no official or third-party data. Usually, a shrimp pond can raise about four batches of shrimps per year, so if one becomes infected with the virus, it means that the annual output of the pond would be reduced by at least a quarter.
As living standards rise in China, demand for shrimp, prawns, lobsters and crayfish has surged in recent years. But domestic output of some crustaceans has been affected by Div1.
The disease contributed to a decline in the annual output of Pacific white shrimp, for instance, to 1.2 million tonnes in 2018 from 1.5 million tonnes in 2013, the 2019 China Fishery Statistical Yearbook said.
Sign up now and get a 10% discount (original price US$400) off the China AI Report 2020 by SCMP Research. Learn about the AI ambitions of Alibaba, Baidu & JD.com through our in-depth case studies, and explore new applications of AI across industries. The report also includes exclusive access to webinars to interact with C-level executives from leading China AI companies (via live Q&A sessions). Offer valid until 31 May 2020.
This article appeared in the South China Morning Post print edition as: shrimp farms hit by 'horrifying' virus