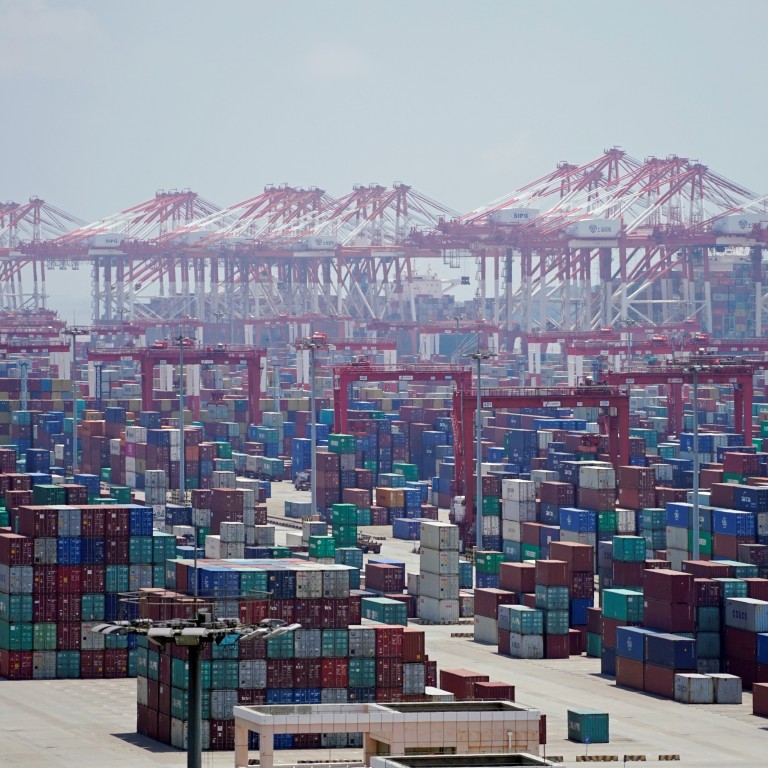 Coronavirus: container traffic at China's top eight ports plunges in early April as pandemic hits overseas orders
China's top eight ports, including Shenzhen, Shanghai, Ningbo, Guangzhou, Xiamen, Tianjin, Dalian and Qingdao, saw container traffic contract in early April
In the second quarter, China's port association forecasts a fall of between 10 to 15 per cent
Container traffic at China's biggest ports fell for two weeks in a row in early April after a drop in overseas orders hit the nation's exports, according to the China Ports and Harbours Association.
For the week starting April 6, the number of freight containers handled by China's eight largest container ports in Shanghai, Ningbo, Shenzhen, Guangzhou, Qingdao, Tianjin, Xiamen and Dalian dropped by five per cent from a year earlier, the association said in its weekly update released on Wednesday.
This was the second consecutive week traffic fell after Chinese ports resumed some operations in late February, when the
domestic coronavirus outbreak
was beginning to be brought under control.
Between March 30 and April 5, container traffic also fell 4.4 per cent from a week earlier, the first time the number dropped on a weekly basis since mid-February, the association said.
Ports that rely on export and container business, particularly those in southern China such as Guangzhou and Shenzhen, suffered the largest drop in traffic after overseas companies started cutting back orders and postponing the delivery of goods as stores closed in the United States and Europe following a surge in cases.
Container traffic from the eight top ports fell 5.6 per cent in March from a year earlier, a smaller contraction than the
19.8 per cent drop in February
, the association said. In the second quarter, China's port association forecasts a contraction of between 10 to 15 per cent.
"In previous years, the container business, particularly that related to exports, improved very rapidly in the second quarter" due to new orders following the peak Christmas sales season, the association said.
"But because of the virus outbreak abroad, global logistics [companies] have slowed down operations and shipping firms have reduced their capacities, weakening the growth of our container business," it added.
In the first quarter, 16.5 per cent of international container routes from the eight ports did not have any vessels running. Since mid-March, many shipping companies have started cutting back on routes to reduce costs.
In late March, global shipping giant Mediterranean Shipping Company (MSC) suspended two sailings that operated routes between China and northern Europe or the Mediterranean. Another international shipping line, Maersk, has also suspended multiple services between Asia and Europe or the United States.
The decline in container handling from the ports comes as government data showed Chinese exports fell 6.6 per cent in last month from a year earlier in US dollar terms, while imports contracted mildly by 0.9 per cent.
The March trade data was better than expected, but with the virus continuing to
take a toll globally
and disrupting daily business operations, the country's trade is facing more pressure ahead.
"Production constraints should no longer be an issue as economic life in China returns to normalcy," said Louis Kuijs, head of Oxford Economics' Asia research.
"However, sliding global demand due to lockdowns and social distancing measures implemented in China's trading partners means that China's exports will fall more substantially in upcoming months.
"We expect imports to be under pressure as consumers remain reluctant, while demand for inputs used in exports will falter. But, with China's economy picking up pace as its trading partners fall into recession, its imports should outperform exports."
This article appeared in the South China Morning Post print edition as: Container traffic slides for second consecutive week