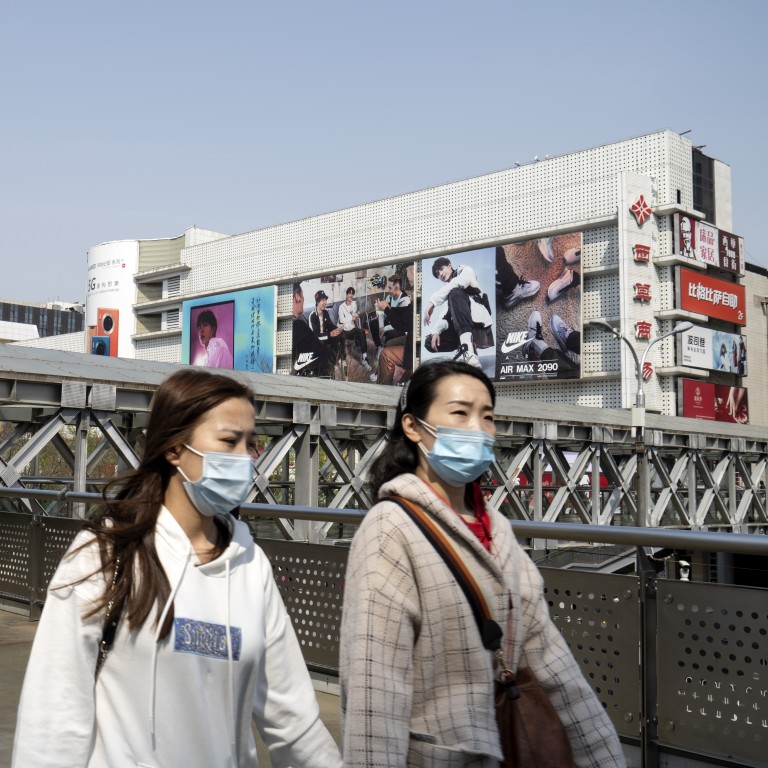 Coronavirus: China's economy unlikely to be saved by 'revenge spending' as worried consumers emerge from lockdowns
Chinese social media users have coined the phrase as China emerges from almost two months of lockdowns aimed at halting the spread of the virus
Consumption contributed around 60 per cent of growth last year, but worries over an economic downturn, job prospects and high debt levels are set to limit spending
The idea that consumers in China will engage in lavish, pent-up "revenge spending" following the end of domestic coronavirus lockdowns to create a quick rebound in the world's second largest economy is unlikely to be realised by its middle-class.
Chinese social media users have coined the phrase as China emerges from almost two months of lockdowns aimed at halting the spread of the virus.
But with the result also pushing China towards its first
economic contraction since 1976,
the year former leader Mao Zedong died, urban middle class consumers are instead tightening their belts amid growing fears of an economic downturn, darkening
job prospects
and high debt levels.
For China's middle class, some 400 million people by Beijing's own estimate, the coronavirus outbreak has shaken the very notion that life would always get better and that future incomes would always be enough to cover rising debts. But the shared optimism of those who have benefited from China's economic boom over the last several decades is fizzling away.
Jane Zeng exemplifies someone who has, up to now, reaped the rewards. She and her husband, a fund manger, are both in their early 40s and own three flats in Shenzhen, the booming hi-tech capital of China that borders Hong Kong.
But the family must pay 60,000 yuan (US$8,500) in monthly mortgage payments, an increasingly heavy burden as the household's income takes a downturn.
The couple bought their third flat in 2017 with a loan that used their second as collateral, while also investing in a snack bar in a shopping centre. The venture was profitable until the coronavirus hit, but is now an additional burden of 20,000 yuan (US$2,800) per month.
Their financial burden was manageable when the household earned more than 100,000 yuan (US$14,000) a month from one salary, profits from the snack bar and rent from one of the flats.
But Zeng's family's lifestyle, including sending their only child to a private school, is now in danger after she lost her job even before the outbreak of the virus, her husband's income dropped and the snack bar began losing money.
"My family is running out of cash … we invested too much but didn't save enough for such an unexpected scenario," said Zeng, who was previously an administration manager at a private company, and is now looking for a new job. "Revenge spending [after the coronavirus]? I have not even thought about it."
For now, the family is trying to sell two their flats. But there are few buyers even though the market price of their third flat had increased to 70,000 yuan (US$9,900) per square metre before the outbreak from less than 60,000 when it was bought.
"It's possibly the only way to get through the second half of this year," added Zeng, who admitted many of her friends and relatives are faced with similar problems.
Households like Zeng's have always been at the centre of Beijing's plan to shift the nation's economic model away from state-led investments and exports to domestic consumption as their spending power once seemed to be on a never-ending upwards trend. Last year, consumption contributed around 60 per cent of the nation's economic growth.
A survey conducted by China's Southwestern University of Finance and Economics last month found that 60.9 per cent of 3,143 households said their income in 2020 would shrink this year compared with last year. A total of 25.9 per cent said the drop in earnings would be significant, with 41.6 per cent planning to reduce consumption this year.
In another survey conducted by investment bank Morgan Stanley last week, urban consumers said their intention to travel or socialise remained fairly low. The survey found only around 25 per cent of the 2,000 respondents expected to make discretionary purchases or socialise in the coming week.
China's retail sales of consumer goods, a major indicator of consumption growth, dropped 20.5 per cent in the first two months of the year compared to a year earlier level due to the impact of the coronavirus outbreak, according to the National Bureau of Statistics. Retail sales data for March is due to be released on Friday.
China has so far refrained from any broad-based tax cuts or direct subsidies to help households pay their bills. Instead, Beijing is relying mainly on its old economic stimulus playbook, showering money on local governments to boost infrastructure spending and pumping credit into the state banking system to spur lending and therefore growth.
This leaves businesses relying on Chinese consumers – from roadside shops to yacht brokers – struggling.
"The number of second-hand yachts in the market is at least 30 per cent more than last year," said Belle Liang, a yacht broker in the city of Sanya on the tropical island of Hainan.
In one extreme case, a yacht bough for 20 million yuan (US$2.8 million) in 2015 is now on sale for just 9 million yuan, although there are no buyers.
Liang believes that in the future, the most popular boat models will be much smaller and cost around 2 million yuan (US$284,000).
And it is not only those rich enough to buy yachts who are on budget, but also average wage earners like Liu Lan, the manger of a serviced office centre in Guangzhou.
"I think it's a common situation we face this year, especially in services industries," said Liu, who is expecting a "big income cut" for 2020, with bonuses having already been frozen.
"Some of the long-time tenants of our serviced office centre are not able to pay the rent and have disappeared."
This article appeared in the South China Morning Post print edition as: middle class in no mood for 'revenge spend'