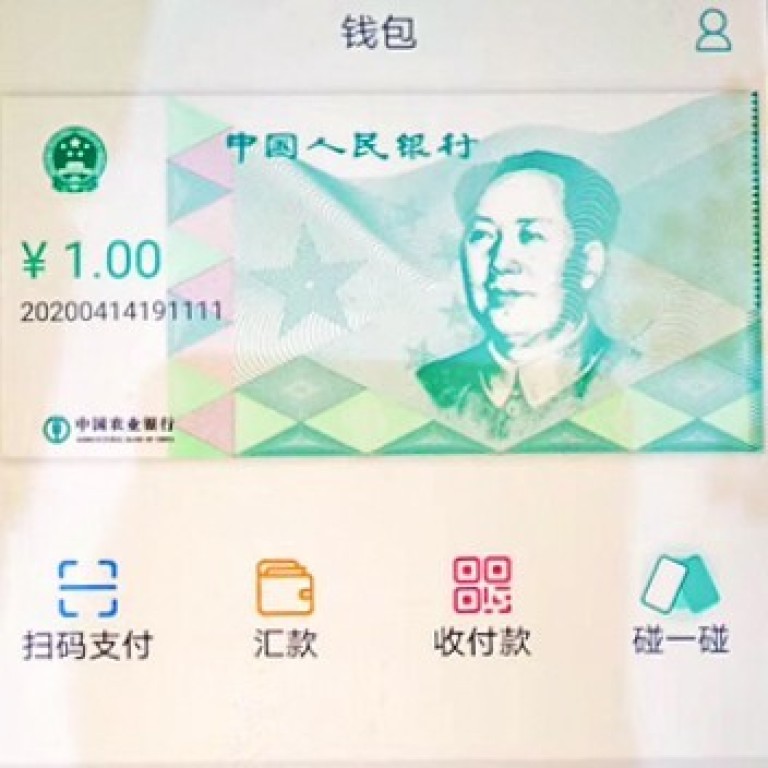 China gets first glimpse at sovereign digital currency after screenshot leaks online
A screenshot of China's sovereign digital currency has emerged online, offering a rare look into the development of Beijing's digital yuan
Testing of the currency's mobile app has reportedly been done over several months at China's state-owned banks, although there is no official timetable for launch
A screenshot of the user interface for China's long-awaited sovereign digital currency has begun circulating on the Chinese internet, fanning speculation that the People's Bank of China is a step closer to an official launch.
The image, which has been shared extensively on Chinese social media, is purportedly from a test version of a mobile app developed by one of China's largest state-owned banks, the Agricultural Bank of China, for a small group of internal users to experiment with the
virtual currency.
The Digital Currency Research Institute, the People's Bank of China (PBOC) unit which oversees development of the project, declined to comment on the screenshot, which is unlikely to show the final version of the currency.
Neither China's central bank or the Agricultural Bank of China have released information about the mobile app.
China is the first major economy to explore launching its own
digital currency
, which will be tightly controlled by the PBOC rather than operating on a decentralised system that underlies cryptocurrencies like bitcoin and does not require administration from a central authority.
Testing of the sovereign digital currency has been going on for several months at China's state-owned banks, a source told the South China Morning Post.
"It's supposed to be confidential at this stage," said the source, who spoke on condition of anonymity. "This leak offers the first look into what China's digital currency may look like for the general public."
A second source, who is familiar with the testing programmes at state banks, said the screenshot was authentic.
The picture shows the digital currency app has several basic functions similar to other online payment platforms such as Alibaba's Alipay and Tencent's WeChat Pay, allowing users to make and receive payments, as well as transfer money.
One function called "touch and touch" allows two people to simply touch their mobile phones together to make a transfer.
However, the app is only a skeleton without the add-on functions of Alipay or WeChat Pay, which allow users to buy travel and entertainment tickets, pay utility bills and borrow small amounts of money. Alibaba owns the South China Morning Post.
While China is steaming ahead with its own digital currency, the PBOC has cracked down on trading of other digital currencies and banned banks from accepting cryptocurrencies, which are viewed as a risk to financial stability.
Facebook's announcement in the middle of last year that it would launch its
Libra digital coin
, whose value is tied to a basket of currencies excluding the yuan, prompted China to speed up development of its digital currency, although there is
no timetable for its launch.
The coronavirus outbreak may have added fresh urgency to China's quest to digitise its currency, as fears that the Covid-19 disease can be
transmitted by banknotes and coins
have emerged in recent weeks.
At a conference about banknote circulation earlier this month, PBOC deputy governor Fan Yifei said China would "unswervingly push ahead sovereign digital currency research and development".
This article appeared in the South China Morning Post print edition as: Screenshot 'offers first glimpse' of digital yuan