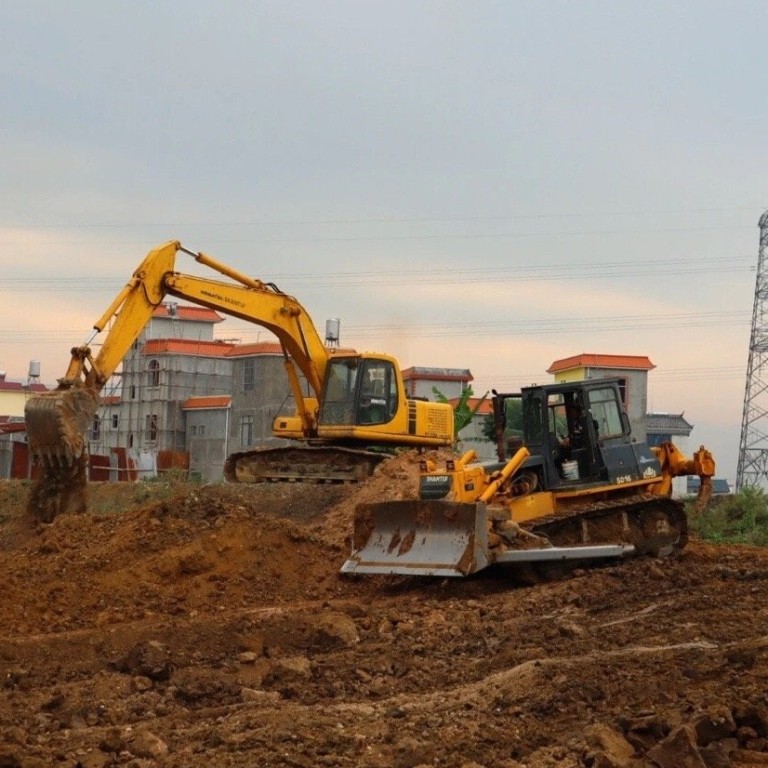 Coronavirus: China's excavator sales soar as Beijing opts for old-school economic stimulus
Sales of the engineering vehicle widely used in construction by Chinese manufacturers surged 11.6 per cent in March, while domestic sales rose 11.2 per cent
Increase could show stimulus efforts of showering money on local authorities and flooding the banking system with cheap credit could be stronger than believed
Sales of excavators, an engineering vehicle widely used in construction, soared in China in March in a strong sign that Beijing is relying on infrastructure spending to offset the economic shocks caused by the coronavirus pandemic.
Sales by Chinese manufacturers surged 11.6 per cent from a year earlier to 49,408 units, according to data released by the China Construction Machinery Association, while domestic sales rose 11.2 per cent year on year to 46,610 units last month.
It marked a strong rebound from the 50.5 per cent fall in February when the country's production and construction activities were largely frozen.
In the first two months of 2020, China's investment, consumption and exports plunged, but there are signs that activity at China's large-scale industrial enterprises and construction sites have returned to normal in March.
Excavator sales performance is often seen as a leading parameter of investment as the equipment is widely used from road to property construction. In 2009, sales surged 23 per cent to 95,000 units as Beijing's stimulus plan turned large parts of the country into a massive construction site.
Premier Li Keqiang said he liked an "excavator index" compiled by Sany Group when he toured the manufacturer in June 2018 as the index, tracking the sales and working conditions of excavators, is able to "provide important support for the analysis of macroeconomic situation".
The recent demand for engineering vehicles has been so strong that Sany and Xuzhou Construction Machinery Group, two major producers, announced at the weekend that they would raise its excavator prices by 5 to 10 per cent. Other excavator makers, including Liugong and Shandong Lingong, also raised their prices.
"The industry has entered its peak demand season and may have at least 60 per cent year on year rise in April sales," according to a research note by BOC International. China's "countercyclical policy adjustment" in managing the pandemic is a key reason for the surge in demand, it noted.
But at the same time, there is debate over whether Beijing's excessive reliance on state-led spending and debt-fuelled investment is the right approach to help its economy.
"Investment, infrastructure investment in particular, is only a small economic driver [compared to consumption]. It can no longer stabilise the overall economy," wrote Liu Shijin, a former deputy head at the Development Research Centre under the State Council, in an article published on Wednesday.
"The primary task … is to stabilise consumption."
Liu added that the Chinese government should forget about achieving a 6 per cent growth rate target for 2020 and aim for a much lower rate of 3 per cent.
This article appeared in the South China Morning Post print edition as: Excavator sales rise as Beijing digs in to lift growth