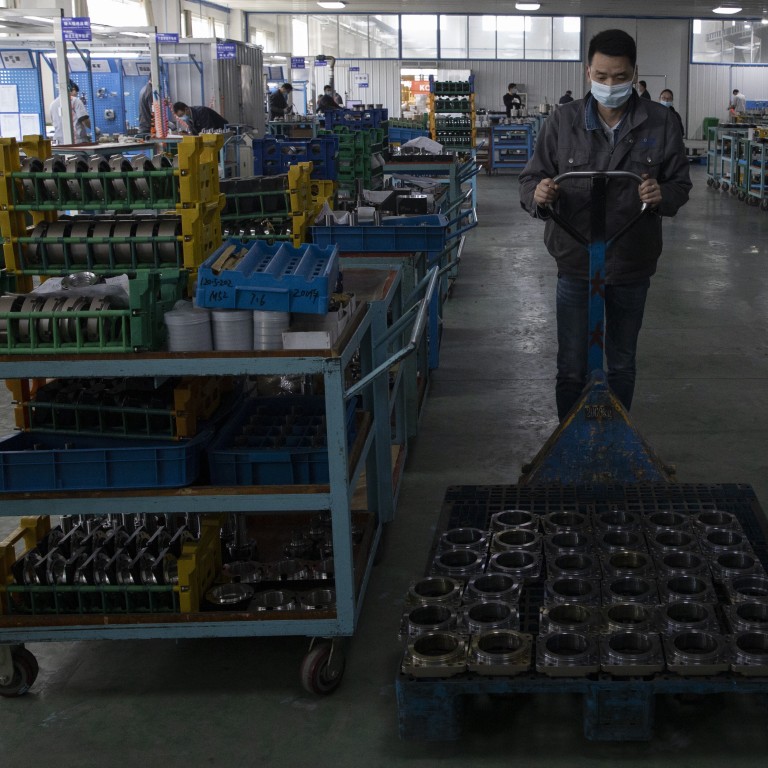 Coronavirus: China's economy shrank for the first time since 1976 in first quarter
China's economy shrank by 6.8 per cent in the first quarter of 2020 after the coronavirus shut down large swathes of the country
Industrial production, retail sales and fixed asset investment all shrank again in March, showing challenge in restarting the economy
China's economy shrank by 6.8 per cent in the first quarter of 2020, the first contraction since the end of the Cultural Revolution in 1976, confirming the economic damage done by the coronavirus pandemic.
Over the first three months of the year, the world's second largest economy faced an extensive shutdown as it battled to contain the spread of the coronavirus, and has subsequently struggled to fully reopen.
New data released by the National Bureau of Statistics (NBS) on Friday confirmed the slump, which was worse than predictions of minus 6.0 per cent from a survey of analysts' forecasts by Bloomberg.
Retail sales, a key measurement of consumption in the world's most populous nation, fell by 15.8 per cent, following a record 20.5 per cent collapse in the first two months, much worse than forecasts of a 10.0 per cent slump.
Fixed asset investment, a gauge of expenditure over the year to date on items including infrastructure, property, machinery and equipment, fell by 16.1 per cent over the first three months, from an all-time low of minus 20.5 per cent in January-February. Analysts had forecast a 15.1 per cent slump.
Black swan events such as the coronavirus threaten this silent pact and jeopardise central planners' efforts to deliver jobs and upwards mobility. All eyes will now be on the speed at which China is able to recover, but as March's data from across the economy suggested, it will be a long and arduous road back.
The decline was well-telegraphed, with numerous indicators over recent weeks and months hinting at how bad the picture within China was.
Even now, almost four months after the virus first forced a near-nationwide lockdown, the economy is still struggling to full reopen. The Trivium National Business Activity Index estimates that 82.8 per cent of the economic capacity is currently being utilised compared to "normal" pre-virus levels, meaning almost one-fifth of the economy is still closed.
A recent study by Liu Chenjie, chief economist at fund manager Upright Asset, suggested that the pandem
Meanwhile, average incomes fell over the first quarter by 3.9 per cent, with rural residents finding their income was 4.7 per cent smaller than a year earlier, the NBS said.
To compound matters, China is facing an enormous demand shock stemming from other countries' efforts to contain the pandemic's spread. Analysts are expecting the economy to limp back to meek growth levels for the full year, powered by a recovery over the second half.
"While we forecast strong growth in 2021 and may slightly revise up our growth forecast for 2020 following today's data, we continue to expect little GDP growth for this year as a whole," said Louis Kuijs, an analyst at Oxford Economics.
"The stance of policymakers is key. So far, policy easing has remained modest. While we see more measures in the coming months, we do not expect large stimulus, given that that remains unpopular in Beijing. Instead, we think policymakers will accept low growth this year, given the prospects for a better 2021."
The scale of the overseas shock facing China was laid bare by data released in the United States on Thursday, which showed 5.25 million new jobless claims over the past week, taking the total number to around 22 million people filing for unemployment since the coronavirus crisis began.
Also in the US, retail sales and industrial output reported record drops in March, while key Eurozone economies such as Germany and France are already in recession, with the whole bloc set to experience a painful contraction as it tries to shake off the virus' impact.
Global economic growth will shrink by 3 per cent in 2020, "far worse" than during the financial crisis in 2009 when growth contracted by 0.7 per cent, according to the IMF's World Economic Outlook report.