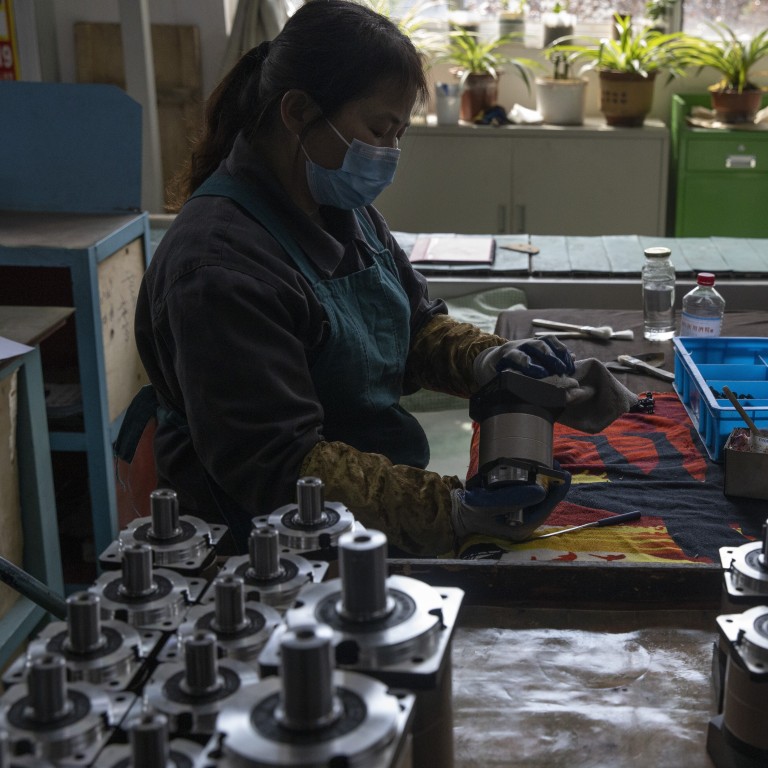 Coronavirus: China's slow economic reboot continues but power surge suggests light at the end of tunnel
Electricity generation rebounded in China in the first half of April, a key alternative indicator of economic activity identified by Premier Li Keqiang
However, other metrics show that while the economy is reopening, progress is slow and piecemeal
The lights are slowly coming back on for China's economy after its coronavirus lockdown, with electricity generation and consumption both rising in the first part of April compared with a year earlier.
However, detailed analysis of other activities showed that China's great reopening is patchy and piecemeal, a warning shot to Western economies now mulling restarts of their own.
Power generation climbed 1.2 per cent in the first 15 days of April, compared to a 4.6 per cent decline in March and a 6.8 per cent slump over the first quarter, during which the Chinese government reported the
first official quarterly contraction
since records began in 1992.
Power consumption rose by 1.5 per cent in the first 10 days of April, after a 4.2 per cent fall in March and a 10.1 per cent drop in February, according to an online press briefing by the National Development and Reform Commission (NDRC), China's state planner, on Monday.
China's electricity consumption has long been a closely-watched indicator since Premier Li Keqiang named it as one of three more trustworthy gauges of economic growth than official gross domestic product numbers, in a leaked conversation with a US official that took place in 2007.
The other indices he mentioned were railway cargo freight and bank loans disbursed, the recent performances of which are contrasting.
Bank lending
rocketed to an all-time high of more than US$1 trillion in the first three months of the year, while rail freight volumes fell by 0.44 per cent year-on-year in March, according to the latest available data from the Ministry of Transport, after rising by 6 per cent in February despite the lockdowns.
Other metrics including spending and transport remain sluggish compared with the same periods last year, emphasising the challenges faced in restarting economies once they have been closed, but also in encouraging people to go out and spend money.
In the week ending on Friday, the average overall passenger trips made nationwide by rail, road, waterway and air was down 58.2 per cent from a year earlier, according to Ministry of Transport data cited in a Nomura research note.
In big cities, metro trips were also severely down on a year ago in the seven days ending on Sunday, by 39.7 per cent in Shanghai, 46.2 per cent in Guangzhou and 66.4 per cent in Beijing. Coal consumption was down 10.4 per cent in the week ending on Sunday, Nomura research showed.
In the week ending on Saturday, the level of opening among restaurants was 12.9 per cent from January 1, according to data from Beijing Duolaidian Information Technology, which covers 10 per cent of China's total transactions. However, the research note showed that revenue was down 58.5 per cent from the start of the year.
While
car sales
rebounded by 14 per cent year-on-year in the week of April 12, the analysts wrote that "we do not think the weekly growth is sustainable due to impaired income of households and still elevated uncertainty".
This uncertainty was borne out in figures released on Friday, which offered a snapshot of the carnage wrought by coronavirus on China's massive consumer base.
Disposable incomes in China
fell by 3.9 per cent in the first three months of the year, the first such decline on record. Retail sales, meanwhile, continued to dwindle, falling by 15.8 per cent in March from a year earlier.
"Retail activity still appears sluggish. The crisis has highlighted the number of poor people in China and the extent of the inequality that has emerged during four decades of growth," wrote TS Lombard analysts in a note. "Indeed, one survey found that one-fifth of Chinese households could survive for no longer than two to three months without any income, while 40 per cent could not make it past three months."
The overall trend towards reopening is positive, but slow. The initial breakneck speed of recovery has been replaced by incremental progress.
"The vast majority of businesses in China have at least turned the lights back on – with 98 per cent of large companies having resumed operations," read the National Business Activity Index, compiled by research firm Trivium, as of Thursday.
"Twenty nine provinces are reporting full resumption rates for large businesses. These provinces account for 95.2 per cent of [gross domestic product]. That said, capacity utilisation at many of these companies is still closer to 80 per cent of normal levels, with many far below that."
The index showed that industrial enterprises are operating at around 83 per cent of normal activity levels, up from 75.9 per cent a month earlier.
Small businesses "are coming back to life", with Trivium estimating that on average nationwide, they are running at 82.6 per cent of capacity, compared to 76.8 per cent two weeks ago.
Yan Pengcheng, a director at the NDRC, said the rebound in power generation over the first half of April suggested a return to normality in China's economy, after a period that "does not have historical comparisons" in the first quarter.
Yang Kun, executive vice-chairman of the China Electricity Council, added that electricity consumption in the "full month of April is expected to achieve positive growth", while in the second quarter it could "rebound by about 9 percentage points from the first quarter," he told the state-run Economic Information Daily on Monday.
Additional reporting by Orange Wang
This article appeared in the South China Morning Post print edition as: Increased power use may be light at end of tunnel in post-lockdown China