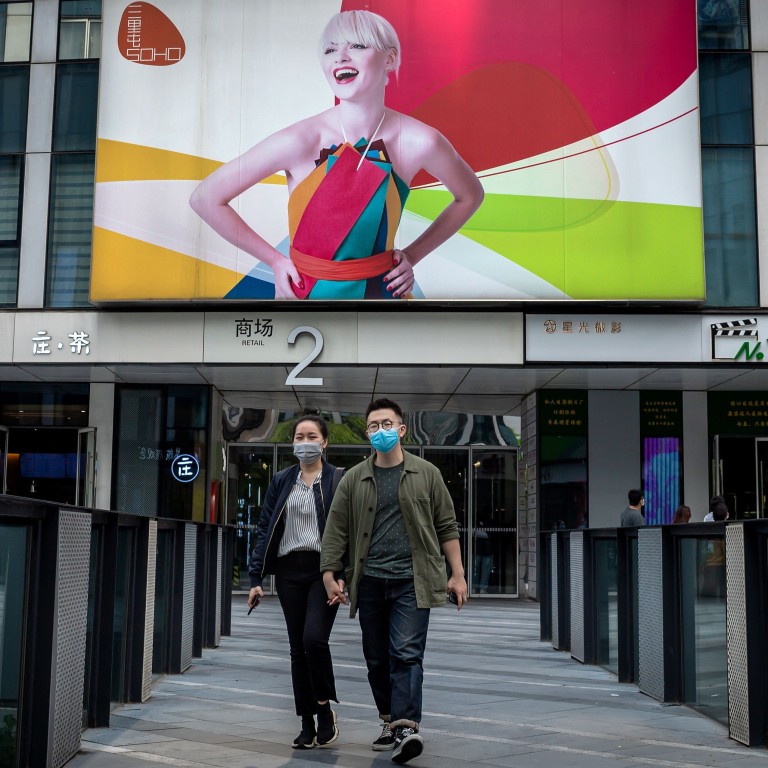 Coronavirus: China seen pursuing lower 2020 economic growth target after historic first quarter contraction
China's economy contracted 6.8 per cent in the first quarter of 2020, the first contraction since quarterly records began in 1992
Hubei province reported a 39.2 per cent economic contraction in the first quarter of this year as lockdown measures took a toll
China will forgo its original economic growth target for 2020, believed to have been around 6 per cent, and instead pursue a much lower goal after the national economy contracted 6.8 per cent in the first quarter, according to Chinese economists and researchers.
China's new gross domestic product (GDP) target – if there is one at all – will be significantly lower than the one agreed to at the end of last year, but never officially announced, as Beijing is now more worried about stabilising
unemployment
rather than expanding the economy due to the
impact of the coronavirus outbreak,
they said.
The central Chinese province of Hubei, the original epicentre of the outbreak, announced on Tuesday that its economy shrank by 39.2 per cent in the first quarter from a year ago as draconian lockdown measures in the city froze economic activities, underlining the economic fallout from the virus.
Wang Yiming, former deputy head of the Development Research Centre of the State Council, said the economic damage being done by the coronavirus in Europe and the United States would be serious, and so it is unlikely that China can generate a strong economic rebound when the rest of the world is still in crisis.
"China's economic recovery largely depends on how fast the pandemic can be controlled overseas," Wang said on Monday.
China could, at best, achieve 3 per cent growth in 2020, or around half of the original target, which would still be "a remarkable achievement", he added.
A new growth target is necessary to provide guidance for local government officials, who have relied on the target for decades, several economists stressed.
However, the coronavirus outbreak forced the postponement of the legislature gathering to May or even later this year, making the annual target for 2020 less meaningful as guidance for local governments, businesses and investors.
Ding Shuang, chief Greater China economist at Standard Chartered Bank, said Beijing's original target is no longer realistic and so "a too high target would do harm to [Beijing's] own credibility".
Zhang Ming, a researcher with the Chinese Academy of Social Sciences, said at a forum organised by the Renmin University of China over the weekend that a key takeaway from China's top leadership meeting on Friday was the downgrading of the original target of doubling the size of the economy over the past decade.
"China's GDP growth is expected to be between 2 and 3 per cent in 2020. As such, if Beijing still sets a growth target, a realistic target would be something between 2 and 3 per cent," Zhang said.
Li Xunlei, chief economist at Zhongtai Securities and an adviser to the Shanghai government, wrote last week that China should aim for a 3 per cent growth target
Completely abandoning a GDP target, however, would cause confusion for government officials and the public, he added.
But despite the clear expectation that growth this year will be well below expectations at the start of the year, local Chinese municipal governments are still making their own development plans based on Beijing's unpublished target of 6 per cent.
The government of Dazhou city in Sichuan province said over the weekend that it would aim for 7.3 per cent growth in 2020, a modest slowdown from the actual 7.7 per cent in 2019.
Linfen city in the coal-rich Shanxi province has set a target of 6.1 per cent for 2020, a slight increase from the actual growth rate of 6.0 per cent in 2019, while Haining city in the coastal province of Zhejiang will pursue a 7.0 per cent growth rate, barely changed from its actual growth of 7.1 per cent last year.
Baotou, the second largest city economy in northern China's autonomous region of Inner Mongolia, said last week that it planned to target growth of "around 6 per cent" GDP this year, in line with its 2019 result, aiming to "fulfil the solemn promise of building a comprehensive well-off society in time".
Ding from Standard Chartered Bank said that local governments are sticking to the old growth guideline since "local officials don't have the courage to cut their growth targets without an official notice from the central government".
"This, in turn, shows the importance of a new nationwide target to clear up local confusion," he added.
The province of Hubei, for instance, had set a 2020 growth target of 7.5 per cent in mid-January before the province's lockdown – a target that is nearly impossible to achieve given its 40 per cent contraction in the first three months.
This article appeared in the South China Morning Post print edition as: Beijing 'to forgo' growth target