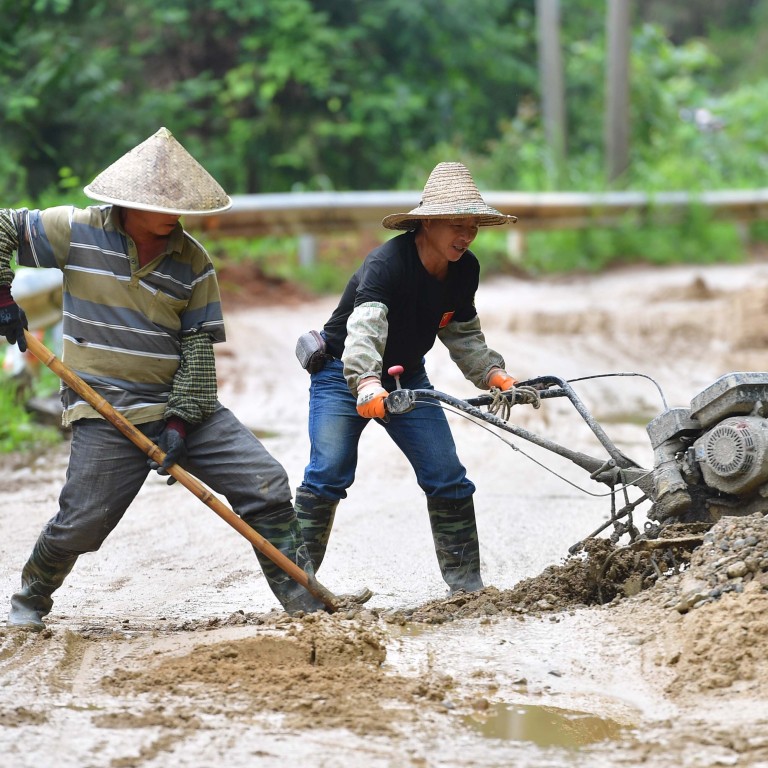 Coronavirus: China extends welfare support to vast migrant labour force amid 'unprecedented challenges'
State Council has announced a new package of welfare support to help China's vulnerable migrant workers weather the impact of the coronavirus pandemic
Measures come as Beijing shifts its priority from pursuing economic growth to ensuring employment and social stability, as economy contracts in first quarter
The Chinese government said on Tuesday it would for the first time extend unemployment benefits and other forms of emergency aid to the country's vast population of migrant workers, as the coronavirus kills tens of millions of jobs and threatens the country's social stability.
Speaking at a State Council meeting, Premier Li Keqiang said more must be done to help China's rural poor, as well as residents living on government handouts in cities and those unemployed as a result of the
economic fallout
from the virus.
"To counter the unprecedented challenges, we must take more targeted measures to guarantee people's basic livelihood," said the State Council, which is sometimes referred to as China's cabinet.
One initiative announced on Tuesday will allow China's state-funded infrastructure projects to use up to 15 per cent of investment for a project to pay wages in an effort to expand hiring. Previously only 10 per cent was earmarked for worker salaries.
The State Council also urged local authorities to provide unemployment benefits or "minimum living guarantees" to migrant workers, who have not been covered by welfare until now.
The measures were announced as Beijing shifts its priority from pursuing economic growth to ensuring employment and social stability, after the economy contracted
6.8 per cent in the first quarter
, the first quarterly contraction since 1976.
The central government's target of doubling gross domestic product in 2020 from 2010 is now beyond reach, while development goals like lifting all of China's 1.4 billion people out of poverty by this year are also at risk as millions of migrant workers have no source of income.
The coronavirus pandemic has resulted in an unprecedented job crisis in the world's second largest economy, with Liu Chenjie, chief economist at fund manager Upright Asset, estimating that 205 million Chinese are in "frictional unemployment", or more than a quarter of China's total employed population.
But China's social security system, which excludes many of the roughly 300 million
migrant workers
, can only cover a tiny number of those in need of help, leaving the most vulnerable without support.
China's official unemployment insurance network, for instance, provided help to about 2 million people in the first two months of 2020.
However, the Ministry of Human Resources and Social Security, the agency in charge of social welfare, is refusing to admit to the scale of the country's unemployment challenges.
At a news conference on Tuesday, the ministry said China's urban registered unemployment rate was 3.66 per cent at the end of March, barely changed from three months ago.
But the jobless rate only covers urban residents who are willing to go through tedious paperwork to register at the government as jobless.
The ministry did not say how many people have applied for unemployment benefits in March.
The State Council also urged the country's state-owned enterprises, public institutions and schools to waive three months of rent for tenants as a way to help self-employed businesses and small businesses.
As local Covid-19 cases continue to decline, Hong Kong's experience in battling the pandemic holds many lessons for the rest of the world. Join our free webinar, "Hong Kong vs. Covid-19: Lessons Learned and Next Steps", on April 22 (Wed) 10am HKT, to hear from one of the city's top medical professionals about the latest on Covid-19 and what to expect for the city in the coming weeks and months.
This article appeared in the South China Morning Post print edition as: Beijing to extend emergency aid to migrant workers