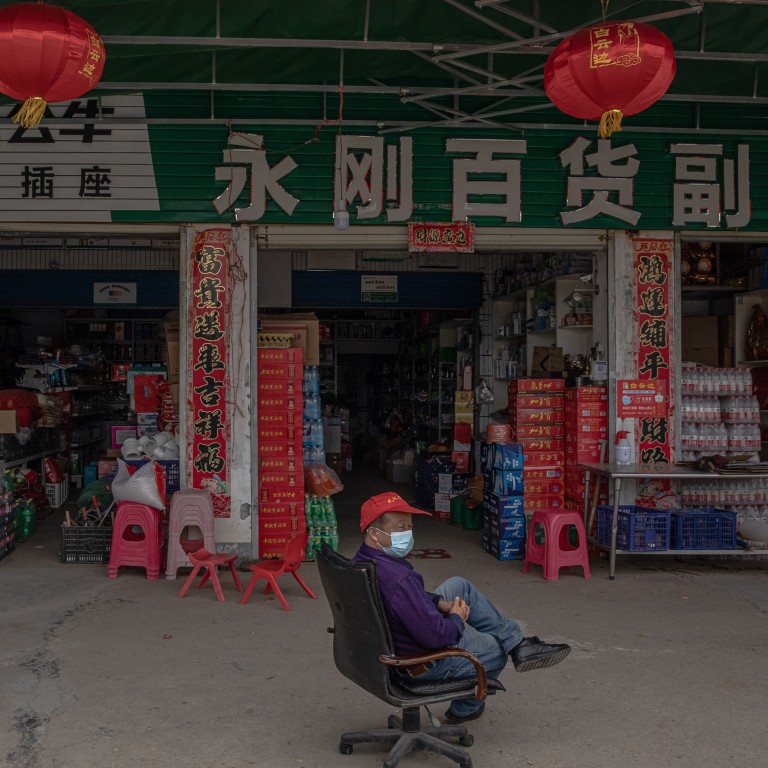 Coronavirus: China probes ways to ramp up bank lending to cash-strapped small businesses
Chinese authorities are asking small businesses about difficulties obtaining loans from banks, as a growing number struggle with cash flow problems
Survey launches at a time of acute financial distress for small factories and shops, which have been hardest hit by the economic impact of the coronavirus
China's government is asking small and medium-sized enterprises about the difficulties they are encountering when trying to take out a loan, as reports emerge of coronavirus-battered businesses struggling to get credit from local banks.
A new survey launched on Tuesday by the Ministry of Industry and Information Technology is trying to map the problem, and comes as a growing number of small businesses struggle with cash flow problems and complain about
banks' reluctance to lend
them money.
The People's Bank of China has shovelled huge amounts of funding to smaller banks to increase lending since the outbreak began, but the efforts are facing major obstacles as regional lenders have little incentive to provide loans to small borrowers due to lack of collateral and higher default risks.
China has more than 30 million small and medium-sized businesses (SMEs), which account for 80 per cent of the country's jobs, 60 per cent of gross domestic product and half of tax revenue, according to the Ministry of Industry and Information Technology.
The survey is open to all SMEs and asks four questions, including details of their financial situation, whether they have obtained a new loan since the outbreak began, whether they need a deferral period on interest payments, and what difficulty they have run up against while seeking a new loan or loan extension from local banks.
The feedback will be used for future government decision-making, the ministry said.
The survey has been launched at a time of acute financial distress for small factories and shops, which have been hardest hit by China's economic slowdown.
"I and most other business owners that I know are facing severe cash flow shortages, but have not been able to get a loan to help," said Zhang Hong, who runs a small consulting business in the financial hub of Shanghai.
She took part in the survey, telling authorities she had only half the cash flow she needed to keep her company operating at normal capacity. She also highlighted she had been denied a loan from local banks because she had a lack of collateral.
After sharing the survey with entrepreneur friends, Kent Cai, who runs a small tourism company in the eastern coastal province of Zhejiang, said he did not think it was useful.
"We all think such a survey helps nothing," he said. "The only way our firms can survive is if the authorities can offer a one-time payment for small businesses to pay rent, labour and other costs – but we all know it's impossible."
According to a
survey of 995 SMEs
conducted in February by Peking and Tsinghua universities in Beijing, over 85 per cent could collapse within three months if they do not receive financial help.
Most of the respondents, spanning tech, retail, the service sector and manufacturing, employed fewer than 50 people. Less than 10 per cent said they could continue for half a year without support.
Beijing's attempts to help small businesses amid the outbreak of Covid-19 by releasing additional liquidity into the banking system have not always found their intended target.
In some cases the money has been obtained by dummy shell corporations and used illegally for
real estate investments
.
China's banking regulator has taken steps to check on business loans collateralised with real estate to prevent such loans from flowing into the property market, according to the China Banking and Insurance Regulatory Commission.
This article appeared in the South China Morning Post print edition as: Beijing looks to boost credit for small businesses